What is it *really* like to be a woman with a beard? Harnaam Kaur created a film about it and it's totally amazing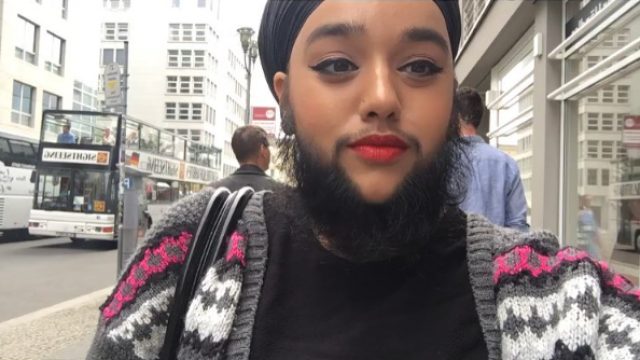 Ever since we learned about Harnaam Kaur, a totally amazing and super beautiful woman with a beard, we've basically been head over heels. Not only is she incredibly body positive and making waves in the world of fashion, but she's also just an all around lovely person. So when we learned from Self that Harnaam Kaur created a new film to show the world what it's actually like to live as a woman with a beard, we knew we had to check it out.
Harnaam Kaur's new film, F*ck Me or Destroy Me, is truly a work of art.
She partnered with artist Aisha Mirza for the film, which, Mirza explained, seeks to challenge previous perceptions of Kaur.
"I wanted to make a film where Harnaam did not have to be strong, and did not have to explain herself," Mirza told NYLON. "I wanted to create a space where Harnaam could be looked at, and look back, and also just exist."
We seriously love this so much.
Mirza continued,
"[She] can work so hard to reject and restructure societal oppression, and yet still be defined by her otherness," Mirza said. "Her extraordinary personhood is built on something that never should have been extraordinary."
We're always, always here for challenging norms and re-defining "normal" gender expression. Hell yes to all of this.
https://www.instagram.com/p/BJyCGKFDEXY
At the end of the day, the film is about healing.
"For me this video is about catharsis," Mirza said. "[It's about] healing from a world that wants to label you as a gender terrorist or a religious terrorist—that wants to fuck you or destroy you. Sometimes words alone aren't enough."
We're just so happy that this film exists, and that Harnaam is sharing her story with the world.
Watch the film below! https://www.youtube.com/watch?v=