This Sunday Is the Busiest Online Dating Day of the Year—Slay It Using 5 Expert-Backed Tips
Stand out on apps during the Olympics of online dating.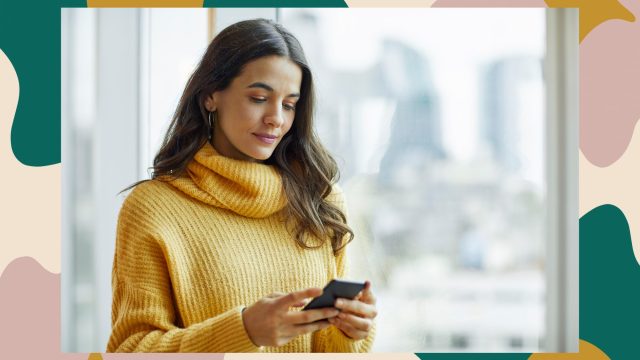 Singles: If you're in the market for a new boo, buckle up, because the best opportunity of the year is already here. (Yes, we know 2021 just started.) Cuffing season has been in full swing since November, but compared to the chilly fall weeks, the time after the holidays is even more opportune for finding a S.O. And to narrow it down to just one day brimming with potential romantic connections? We give you the first Sunday of the year, January 3rd, aka Dating Sunday.
What is Dating Sunday?
Consider Dating Sunday the Black Friday of dating. Extensive research by dating apps shows a significant increase in user activity on the first Sunday of the year—and those numbers have spiked every year, like clockwork. The reasons are obvious: January is a fresh start, and in the spirit of New Year's resolutions, singles are eager to get their hands dirty by swiping their fingers off. Plus, Valentine's Day is approaching, making the desire for a cuddle partner even stronger.
Aaccording to a Bumble Spokesperson, 55% of the app's users have dating-focused resolutions for 2021, so this Dating Sunday will be no joke.
On Dating Sunday 2020, Bumble saw a 15% increase in matches, but this year, dating experts expect an even bigger spike, with the pandemic causing singles to crave solid partnerships more than ever. Dating app Zoosk predicts a 24% increase in registrations and 25% increase in messages sent. Meanwhile, Match expects to see a whopping 65% increase in new singles joining the platform on Dating Sunday.
The peak time to let those fingers fly and start making connections online? Match predicts that 9 p.m. will be the prime time for logging on, based on singles' behavior on Dating Sunday 2020. Zoosk agrees and advises that you get busy by 9:30 p.m. at the latest.
Tips for Dating Sunday 2021:
1. Make sure you're ready to date.
Before you open every dating app on your phone, swipe for hours on end, and find yourself overwhelmed by matches, make sure you're ready to jump into the dating game this year. "The start of the new year is a time for self reflection," Hinge's Director of Relationship Science Logan Ury tells HelloGiggles. "Instead of feeling pressure that comes with the hype of the new year, we want singles to first take time to invest in their own healthy habits and mental health."
If you feel like 2021 is your oyster and you're eager to dive into dating, good on you! Just make sure you don't repeat mistakes made in the last 12 months. "We want singles to focus on being intentional in their dating lives in 2021," Ury explains. "A great way to get started in the new year is to diagnose your bad habits: What are the patterns and behaviors that have been holding you back in your love life? Are you too picky? Not picky enough?"
If you're having a hard time identifying your bad dating habits, Ury recommends asking your friends for their honest opinions, and then approach Dating Sunday with the goal of breaking those habits in 2021.
2. Update your profile.
Tweaking your profile can open the door to countless new matches. Before 9 p.m. on Dating Sunday rolls around, have some fun choosing new photos, writing clever prompts, and ensuring that your profile is an accurate representation of you. "Whatever it is you love about yourself, make sure other people can see it," Ury says.
According to Bumble, the more deets you dish about yourself, the better—and the app has the numbers to back it up. Compared to Bumble users who don't fill out their bio, those who do experience a 40% increase in the average number of monthly matches. In 2020, people who added more than three photos to their Bumble profile saw 22% more matches each month than those who didn't. And finally, including a "badge" on Bumble (which signifies your Zodiac sign, if you have a pet, your exercise habits, etc.) increases matches by a whopping 70%.
So, yeah, don't go for the whole "mysterious" vibe. The numbers don't lie: It won't work.
Now, let's talk photos. "Dating Sunday is the ideal day to test-drive a new featured photo (the first shot that people see)," dating coach for The League Connell Barrett explains.
"Your featured photo is the bait on the hook," he continues. "Use a crisp, clear portrait, not a selfie. Natural light is most flattering. Wear what you would on a first date."
Obviously, physical attraction is an important aspect of relationships—especially online, when your sparkly personality can't exactly win romantic prospects over just yet. But aside from choosing attractive photos of yourself, you want to show off your interests, too.
"We've found that 'seasonalizing' your profile can help attract more matches," a Bumble Spokesperson says. "We define 'seasonalizing' as a time when people are looking to update their profiles to coincide with the changing of the seasons, mentalities, and goals."
Do you have a skiing selfie or ice skating shot? What about a funny New Year's resolution? Add them to your profile.
Above all, your motto when refreshing your profile for Dating Sunday should be "stand out." "People fall into a kind of swiping hypnosis on dating apps, so your profile needs to break their pattern and capture their attention," Barrett says. Use your unique qualities to your advantage.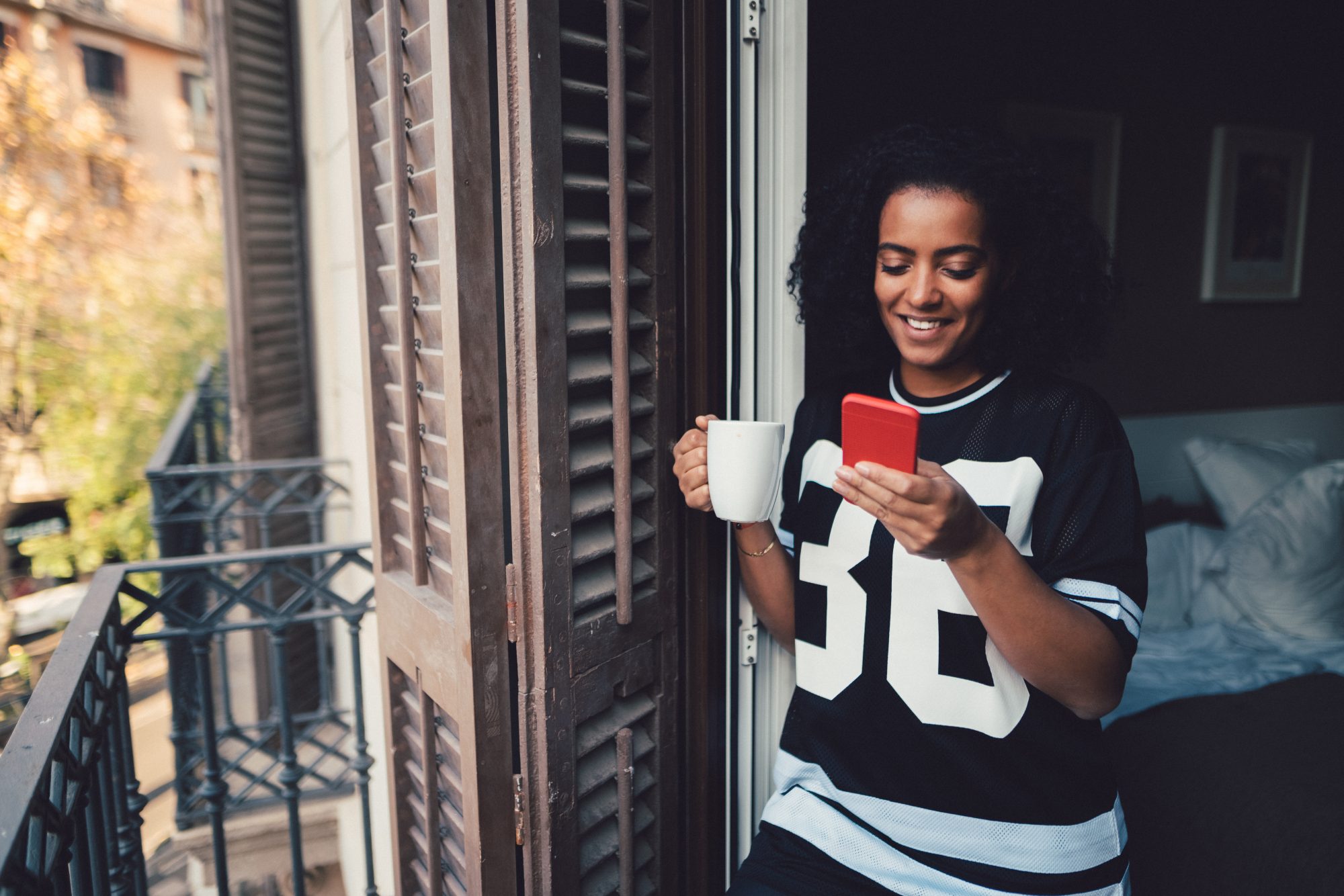 3. Make bold moves.
Dating Sunday is not the time to sit back and wait for a match you're interested in to message you. There's no need to play it cool and wait 30 minutes before responding—a dozen other people could easily turn their head in the meantime. Experts also recommend asking a question or commenting on a prompt rather than sliding into someone's DMs with the twentieth "Hey!" of the day.
"If you're interested in someone you matched with, don't play hard to date," Barrett says. "You'll likely lose them to the stiff competition. The smart strategy is to get them off of the app asap on Dating Sunday—this elevates you above your competition."
If you're having a good conversation with a match, ask for their number. It can be as easy as saying, "I'm bad at checking this app. Would you rather text? Here's my number." And if you're feeling extra ballsy, set up a video date.
4. Try a video date.
During quarantine, virtual dates have become the norm, and given singles a much-needed sense of connection while isolated. And even though they might sound awkward, experts say the rise in virtual dating isn't dipping any time soon—so now's the time to dive in head first.
Currently, 70% of Match users are open to video dates and 46% of Bumble users actually prefer virtual first dates over IRL first dates—so it's not as niche as you might think. Last year, Match's annual Singles In America study found that more than half (56%) of singles felt chemistry on a video date in 2020. Plus, 50% of daters said they fell in love during a video date.
Although we're skeptical that we could feel love at first sight through a phone screen, we like those odds. And hey—we fell for Ryan Gosling onscreen in the The Notebook, so who's to say it can't happen online, too?
If it's your first time trying a video date, Chief Dating Expert of Match, Rachel DeAlto, offers these important tips:
Clean up your background. No one wants to see empty pizza boxes on your kitchen counter or dirty laundry on your bedroom floor.
Clean up yourself. "The beauty is you only have to get ready from the waist up," DeAlto says. "So, put as much effort into your appearance as you would for an in-person date."
Make eye contact. "Eye contact is still essential virtually, yet we spend so much time staring at ourselves on the screen," she explains. "It can come off as disinterested."
Have something to do. This year, 38% of Match users had a drink together while video chatting and 32% decided to dine together while on video. Planning an activity will break the ice and open up conversation.
5. Focus on quality over quantity.
The events of 2020 have caused singles to reflect on who they are and what they want out of a partner. In turn, daters have become more thoughtful about who they meet—and experts say this trend will continue long into the new year. "Hinge predicts the new self-awareness and empathy gained during 2020 will inspire singles to be more intentional with their matches," Ury says. "That means focusing on quality over quantity this Dating Sunday and beyond."
Barrett echoes this sentiment. "For nine months, we've been drowning in surface-level interactions on Zoom, FaceTime, texting, and dating apps," he explains. "But we're aching for something deeper and more meaningful. So, more than any other year, Dating Sunday 2021 will be about quality connections."
So, when you hit the apps hard this Sunday, don't mindlessly swipe through matches based on appearance. Take a serious look at your compatibility, and once you've landed a good amount of matches, laser in on your conversations. "Smart dating is seeing if you can make a connection with a handful of people (5-8), and then learning who you could really find a spark with," DeAlto says.
Happy New Year and happy Dating Sunday, singles! May the odds be ever in your favor.