What is Coachella? We won't tell anyone you asked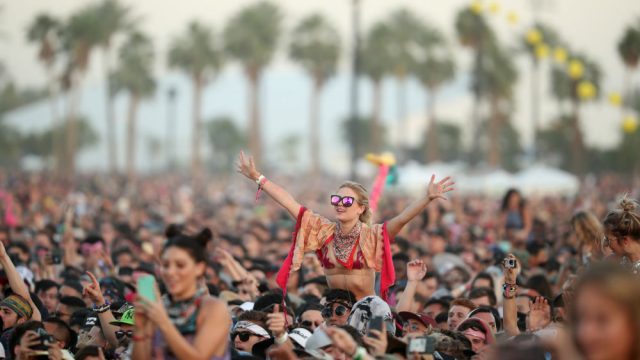 At this point, you've probably heard of Coachella, even if you don't know exactly what goes on there. You've seen the elaborate bohemian fashion that accompanies it, you've heard of the artists who are headlining, and you've looked at Instagram snaps of celebrities living their best lives out in the sun. But you still very well may be asking: What is Coachella?  It's a highly reasonable question.
Basically, Coachella is a giant annual music festival in Indio, California. The festival has grown tremendously since its first year in 1999 and it's now way more than just a weekend to listen to good music.
The Basics
Officially named "The Coachella Valley Music and Arts Festival" (also dubbed "Coachella" or even just "Chella"), the festival has a pretty interesting backstory. It all started when the band Pearl Jam got in a fight with Ticketmaster over their service fees, claiming they were financially targeting both fans and artists. Because of this, Pearl Jam started to look into alternate venues for their Vs tour that didn't include Ticketmaster.
The band ended up using the Empire Polo Grounds in Indio, CA, which is where the festival is still held today. In 2012, the festival got so big that organizers turned it into two separate weekends.
https://www.instagram.com/p/BghxcYhlCBy
Coachella is held across two weekends every April, although the dates aren't always the same. The festival is usually Friday, Saturday, and Sunday. In 2019, it will begin on Friday, April 12th.
What goes on there?
Although Coachella's roots are all about music, it's become way more expansive than that in recent years. It features art installations and has also become a major fashion hotspot for bohemian-inspired styles. It's also packed with celebrities, from the artists who are performing to stars who just want to hang out. A-listers like Kendall Jenner, Jared Leto, Leonardo DiCaprio, and more are spotted there almost every year.
The music festival plays out across five main stages: the Coachella Stage, Outdoor Theater, Gobi Tent, Mojave Tent, and the Sahara Tent. Major headliners are saved as the last acts, while smaller artists and bands play throughout the day.
https://www.instagram.com/p/BeT-mN4lv0A
How much does it cost to attend?
It's a little ironic that Coachella began with a feud over ticket prices, considering how expensive it is to attend the festival today. In 2019, tickets start at $429 for a three-day pass. Of course, this included three full days of music, but it's still steep.
Once you're there, you need a place to stay, as the festival is located in the desert. Passes for car camping are a little over $100, which is your best option.
https://www.instagram.com/p/Bf171d-FQEk
This year, Coachella is sure to be pretty epic. Childish Gambino, Tame Impala and Ariana Grande will be headlining, and there are a ton of other amazing artists to see.