What Is a Capsule Wardrobe? Here's How to Build One by Decluttering Your Closet
It's all about quality over quantity.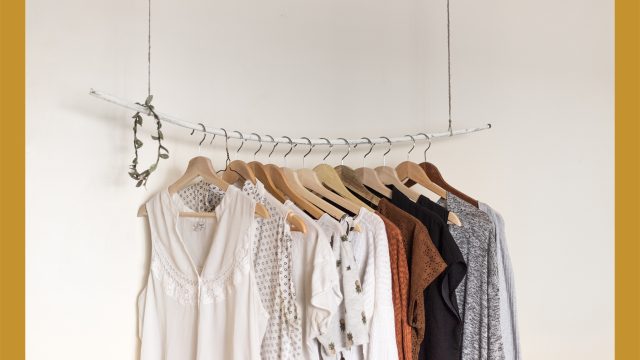 How many times have you looked at your closet, brimming to the top with dresses, skirts, pants, tops, bags, and accessories, and thought, 'Ugh, I have nothing to wear?' It's happened to most people at some point. Somehow, despite one 2016 survey finding that the average American woman has 103 items of clothing in her closet—more than enough to put together outfits for any occasion—people still feel like they need more. For many, the need to constantly buy more clothes is spurred on by a complicated love affair with the fast fashion industry, which churns out a whopping 52 "micro-seasons" per year. This means that if you're constantly buying clothes in the hopes to always be to be "on trend," you're fighting a losing battle. 
But what would happen if you got rid of that jumpsuit you only wore once or those five pairs of jeans that all only fit okay? What if you streamlined your closet so that you knew exactly what you had and only kept the things you knew fit well and made you feel good?
The concept of a capsule wardrobe is rooted in minimalism, and it encourages you to get back to basics without sacrificing personal style. With a capsule wardrobe, you might have only your most essential or influential pieces in your closet, but you won't be limited on versatility. Ahead, we're breaking down what a capsule wardrobe is and how to build one.
What is a capsule wardrobe? 
The term "capsule wardrobe" was coined by a London boutique owner named Susie Faux in the 1970s. According to her, the idea was to have a collection of a few staple items of clothing that don't go out of fashion, such as quality skirts, well-tailored pants, and versatile coats. Per this mentality, all pieces would be in coordinating colors to allow for the most maximal use and styling options. Wendy Mak, author of The Capsule Wardrobe: 1,000 Outfits From 30 Pieces, agrees. She tells us that a capsule wardrobe is a collection of clothes that can all be mixed and matched to create a large number of outfits. According to her, "capsule wardrobes are great because they maximize your dollar spent on clothes, are sustainable, and are consciously kind to the environment by reducing how much you buy." 
But having a capsule wardrobe doesn't mean you have to skimp on style or exclusively own cookie-cutter, solid-colored basics. It just means you might have to get more creative with what you own. "[A capsule wardrobe] contains everything you need to feel confident and inspired every day—no more and no less," writes Anuschka Rees in her book The Curated Closet. 
How many items are in a capsule wardrobe?
When it comes to creating a functional capsule wardrobe, there's really no set number of items you have to stick to. However, it is important to keep in mind that the idea is rooted more in minimalism than it is in maximalism. Mak's book would argue that just 30 pieces can yield up to 1,000 outfits, but some fashion experts say you can have a wardrobe with as many as 50 different staple pieces—along with a few seasonal items—and still have it considered a capsule. It's more about quality than it is quantity.
Another popular rule of thumb for capsule wardrobes is one that was created through a minimalist and mindful fashion challenge known as Project 333, which specifies a goal of 33 items—including clothing, accessories, jewelry, outerwear, and shoes—for three months.
The whole point of the capsule wardrobe is to cut down on the need to constantly buy items, so trying to make as many outfits as possible with as few pieces as possible is the true goal. 
How do you build a capsule wardrobe?
The Curated Closet outlines five key principles to scaling back your overflowing closet and building out a capsule wardrobe. They are:
Be selective: You can't keep everything!
Be authentic: Don't worry about a specific style typology, but focus instead on what you really like. This will help create your own look.
Aim for quality: Build a wardrobe of high-quality pieces that last more than just a few years. 
Style trumps fashion: Get excited about fashion trends that suit your own style, and ignore all others. 
Put in the work: Invest time and thought into developing your style and selecting the perfect garments. 
To start, you can think about your favorite outfits and how they make you feel. What pieces do they include? What are a few things you can't live without? Then, assess what's in your closet and do a gut check on whether you love each item or hate it. If you hate it, ask yourself why it takes up precious storage space. Cleaning out a closet full of clothes can be hard, but Mak always recommends a thorough purging of your existing closet first. "It clears the physical clutter, which also clears the head and emotional clutter," she says. Plus, you don't have to get rid of everything. She says to think about ways you can re-use an item by wearing it differently or altering it. 
"Capsule wardrobes work best with classic pieces of clothing made interesting and different through accessories," Mak tells us. Her advice is to have accessories like necklaces and bangles hung on hooks on the wall or on the back of a door, so you can easily see what accessories you have and grab them as you're getting ready. The entire mentality behind developing a capsule wardrobe is making dressing easier, and simple steps like this will cut down on the time you spend completing your outfit.
Another tip Mak gives is to group like colors together in your wardrobe so you can quickly mix and match your outfits to save time. According to her, "The most versatile capsule wardrobes are built upon three to four core colors with two to three seasonal accent colors."
If you decide to try out creating a capsule wardrobe for yourself, keep in mind that it will likely take some time to get the hang of styling your staple pieces. This is okay! According to Rees' book, "It takes time to train your eye, experiment with different aesthetics, and develop a sense of style that feels natural and effortless to you. It takes time to figure out which types of pieces work best for your lifestyle and to curate a versatile wardrobe. And it takes time to then learn how to best utilize those pieces to create outfits that you love." Building outfits with a few select, high-quality pieces is a skill, but if you decide to do it, you might be surprised at how much you don't miss thinking you have nothing to wear.