What I love and regret about my low-budget backyard wedding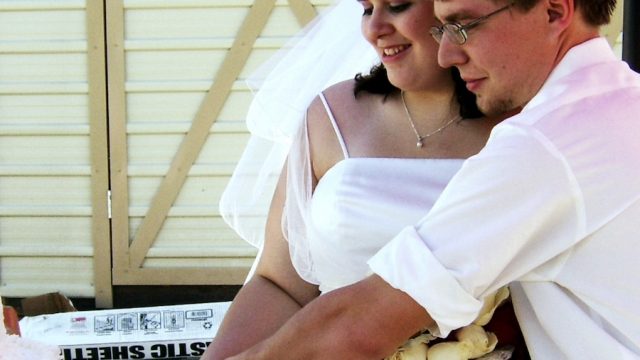 I looked out the bedroom window into our backyard — decked out in my $200 wedding dress, my sister still sticking bobby pins into my partial updo — and I was pissed off. The chairs still needed to be set; guests were arriving and had nowhere to sit. It had rained the week prior, and the muggy climate and muddy ground stuck around like souvenirs. What should have been a lovely mid-March nuptial was turning into a humid and chaotic affair.
At least that's how it felt for those few moments until a few wedding guests set up the chairs. The seats faced the stage that my father and fiancé had built by hand just for the occasion, and the rows were filling up with friends and family. It was go time.
My dad walked with me through a wooden archway that he'd built himself. The lilting lyrics of "Ave Maria" played in the background, we marched towards my soon-to-be husband, and my dad and I tried not to sink down into the mud. I couldn't help but laugh loudly at how ridiculous I felt and, when I turned to my dad, he looked genuinely happy.
I'd like to say that I remember my vows and what my dear husband told me in return, but we were a little distracted. The justice of the peace who'd conducted our ceremony had a giant bug on his lapel the ENTIRE CEREMONY and didn't realize it.
I struggled to keep it together for the rest of the ceremony because my husband made it all the more hilarious. Whenever we locked eyes, he smirked and made me giggle — a reminder of the fun we always get into together. We said "I do," and had our first kiss as a married couple. Then it was time to eat.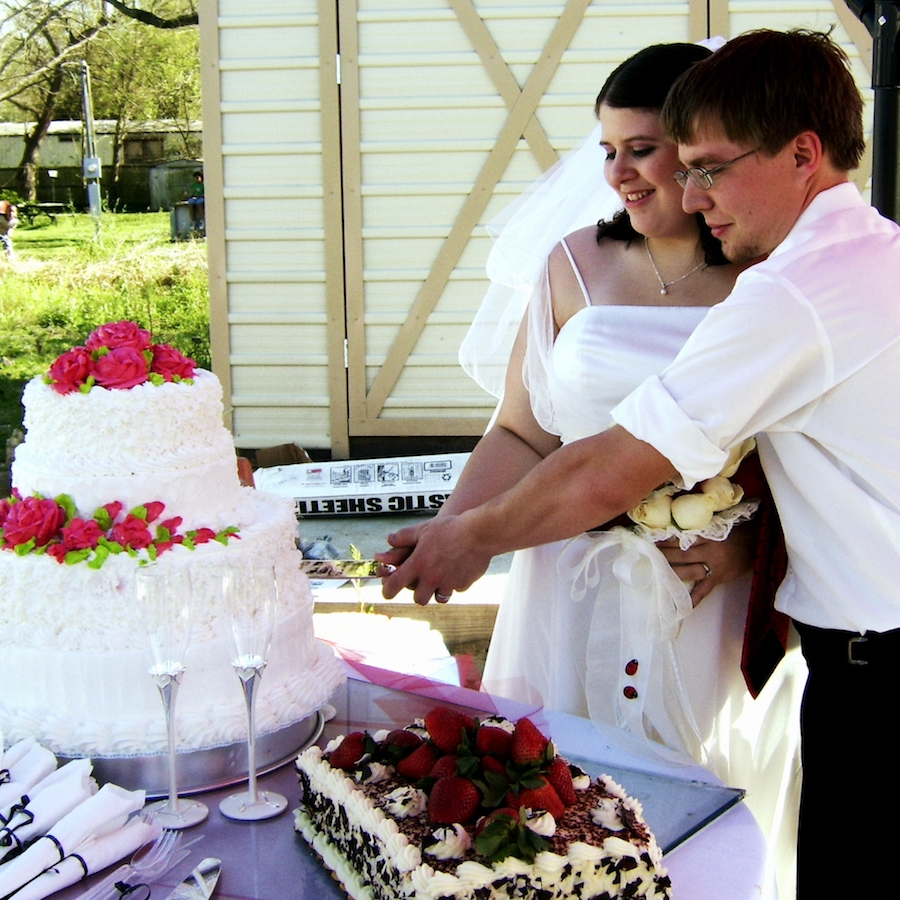 My dad catered the event with good ol' Texas brisket and all the fixings — the kind of food that is still gushed about by our wedding guests a decade later. For my wedding cake, he prepared a delicious three tiered red velvet cake with buttercream icing. It looked ready for the cover of the sweetest bridal magazines. The rest of the evening was a blur of excitement, but it was perfect in its simplicity and in its price tag.
With a total of less than $1,000 for my dress, food, flowers, and everything else, my husband and I started our lives together with a backyard budget wedding and without any debt.
Considering how much our fellow millennials spend on weddings, we got an incredible deal. According to WeddingWire's 2018 Newlywed Report, the average cost of a millennial wedding is $36,000 — 36 times more expensive than our low budget affair. In fact, millennials are spending more on weddings than any generation has previously.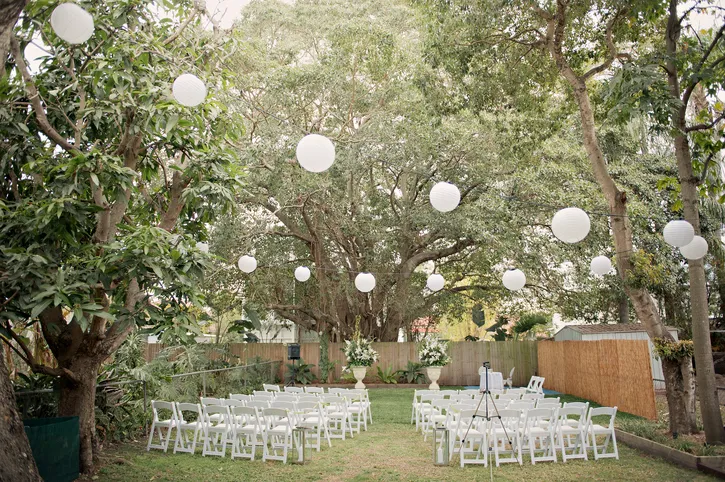 While this number makes me appreciate that I got hitched without the big bill, when I see friends get married with the extra bells and whistles, I'm left with a case of FOMO.
But, like anything else, my low budget wedding had its pros and cons. So, when I need an extra reminder to not be too regretful, I make this list.
Pro: I didn't blow my credit on a wedding.
Nope, I sure didn't. I saved that for student loans.
Plus, current wedding expenses don't just hit the pockets of the bride and groom. In fact, 60% of wedding expenses for millennials end up being paid by their parents (with a privileged 20% of millennials not having to spend a dime of their own money), according to the same WeddingWire report. If you don't have the cash or the family connections, taking out lines of credit is a popular option — but one that could backfire if you go too big.
Con: I didn't have the true "bride" experience we see in media.
I didn't get to say yes to the dress (I literally bought the first one I tried on). I didn't get to have the lavish wedding party. I didn't get to do the cake tasting, the catering bids, or the wedding band auditions. I didn't have professionals around to pamper and beautify me right before walking down the aisle.
Basically, I didn't have several paid people there to solely make me feel good and ensure everything was perfect for my big day. The fact is that I didn't need them, but it still would have been nice.
Pro: Less options means surprisingly less stress.
Having a limited budget and limited time made planning the wedding so easy. I didn't have any set desires that we had to stick to. Even when it came to picking out a tux for my indecisive husband, he went with the only one that he found within our price range during the time he had available for shopping. And it, like everything else, was perfect.
Con: The shoulda, coulda, wouldas.
No matter how perfect a wedding is, something can always be better. If I could do it over again, would I? What would I change?
I'd make sure I got better photos so the moment was more immortalized. Snapshots of my husband and I getting ready, posed pictures of the two of us, images of our now deceased grandmothers, a picture of that giant bug on the justice's lapel. And the kiss that started it all.
Still, the wedding we had was perfect for us — low key, intimate, fun, and memorable. But what was perfect for us isn't perfect for everyone. Whether you decide on a courthouse wedding or a ceremony that will make Meghan Markle take notice, as long as you enter your marriage with love, you're doing it right.