Everything I need to know, I learned from "Lemonade"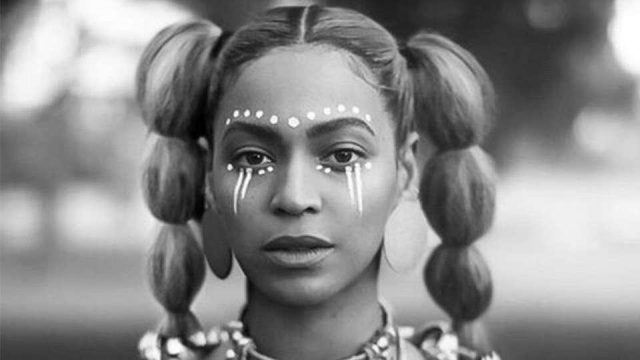 I was reluctant when I first heard about Lemonade. I am not very gimmicky when it comes to music. I like to have an album release date and I like to buy that album in CD form and on my phone, if it's worth having in multiple mediums. With the hush, hush nature of Lemonade I was worried, but completely without reason. Once Beyoncé's visual album dropped, and the world spontaneously combusted, I realized just how unfounded my Bey worries were. Indeed, it now seems that everything I need to know I learned from Lemonade. 
EINTKILF LEMONADE 
Don't be ashamed of your feelings
…or better yet, your reactions. In "Hold  Up" (the reigning champ for my favorite song on the album), Beyoncé expresses the age-old question, "What's worse, looking jealous or crazy?"
I get this. I have felt jealous, I have felt crazy, and I have absolutely questioned which is worse. I don't want to assume that most of us have felt this way, but I'm going to guess that if you have ever loved a person, you have experienced a few of these emotions. Now beyond the sappy "Beyoncé gets me and I owe her everything" stuff, the visual part of this song is incredible because HOT SAUCE IS A BASEBALL BAT, you guys! And Beyoncé channels Sonny Corleone in one of my very favorite movie scenes of all time! While singing about sex in the car! While wearing a yellow dress with natural curls! While showing us it's okay to feel what we feel! This is my song.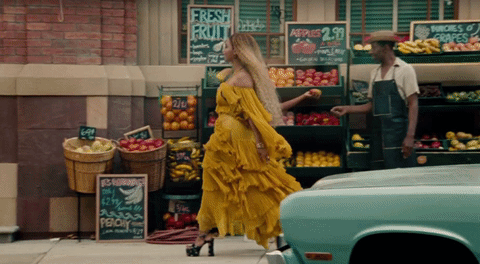 Everyone gets angry
Beyoncé Knowles-Carter does not lose her cool. Beyoncé Knowles-Carter is well-put-together, kind, and, preternaturally poised  — or at least that is how she presents herself to the world. But on "Don't Hurt Yourself," we become acutely aware that even Beyoncé's anger can overtake her cool. (I mean, she is still really cool when she's pissed.) I have been mad enough to take a baseball bat to a car and to throw a ring in someone's face, but the fact that Beyoncé has been there as well is truly an irreplaceable feeling.
Black women are beautiful
In the visual album, Beyoncé breaks from a song while an audio clip of Malcolm X speaking about Black women plays in the background; beautiful, real Black women are the focus of the scene as we are jarred from the corn-rowed Beyoncé in a parking garage. X speaks the words that I have always known and always loved: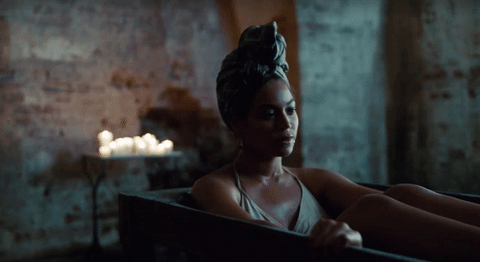 And just like that, Beyoncé takes us from the tale of infidelity, betrayal, heartbreak, anger, and denial, and puts us in the center of something else — something we always knew Lemonade would be about — Black womanhood. Lemonade is an album for Black women by one of the most famous Black women in the world. Beyoncé flawlessly takes us from the "angry Black woman," screaming obscenities in a dimly lit garage, to a scene reminding us that Black women truly are disrespected, unprotected, and neglected. Black women aren't allowed to be angry without being judged for it —we aren't allowed to be vocal without being judged for it. Beyoncé is combating all those norms, and we love her for it.
You can't replace your girlfriends
When you put Serena Williams dancing next to a very nonchalant Beyoncé singing the line, "I ain't thinking 'bout you," you have a certified banger. We need songs like this, because when people mess up in our lives, there truly is nothing better than getting together with some girlfriends and blasting some songs. It really doesn't matter what is happening with that torturous romance when you've got your girls.
Middle fingers up.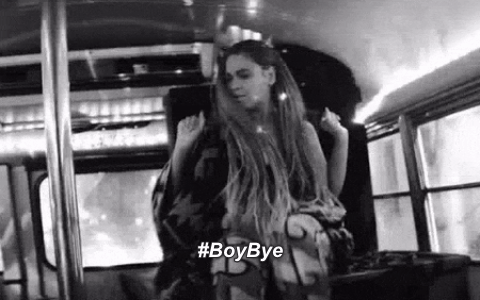 Promises work both ways
"Sandcastles" is a beautiful song. Beyoncé sits on her floor with a keyboard in front of her, natural hair big, clothes unimpressive, makeup so natural you can't focus on it. "Sandcastles" isn't about Beyoncé being Beyoncé, it is simply about a woman coming to the realization that she wants to work through the mess.
When we think of the word "promise," we often think of something positive. We promise we will love one another forever, we promise we will never betray each other, we promise we will always be honest, we promise we will always be clear and communicative, in sickness and health, until death parts us. Though I don't believe in much of that, I do love that "Sandcastles" does the opposite and reminds us that sometimes those definitive promises we make are okay to go back on. I have broken ugly promises before and beautiful things have come from doing so.  You never know, you know? Life is situational.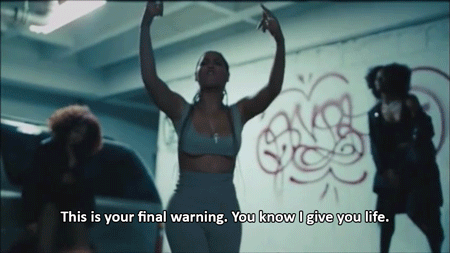 Never give up on yourself
The song "Freedom" is gorgeous, complex, familiar, and so powerful. As Beyoncé walks us through her emotions, "Freedom" yanks us right back into the purpose of this album. "Freedom" is reminiscent of the struggle of Black women — it's the song during which the visual album shows us the mothers of Trayvon Martin, Michael Brown, and Eric Garner holding pictures of their babies, not only gone too soon, but gone in a way that no one should be taken. These beautiful women lost their sons to racially charged murders by figures of authority — an entirely different level of grief for a mother.
As Beyoncé bellows her strong lines about Black women in America, in unfaithful relationships, in life — we see a number of beautiful Black women that will help shape the future. Young and upcoming "woke" Black women, women who have experienced grief we will never understand, women who can relate to one another, and women who Beyoncé inspires on a very regular basis. Bey does a phenomenal job of highlighting young Black women, from featuring girls like Zendaya and Amandla Stenberg to framing her entire HBO special around Warsan Shire's work. What a gift to us all.
Trust can be regained
I have yet to hear "All Night" without crying because a) I am usually an emotional wreck; and b) this song resonates with me in a very intense way. "Our love was stronger than your pride." The images throughout the visual album that Beyoncé sings over are beautiful, and real, and honest and so is this song. Love is weird, you guys. It's weird to fall in love with someone, and it is weird to never be able to pull yourself out of that love, no matter what you try or who you move onto, or how you live your life without them.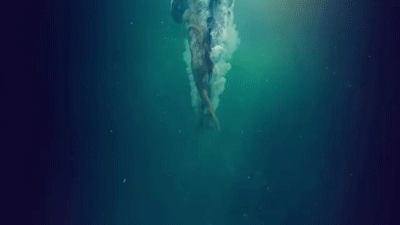 Women are beautiful 
By the time you are reading this, I am two days away from the seeing the Formation World Tour and I could not be more excited. The On the Run Tour was the first time I saw Beyoncé and I was overwhelmed with excitement, but there is something different about the Formation Tour. Going to see a tour that was designed around an album that was written for me, and my aunts, and my cousins, and my ancestors before them feels very, very special. Black women are amazing, women are amazing, and the song "Formation" is all about that. Since Bey's "Formation" Super Bowl performance, she's had us all talking about the true power she really holds. Is she — has she always been — more than a performer?