What channel is figure skating on? Write this down for tonight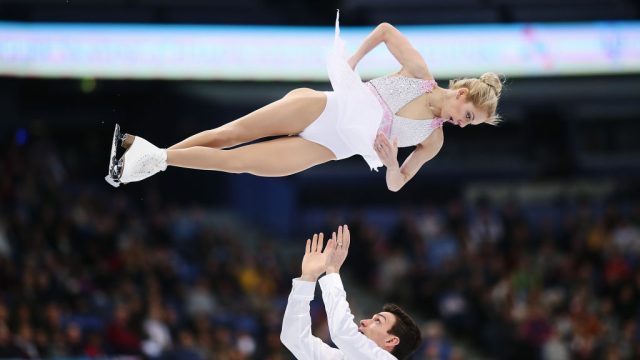 If only we had the grace and skill of a figure skater, our life would be complete. But alas — we don't. Instead, we'll just hunker down onto the couch with a bowl of ice cream and leave the figure eights to the professionals. With this in mind, we have to know: What channel is figure skating on?
NBC will air all 2018 Winter Olympics figure skating events starting on Thursday, February 8th. The men's short program and pairs' short program are the first to air starting at 8 p.m. EST. Team events continue on Saturday, February 10th, with the short dance and the ladies' short program. The team competition will wrap up on Sunday, February 11th, at 7 p.m. EST.
On Tuesday, February 13th, the pairs' short program airs at 8 p.m. EST. Husband and wife pair, Alexa Scimeca Knierim and Chris Knierim, rep Team USA. Pairs' free skate concludes on Thursday, February 15th, at 8:00 p.m. EST.
The men's short event goes live at 8 p.m. EST on Thursday, February 15th. And the men's free skate goes live at the same time on Friday, February 16th. The ice dance competition then begins at 7 p.m. EST on Sunday, February 18th, with siblings and Team USA members, Maia and Alex Shibutani. The ice dance event ends on Monday, February 19th, at 8 p.m. EST.
We hope you're writing all of this down in your planner, btw.
Finally, the ladies hit the ice for the short program on Tuesday, February 20th, at 8 p.m. EST. The figure skating portion of the Olympics concludes with the ladies' free skate event on Thursday, February 22nd, at 8 p.m. EST.
These listings are subject to change due to the fact that the Winter Olympics is a live event. Frequently check the NBC TV Listings to stay up to date on all the airings of figure skating and other Olympic events.
If you're unable to watch on NBC or NBC affiliates, you can also stream events over at NBCOlympics.com or via the NBC Sports app.
Good luck, you graceful ice kings and queens. We'll be watching and envying your sweet moves from underneath the warmest blanket we own.