The creators of Westworld just Rickrolled the internet, and now we want to freeze their motor functions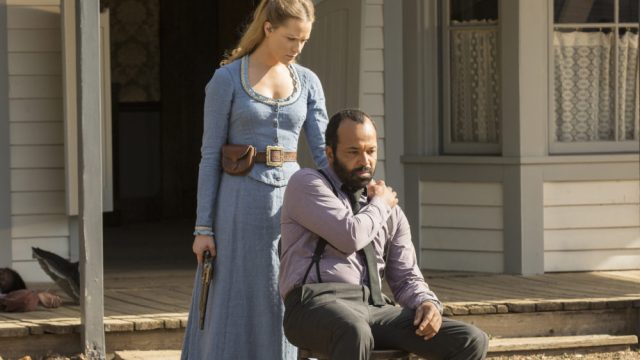 HBO's epic sci fi/western/robot hybrid, Westworld, returns for Season 2 on April 22nd, and between now and then, it appears that the creators of the show are going to have some fun with us. But not in the, "oh wow, everyone come over to my place for pizza and cake, also there's a bouncy house out in the driveway!" sense. Rather, the creators of Westworld are going to make us question our own sanity over the sake of spoilers, and maybe this is the maze we were always destined to be trapped in.
On Monday, April 9th — a mere two weeks before Westworld returns — Jonah Nolan and Lisa Joy (the husband and wife team behind the series) took to Reddit with an unusual proposition: They wanted to know if the internet wanted Westworld Season 2 spoiled ahead of time.
The answer is of course…maybe? We live in a spoiler prone culture now, and Nolan and Joy couldn't help but see the frustration and/or pain caused by some Game of Thrones spoilers. So, in order to get ahead of the spoilers, and literally control the spoiler narrative for their show, they decided what might be best is to release the entire plot of Season 2 ahead of time. Because that makes perfect and complete sense.
While some of the internet was at first pretty damn excited about this, the rest of the internet was like WOW CAN YOU NOT? But as the duo wrote in their Reddit post: "We thought about this long and hard, and came to a difficult (and potentially highly controversial) decision. If you guys agree, we're going to post a video that lays out the plot (and twists and turns) of season 2. Everything. The whole sordid thing. Up front…It's a new age, and a new world in terms of the relationship between the folks making shows and the community watching them. And trust is a big part of that…So if this post reaches a 1000 upvotes we'll deliver the goods."
Obviously the post reached 1,000 votes, so they released a video explaining Season 2 right now, and honestly, I came to Westworld to have a good time and I'm feeling so attacked right now.
https://www.youtube.com/watch?v=W7oeROkyPgs?feature=oembed
The video starts off convincing enough, showing us Bernard on a beach, after the events of the Season 1 finale (where Dolores breaks ALL her protocol). And then…the video takes a sharp turn with Angela Sarafyan (who plays Clementine) and Evan Rachel Wood at a piano, with the later launching into Rick Astley's "Never Going to Give You Up."
This would have been funny in 2007, the year of the very first Rickroll, but this is 2018 and it is…not funny. It's maybe kinda cruel? The show knows we're invested in it, and knows we trust it to delivery a good story, but a prank like this makes us (fine, ME) wonder if those in charge are abusing that power and trust. I don't want to dedicate 10 hours of my life this spring to a show that will take an opportunity to hook me, and then, for lack of a better expression, mock me. If this how Season 2 is going to be, I'm already cautious — and not in a good way.
Westworld, you're better than this prank. Honestly, you might need your memory wiped and reset before you head back into the park again.