We cannot get enough of these "Westworld" co-stars' Dubsmash videos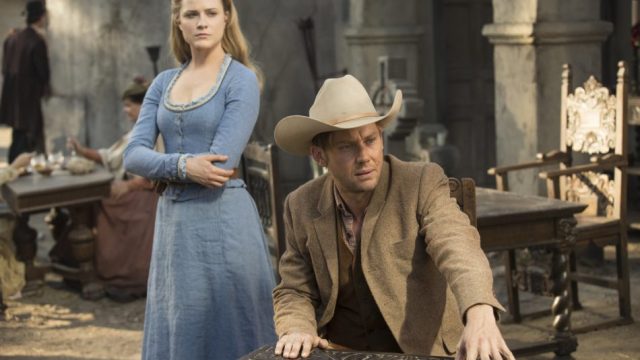 Oh man, we cannot get over how funny this HBO cast is! Some of the Westworld co-stars created Dubsmash videos and we are SO obsessed with them.
We always knew that the cast of this comedy was funny, but these hilarious Dubsmash clips just prove that they've got perfect comedic timing and aren't afraid to get goofy.
Apparently Evan Rachel Wood has been a major fan of the Dubsmash videos and now she's gotten her Westworld co-stars in on the action and the result is glorious.
On Friday, Wood debuted her most recent singing video and wow, just wow.
"#happythanksgiving I think Logan may have had just about enough this Sunday! #westworld @HBO #frozen @evanrachelwood @disneyfrozen @west.world," Ben Barnes (aka Logon on the show) captioned the video mashup which makes a cameo in.
The clip shows Wood singing, "Do You Want to Build a Snowman?" from Disney's Frozen, when all of a sudden Barnes pops into the screen and it's pretty scary.
Last week, Wood did another video, this time with her on-screen love interest, Jimmi Simpson.
The two channeled Pinky and the Brain and we can't stop laughing.
In case you want more from the Westworld cast — we will not judge you if you do — we've got even more funny Dubsmash videos to enjoy.
A week ago the cast joined forces to sing along to Oukcast's "Hey Ya," and they're pretty impressive. Honestly they look like a real-life band in this one.
Want to see a movie Westworld takeover?
Well, you're in luck, because Wood and Simpson did a Back to the Future clip and it definitely takes us back to the 1985 flick.
false
Bueller, Bueller, Bueller. Anyone, anyone?
false
Which Westworld Dubsmash video is your favorite? What would you like to see them do next?