Wes Anderson directed an H&M commercial starring Adrien Brody, and it's quirky holiday perfection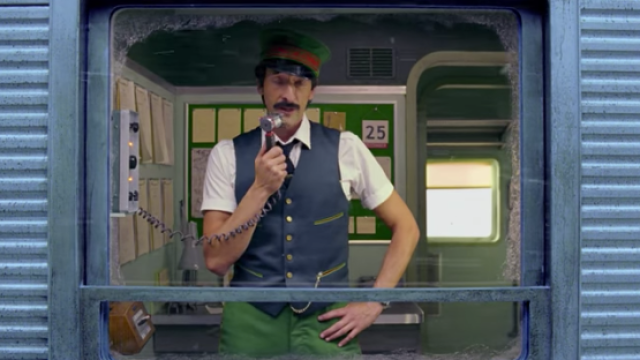 Now that Thanksgiving has come and gone, the holiday season is officially in full swing. This means almost nonstop Christmas music, decorations, and holiday movies for the next month. And this year, one of our favorite super quirky directors decided to get in on the holiday game. That's right: Wes Anderson directed an H&M commercial, and can this be an annual thing please??
 The ad, which is really more of a short film, is four minutes long and features frequent collaborator, Adrien Brody.
Check it out below:
https://www.youtube.com/watch?v=VDinoNRC49c?feature=oembed
Despite being an extremely long commercial, "Come Together" is everything we know and love from Anderson. Brody stars as a train conductor who has to inform his passengers that due to a delay, the train won't reach its destination for an additional eleven and a half hours.
To get passengers in the holiday spirit, the conductor and his assistant host a brunch and decorate the train's cafeteria.
As with all things Wes Anderson, the short features an eclectic color scheme, awesome music, and an exponential quirk factor. And as it's still an H&M ad, everyone is wearing fabulous H&M clothes, found in stores everywhere.
Seriously though, this is incredible and hopefully this is the first step in getting Anderson to direct a full-length holiday film. Our only question is how they're going to fit this masterpiece into a 30 second TV spot!