We're loving Anna Kendrick's rendition of "I'm Still Here" on "Colbert" last night
Isn't it great when an actress proves she's got the voice of an angel? Last night, Anna Kendrick sang "I'm Still Here" to Stephen Colbert on The Late Show, and she totally nailed it.
Kendrick actually has a background in musical theater, so we shouldn't be too surprised. She broke out into song to pretty much break the tension that the end of 2016 has brought, and we have to say — it kind of worked.
While she's no stranger to singing with Colbert (who has interviewed her three times in total) she went solo with this one, since based on the last week, he didn't have too much time to prepare for a duet.
"2016 has been kind of a bitch, and I keep thinking about this song... it's just, like, one of those songs that makes me feel empowered," Kendrick said. The song is from Follies, and it's truly beautiful.
https://www.youtube.com/watch?v=BrBkHwlwpZo?feature=oembed
By looking at the lyrics, we can definitely see why Kendrick had it in mind.
"Good times and bum times, I've seen them all and, my dear, I'm still here," the song starts. Seeing Kendrick sing it makes it even better.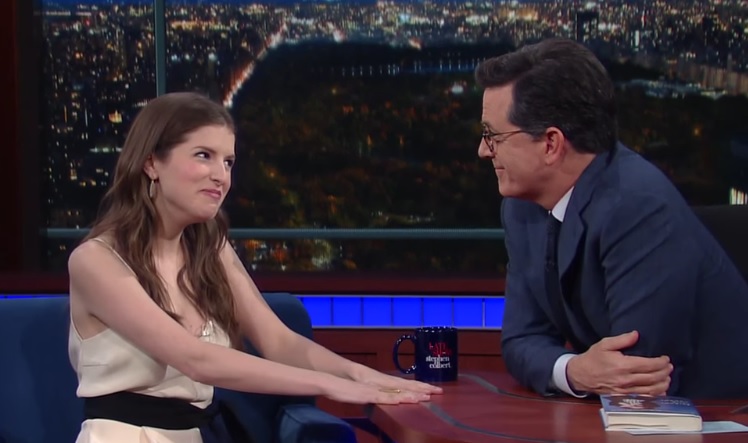 Kendrick was on the show to promote her brand new memoir, called Scrappy Little Nobody. The book contains a few autobiographical essays that talk about her Broadway past (okay, now the song really makes sense) and her future, which includes six upcoming new movies. That's right — Kendrick has been pretty busy these days. It also details her true feelings on Zac Efron, which means it's pretty much a must-read.
Not only do we need to grab this book, but we need to find our own anthems to help us feel better about this year!