Wendy's and Burger King are throwing major shade at each other, and it's getting real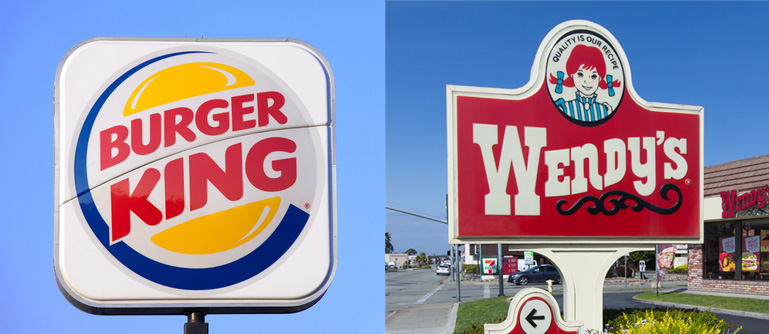 When we say the words "fast food showdown," you probably imagine various eateries competing to see who has the best burger-fries-milkshake combo. But, no. Apparently, in modern times, Food Network is no longer the suitable place for such a competition. Twitter is.
Last week, a virtual duel between Burger King and Wendy's unexpectedly began and, really, who knows when it's going to end? (It is Twitter, after all. Anything can happen.)
It all started last Wednesday, when Wendy's casually tweeted about their 4 for $4 deal. They referred to the deal as a "trayful of mouth-filling glory" and were probably pretty proud of their work.
Then, Burger King char-grilled their pride and threw it on a sesame bun when they sub-tweeted saying that their 5 for $4 deal is better. Why? "Because 5 is better than 4" – not greater than 4, but better.
Wendy's wasn't about to let that diss go unnoticed. When someone following the duel asked Wendy's what their response to Burger King's put-down would be, they craftily responded with two words. Two words: "edible food." (Ouch.)
As for the people of Twitter, they were pretty pumped about this and applauded Wendy's expert comeback in their usual style (with plenty of GIFs, GIFs, and more GIFs):
If Twitter users have anything to say about it, it seems that Wendy's is currently winning this fight. We have to admit – that was a pretty solid response. *slow clap*
Now, the only question is: Will Burger King respond? What will they say? Will this Twitter word war ever end? Also – could you imagine if other fast food chains get involved? It would be like World War III – with a side of fries, of course.
(Images via Shutterstock)