These are the weird ways yoga can benefit your dating life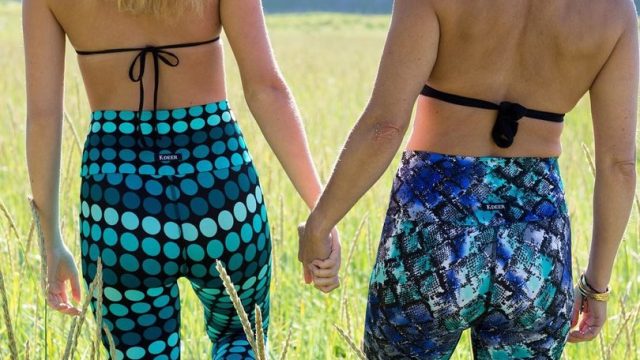 We've heard time and time again that yoga can enhance flexibility, provide a deep sense of the self, prevent injury, and relieve stress. However, have you ever considered how yoga can benefit your life as a whole? Specifically, your dating life? To celebrate International Day of Yoga, which is on June 21st, let's talk about the perks of yoga in terms of sustaining romantic relationships.
HelloGiggles chatted with some wellness experts about how yoga can contribute to your sex life, your integrity, and a deeper understanding of yourself and your partner.
Here are six weird ways yoga can improve your dating life.
1You learn to love yourself more
Studies have shown that yoga improves self-confidence and makes you feel more at ease in your own skin. The more you turn inward and strengthen both your body and mind, you'll learn to accept who you are on a much deeper level.
Kristine Deer, owner and founder of activewear brand K-DEER, tells HG that her practice has fostered self-love in her life, since yoga helps her connect with and understand her body. This plays a huge role in our relationships. "The most important aspect of your love life is the love you have for yourself," Deer explains. We can't find success in the world of relationships if we don't love ourselves first and foremost.
2You learn not to get too attached to things (and people) you can't control
One of the principle lessons you learn in yoga is non-attachment. You try your best and do everything you can, but there comes a point in your yoga practice—and in your life—when things are out of your control. How you react to those moments determines how you'll feel moving forward.
The truth is, no matter how much positive effort you put into your dating life, there are some moments when you simply don't get the outcome you want. But Deer says yoga "reminds me not to be attached to the outcome of my efforts," and that principle can certainly apply to you in the world of dating as well.
3If you practice with your SO, you become strong together
It might be time to try practicing yoga with your partner. Bess Prescott, co-owner and director of yoga studio Creature Yoga, says, "There's no better date than a yoga class followed by a coffee or a healthy meal – no strings attached, it's safe and good for you, and there's no alcohol to cloud your judgment!"
Working out is always a great hobby to have with a partner, especially one as meditative and conscious as yoga. The connection to your mind, through your body, helps maintain positive relationships, whether intimate or platonic. By becoming more aware of your body, you can sustain a mindful presence. When practicing yoga with your partner, you can only become stronger together.
"Here's a tip: if your date is completely new to yoga, make sure to find a beginners class so that they don't feel out of their league," Prescott adds. "Hand-holding in savasana is totally optional."
4Sex can become much more exciting
Dr. Karuna Sabnani, a naturopathic doctor and founder of Karuna Naturopathic Healthcare advises, "You should use sex to wake up to yourself, not fall asleep into another person. Your lover is your inner-divine in the physical form."
Since yoga opens up your heart chakra, you can develop deeper connections with people. Poses like Bow, Camel, Cobra, Fish, and Locust, are all heart opening poses. You can also focus on inhaling and exhaling, two things which contribute to a very, um, vibrant sex life.
More scientifically, sex begins in the pituitary gland. By balancing this gland through meditation and yoga, you can create more satisfaction and stamina in the bedroom. Yoga also strengthens your pelvic floor muscles, which increase sensitivity and energy down in your sensitive parts. Orgasms become deeper when these muscles are strengthened.
5You'll communicate better with your partner (or your date!)
Dr. Sabnani says, "You must be intimate and connected throughout the day. Be present to yourself, your situation, and your partner. Don't zone out!"
Everyone needs an hour or so to take a breather and rest. However, many of us connect to our phones or binge watch Netflix as a means to "relax." Yoga can work as a vehicle for you to remove yourself from reality and to focus on the present moment. Stress, responsibilities, and anxiety, can be transformed into gratitude, movement, and intimacy.
"At a deeper level, yoga and meditation techniques can help you uncover your true self and live in alignment with your highest values," says Prescott.
Practicing yoga gives us the ability to particularly focus on what our partner is saying. Communication, emotional connection, and remaining present are all positive results of yoga. Whether you practice alone, or with your partner, establishing a calm and mindful approach to your life and to your relationship can only result in happiness.
6You'll adapt more quickly to changing situations
"Maybe your love life just needs a little flexibility," Deer muses. Although you revisit the same poses in your yoga practice, your body is different every time you do them. You learn to adapt and go with the flow, and these are qualities that will help you out in your love life as well.
By being both physically and mentally flexible, you have a lot more to gain from the romances you find yourself in. "When you lighten up, love yourself more, you will undoubtedly open your heart and mind to love from others," Deer tells HG.
Happy International Day of Yoga! Get on your mat and see what kind of possibilities open up in your love life.