#WeGrabBack protestors are playing Trump's "Access Hollywood" tape on loop near the White House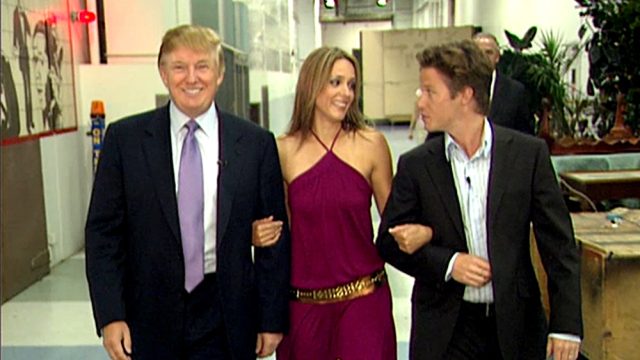 Women's rights organizers UltraViolet are staging a protest of the administration right now in front of the Washington Monument. Their plan? Rent out a huge screen and speakers and play the president's infamous "grab them by the pussy" tape on repeat. For twelve hours straight.
#WeGrabBack is a protest against the president's treatment of women, and, according to the group staging it, a way to communicate to everyone listening that this president is not friendly to women. As a protest strategy, it's pretty smart. All they needed to do was utilize some technology, and then let Trump himself do all the talking.
Campaign director Emma Boorboor explained their motives to the Washington Post.
"We wanted to play the tape on loop to remind the people who the president said he is — a proud sexual predator."
Protestors held signs reading "Grab Back. Stop rape culture. Stop Trump" and "I stand with survivors" in front of the White House itself before the Access Hollywood tape began playing on loop.
https://twitter.com/udfredirect/status/916346898046386176
Emma Boorboor tweeted about the protest as it was ongoing, saying that someone even asked if this tape was propaganda.
The protest against President Trump was well-organized and obviously planned in advance.
They had a permit from The National Park Service to organize on the Mall.
Individuals stood up and spoke about the impact the tape, and this presidency, has had on them.
Members of Feminist Majority showed up in solidarity.
https://twitter.com/udfredirect/status/916348397816287232
"Donald Trump is actively pursuing an anti-woman agenda," Community Organizer Raquel Jackson-Stone told the Washington Post. "We're out here to say women are here, we're fighting back."
Perhaps the most impactful image to come out of the protest is one that Boorboor tweeted. It shows students sitting with backpacks on, lined up in front of the screen displaying Trump's words from the tape. She captioned it, "School trip. I think they learned something."
This is one protest we won't be forgetting anytime soon.