Your Weekly Horoscope, November 29th to December 5th: A Brick Wall of Energy Will Repress Your Emotions
You can blame the lunar eclipse.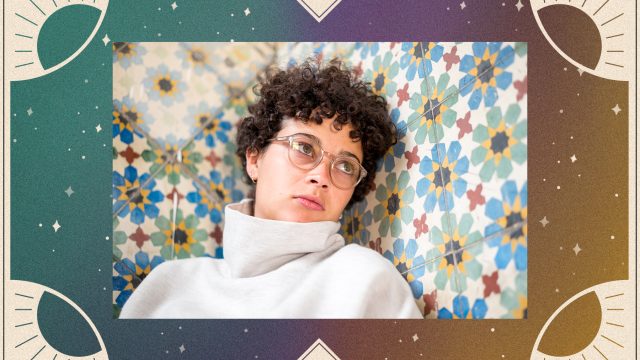 This weekly horoscope will kick off with the lunar eclipse in Gemini on November 30th. The same day, Mercury, which is in Scorpio, connects with Saturn, which is in Capricorn. This will make you feel as though you can't fully express your desires, emotions, and sentiments during the eclipse.
Repressed emotions will be expressed on December 1st when Mercury enters Sagittarius. December 5th allows you to heal, when Venus, which is in Scorpio, harmonizes with Neptune, which is in Pisces.
Scroll below to find your weekly horoscope. Make sure to read your rising sign, too.
Aries
There's a whole lotta gossip floating around your squad, most of which isn't true. Before you perpetuate the rumors by accidentally sharing with another friend, take a moment and think about whether it's the right thing to do. After all, you wouldn't like it if someone did that to you.
Taurus
Money is a bit of a touchy subject this week, mostly because you don't have the funding to buy your friends and family holiday gifts. Think about giving a DIY present to avoid stress. It'll mean more than a store-bought gift, as it comes from the heart.
Gemini
Your emotions will be heightened this week, forcing you to make decisions that aren't based in logic. Allow your mercurial mind to lean into your sentimental side. Feeling your feels will help you calm your nerves and let you make heartfelt decisions (which is necessary for you right now).
Cancer
Finding your inner voice won't be hard this week, as you're bossing up and asserting yourself. Don't step away from confrontation. Let your sentiments and emotions be known. It will help you to become a stronger person by allowing you to feel seen and heard by those you care about.
Leo
Your friends aren't vibing with your crush, which is making it hard for everyone to get along. Have a Zoom sesh with everyone (cocktails or mocktails included) so that they can get to know each other better. They may all become very good friends in the end. Fingers crossed!
Virgo
Work obligations are holding you back from indulging in your plans of having a Netflix and chill kind of week. Before you let your career get in the way of some much-needed "you" time, try implementing a better balance between work and life. This will help you avoid personal and professional burnout.
Libra
Healing relationships will be the core focus of your energy this week. Forgiving others who have wronged you in the past will not only help you move forward, it'll also allow you to see the errors of your ways and help you never to make the same mistakes again.
Scorpio
Setting boundaries is important now, as friends and family will try to give you unsolicited advice about your life. Learning to ignore their comments without arguing back will be hard because you don't like to be told what to do or how to do it (but, to be honest, who does?).
Sagittarius
Love is exciting and new—but only if you can let go of your past hangups and let yourself be happy with your current crush. This may require a lot of work on your end, as you're relearning how to trust and love again without conditions or manipulations.
Capricorn
A few of your colleagues may be parting ways with the company you all work for, making you feel nostalgic for the time you all worked together. You know that it's time for them to go. TBH, you're more upset that the work they've been doing is now your responsibility.
Aquarius
A romantic connection may be coming to an end, which is fine by you as you are starting to have feelings for someone else. Your heart will be tender, but it's not breaking. You're more resilient than that. Plus, you'll have someone new to cuddle up to on cold nights.
Pisces
Your foundation is shifting, which will make you feel like a fish out of water. The lesson here is to go with the flow. Also, learn to focus on the here and now of every situation. This will allow you to see matters through a more optimistic lens.