Your Weekly Horoscope, November 1st to November 7th: A Wave of Second Chances Is Heading Your Way
You'll be retracing the events from the past few weeks.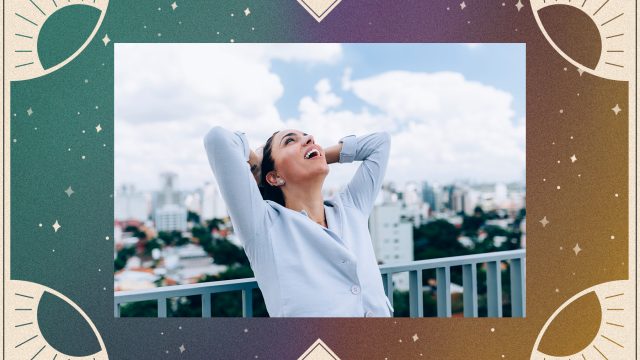 Everyone's weekly horoscope is to VOTE! But let's still check in with the stars and see what they have coming your way this week.
Mercury, which has been retrograde since October 13th, ends its retrograde journey on November 3rd in Libra, giving you an opportunity to work on partnerships and relationships. The post-retrograde zone known as "retroshade" will last until November 19th. During this time, you'll retrace the events from the past few weeks.
Mercury squares off with austere Saturn, which is in Capricorn, twice this week (on November 1st, when Mercury is retrograde, and on November 6th, when Mercury is direct). This will give you a second chance on the 6th to revise any communication mishaps or travel issues that occurred on the 1st. It will also help you to make amends with others and vice versa.  
Below is your weekly horoscope. Make sure to read your rising sign, too.
Aries  
Issues at work may come to a head this week, making you want to avoid confrontation (even though you tend to tackle matters head on). It's okay to turn your phone off and not respond to the drama, especially if you are not in the mood to partake in it.  
Taurus  
You're more focused on maintaining your regularly scheduled life at the moment than anything else. This means sticking to mundane tasks like keeping a daily skincare regimen, going to bed at the same time every night, and minimizing your screen time with others. A routine will do you good.  
Gemini  
In the past, you've been a stickler for boundaries in relationships—particularly not letting anyone overstep in your friendship with them. Now you are the one who's not keeping up with the limits that have been set by you. Try to find a balance to ensure you won't overstep again. 
Cancer  
Your intimate relationships are now deepening, allowing you to put more of your energy into these partnerships. The only caveat is that you may drop the ball at work, as your focus is on your love life and friendships. Find balance to avoid losing track of your professional obligations now.  
Leo  
There is a lot of chatter going around the office about you, most of which isn't 100% true. Have a direct conversation with your colleagues and laugh off the drama to avoid more gossip being spread during the week.  
Virgo  
A romantic interest is proving to be more your type than you had thought. Don't disqualify them from the chance to be your S.O. in the beginning of the week. Keep an open mind and let them woo you. They'll charm and dazzle you in the days ahead.  
Libra  
You're not used to being the one left out of the group text with your crew, which is why it'll upset you when you are. Before exerting your fiery temperament with your squad, ask them if you can be included. Odds are it was an oversight and not on purpose.  
Scorpio  
You often have a filter when talking with others. However, this week you'll accidentally say things that you may regret. Even if you do, apologize right away and make a joke out of it. Your friends, colleagues, and family will drop the drama if you find humor in the matter.  
Sagittarius  
A friend may ask for a monetary loan this week. Before you respond, ask yourself if you're comfortable lending someone money without knowing when they can repay you. Understand your limits before agreeing or don't help them out. It's your decision and prerogative to do what's best for you.  
Capricorn  
You've been dedicating so much time to work that you've lost sight of your partner's needs in your relationship—as well as your own. Give your S.O. a little attention and affection by spending a romantic evening cuddling with a glass of wine. They'll give you a lot of TLC in return.  
Aquarius  
Because you normally walk to the beat of your own drum, this week you are doing just that. Try not to engage with people who don't align with your higher-minded ideals, and focus on your own healing. You are the only one who knows what is right for you. Period.  
Pisces  
There's a fine line between love and control, which you often overlook. This week, be careful not to assert your beliefs and needs too much on your partner or crush. They may think that you are being extra pushy and domineering when you are simply expressing yourself.