Your HelloGiggles horoscope, October 7th to 13th: Our relationships are about to get intense AF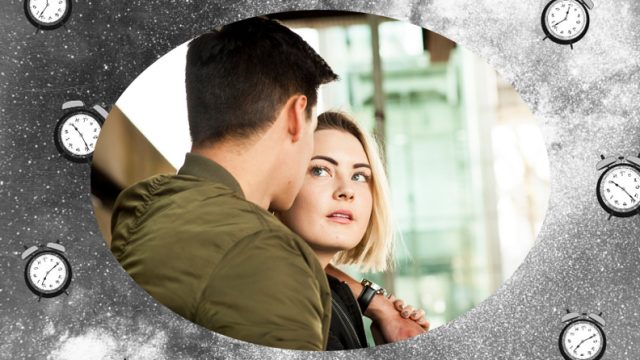 Lately you've probably been spending your time admiring the autumn leaves with your loved ones, sipping your PSLs, and daydreaming about your Halloween costume. Well, say goodbye to those tranquil and friendly vibes from the Fall Equinox, because things are about to get intense—and enlightening. On October 6th, Venus goes retrograde (yes, another retrograde) in Scorpio, forcing us to take a good, hard look at our relationships for the next six weeks. Then, on the 8th, a New Moon in Libra means we'll be further reassessing our current connections. Your relationships won't know what hit 'em this week!
The New Moon in Libra, the sign that's known for its partnerships, gives a bit of a surge to Venus Retrograde, especially since Venus rules Libra. You'll be looking for commitment and confirmation from all of your relationships, including romantic, business, and platonic. At the same time, if long-term isn't in the stars for you, then be prepared to let some people go. As is the theme of the seasonal change into fall, it's time to shed the old and outdated and prepare for the new.
LIBRA
Your relationship inventory is going to take a hit this week, Libra. With Venus, your home planet, going retrograde, and a New Moon in your sign, you'll be feeling the changes more than most. As the sign of balance, your biggest question will be: Where, and with whom, do you find the most harmony? Proceed from there.
SCORPIO
Venus is going retrograde in your sign this week, Scorpio. Just when you thought you couldn't get anymore intense, think again. You're evaluating your relationships like a harsh judge who's sick and tired of being taken for granted. You're more than ready to cut people out of your life. But remember: you can only get as good as you give.
SAGITTARIUS
It's time to take it easy, Sag. You often put too much pressure on yourself and point out what hasn't happened or what you haven't done more so than what you have accomplished. Try to view your relationships in this light too. Every breakup or disappointment is a lesson and a blessing.
CAPRICORN
You've been focusing so much on work lately, Capricorn, that you have conveniently forgotten about your social life. There is a world outside of your career, and now is the time to remember that. Take stock of what you'd like to cultivate in your relationships, and use the power of the New Moon to manifest your deepest desires.
AQUARIUS
Your sex life is about to get crazy intense, Aquarius. Temptations and taboo subjects surround you, including past indiscretions that you thought were dead and buried. Now is your moment to decide whether you will fall for what's being offered or hold out for what you really want.
PISCES
You're feeling a little out of your element in the love department, Pisces. Maybe you're flying solo after a long-term relationship or maybe you're flying by the seat of your pants in a new partnership. Whatever your situation, it's important not to lose sight of yourself and your needs. When in doubt, rely on your killer intuition.
ARIES
Your impulsive ways are being put to the test this week, Aries. You'll want to move full-steam ahead with a new project or passionate affair, but now isn't the best time to throw caution to the wind. Instead, reflect on the lessons of the past year and see where you can implement lasting changes to reap long-term fulfillment.
TAURUS
Since Venus is your ruling planet, Taurus, you'll definitely feel the effects of her going retrograde. In some ways, it might feel like your whole world has been turned upside down. What felt fine last week suddenly feels really uncomfortable. Likewise, what or who you didn't appreciate before might be the thing/person you value most.
GEMINI
This week, Gemini, you'll be asked to understand and compromise with someone a lot more than you normally would, or like to. While it'll feel uncomfortable to put yourself out there more than usual, there's a lot to be said about extending extra kindness and energy to those who need it most.
CANCER
Your home life is about to change, Cancer. While you might be undergoing necessary changes, no matter how daunting they might be, reframing your past is the best way to put it behind you for good. Do what you can with what you have right now, and leave the past behind you.
LEO
It's time to let the people in your life take care of you, Leo. While you never give up an opportunity to be pampered, you don't like to be vulnerable. However, everyone needs to surrender at times. Allow yourself to be nurtured and held. It's gonna be okay.
VIRGO
You're feeling all sorts of feels this week, Virgo, which is different for you. While you might not like to acknowledge and process deep emotions, this is a necessary part of your evolution. Don't suppress your deepest desires. Unabashedly want what you want and feel what you feel.
This week is gonna shake up our love lives real good, bbs. However, this is all leading us towards our higher good, including deep, lasting relationships that help us thrive. We gotta feel it to heal it.