Your HelloGiggles horoscope, April 29th to May 5th: Is it getting hot in here or is it just us?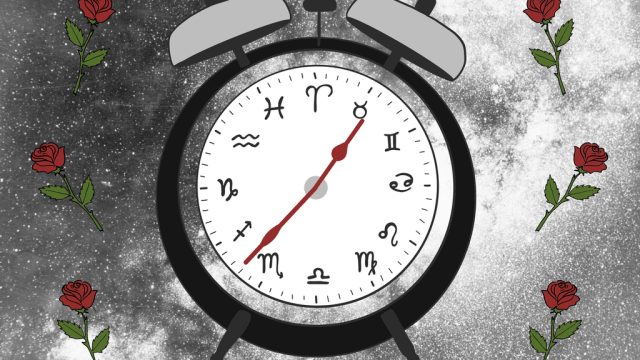 We're ending April with a full moon in Scorpio. Oooh, ahhh. This full moon — otherwise known as the Pink Moon — is the perfect way to kick off this first week of May. Think intensity, passion, and flirtations. But what exactly does this mean for each zodiac sign? And how will it affect our weekly horoscope?
Full moons always have a transformative energy surrounding them and this feisty Pink Moon is no different. We're smack dab in the middle of spring now, which means we are slowly embracing our power as we blossom into the beauties we're meant to be. Read more for what this week will bring to your zodiac sign.
TAURUS
You're feeling a little out of your comfort zone this week, Taurus. You're allll about feeling comfy and cozy, so you're not a happy camper right now. However, if you view this time as a period of necessary growth, then you'll find this transition much easier to handle.
GEMINI
There's about to be a major shift in your life, Gemini. Although you generally like to mix things up, you also don't like to let go of things that once meant a great deal to you. Take a deep breath and rip off the band-aid. Better things lie ahead. Trust!
CANCER
This is an intensely emotional time for you, Cancer. In other words – this week is your JAM. You're basically gushing with feelings and inspiration. Make use of all your feels by putting your energy into new creative projects and your love life. Yes, love is in the air.
LEO
This week's full moon is actually a little meh for you, Leo. While everyone else is living for the drama — typically, your domain — you're taking things sloooowly right now. Whether it's in the boardroom or in the bedroom, you're all about striking a balance and letting things develop naturally.
VIRGO
You're getting in touch with your New Age-y side this week, Virgo. Though you're typically practical and level-headed, you do appreciate the spiritual side of life. Consider trying a new meditation or yoga class to help you go deep and activate that soul seeker within.
LIBRA
You're ready to step out into the spotlight, Libra. You're constantly showing your support for others, but now it's time to claim what's yours. Maybe it's a project that you spearheaded yet won't take credit for, or a creative venture that you've been shying from sharing. Whatever it is, it's YOUR time.
SCORPIO
The full moon is in your sign, Scorpio, which means you're feeling its power more than any other sign. You're already super intense as it is, but this week? It's CRAY. The good news is that these feels are begging you to release and let go of stuff that is long overdue. Lessen your burden and say goodbye.
SAGITTARIUS
You're feeling stretched in many different directions, Sag, but this full moon will help illuminate the people, projects, and passions that truly deserve your time and energy. Take this week to do some inner reflection. What and who lights you up? Who and what brings you down? You know what to do.
CAPRICORN
Have you been holding onto something too tightly, Cappy? Maybe it's a relationship, a project, or a dream. Whatever it is, you KNOW what it is. It's been draining your energy for a long time and now you need. to. let. it. go. It's gonna be okay. Remember: you can't move forward if you have one foot stuck in the past.
AQUARIUS
You're feeling more like yourself than you have in a while, Aquarius. Take advantage of this stable energy by investing your time with the people and projects that make you feel good. This grounding energy will help you finish a long-gestating task and/or meet a new love interest who really *gets* you.
PISCES
You're feeling yourself right now, Pisces. It seems everything's coming up Milhouse for you. You can thank your powerful intuition for this golden time. Keep following your gut because it's not only working, but it's also leading you towards your destiny. Don't allow naysayers to break your stride. Your heart knows best!
ARIES
You're feeling the intensity of this full moon BIG time, Aries. You might feel the urge to ramp up your earnings and look into new business ventures and/or seek a higher paying job. And don't get me started about your love life. In a word: HOT.
We are in for a *very* emotional week, bbs. But if we keep being true to ourselves (which means releasing what no longer works for us and honoring what does), then we can step into the month of May feeling more beautiful and powerful than ever. Until next week!