Your HelloGiggles horoscope, June 24th to June 30th: Stick close to the people who matter most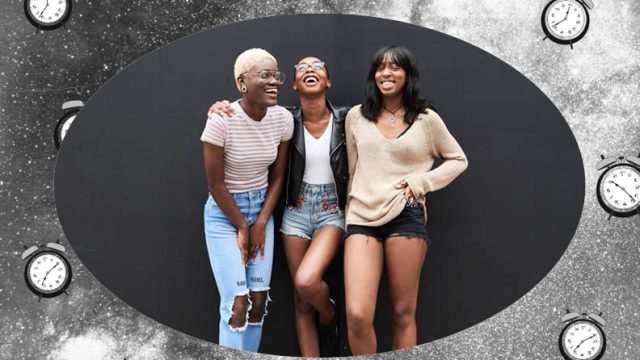 We're officially in Cancer season. Think family time, self-care, and tending to the things that matter to you the most. We're also in the early days of summer — the official season of fun and relaxation — which jives really well with the crab's energy. But hold up: We've got a full moon in Capricorn, the sign polar opposite to Cancer, coming up this week, too. What does it all mean? We've got the deets on what the stars have in store for you.
With the full moon in Capricorn, and its masculine, career-oriented, and success-driven vibes all around, we're going to be striving for some balance this week. We desire to stay close to who and what we know, but we also have a strong pull toward our public duty. Not to mention, it's summer, so we also really want to party.
Find out what's up ahead for your zodiac sign this week.
CANCER
Happy birthday, Cancer! This is your season, so enjoy.  You're infused with a big ol' dose of charm and charisma right now, so take advantage. Go for that promotion, ask for that raise, and/or flirt with that new cutie who's caught your eye. The world is your oyster, crab friend.
LEO
You love the summer, Leo, but your energy is feeling a little low. Don't beat yourself up — there is plenty of time to celebrate the season. In the meantime, fill yourself up with all the things that you love — for example, working on a creative project or watching your fave rom-com — and remember: this too shall past.
VIRGO
You're being called to Mother Nature, Virgo, which means your soul needs some grounding. Take the time to go for a hike or sit by a body of water. Connect with your most trusted friends and family — this isn't a time to explore outside of your comfort zone. It's a time to be still and feel safe.
LIBRA
Your inner #girlboss is raring to come out, Libra. You are feeling a sense of urgency when it comes to climbing the ranks and following your passions. You want your voice to be heard and to help those who are less fortunate. Stay focused, and don't let someone from your past (like an ex) distract you.
SCORPIO
You're focusing on self-care right now, Scorpio. You've been neglecting your needs for a long time, and now it's time to get yours. Don't feel guilty — we must take care of ourselves in order to help others. Don't be surprised if all of this self-love also attracts a new love into your life.
SAGITTARIUS
Do you have a secret, Sag? Or are you holding onto someone else's secret that you're dying to get off your chest? Your desire to speak the truth is legit, but now isn't the time to spill the tea. Stay in your lane and believe in not only the Universe's timing, but that karma always finds a way.
CAPRICORN
You're working hard on a much-loved project this week, Cappy, but a certain relationship or flirtation is dying to get your attention, too. Your work ethic is admirable, but remember that life is about balance — you must work and play hard sometimes. Don't be afraid to have fun and fall hard, either.
AQUARIUS
You might feel like everyone else is having fun but you, Aquarius. You have a long to-do list and endless chores, but all you really want to do is go out and have fun with your friends. You will, but tending to your work is important, too. Plus, the more diligent you are, the more you will get noticed by some VIPs.
PISCES
Love is in the air, Pisces! Get ready for some sweet romance from a new admirer in your life. Although you might feel hesitant and not sure, go for it. Summer is all about exploring new things — and people — and being in the moment. Have fun and see where this new adventure takes you.
ARIES
You're worrying for no reason, Aries. Whatever's troubling you — let it go. You've done all you can and now it's time to release that stress. The Universe has bigger things in store for you, so surrender what can't be undone and allow yourself to have fun. You deserve it.
TAURUS
There's a lot of chaos around you right now, Taurus, and you're not having it. All you want to do is run off and be by yourself with your fave Netflix show and snack. Doing the familiar is the easy choice, but if you risk trying something different — swapping Netflix for a jog, for example — your whole life can instantly brighten.
GEMINI
You're obsessed with the material things this week, Gemini. You feel insecure when it comes to money and the finer things in life. Maybe you've gone over budget or maybe you think you're not where you're supposed to be. Believe that you are exactly where you need to be. Focus less on stuff and more on being present with your life's experiences.
We're encountering a lot of push and pull this week, bbs. But if we choose to flow rather than force, then we can make way for bigger and brighter changes in our world — and a beautiful summer ahead.