Your HelloGiggles horoscope, August 19th to 25th: Peace out, Mercury Retrograde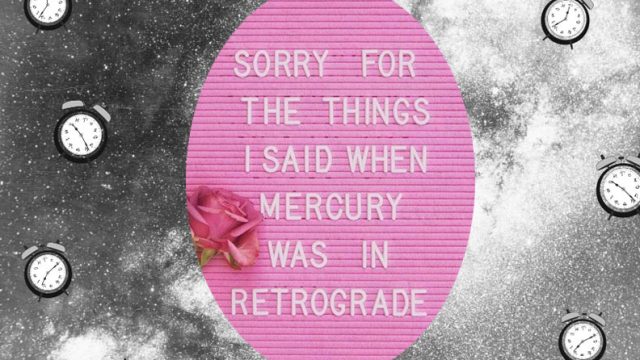 This week we're bidding adieu to the Lioness season, which was if not roaring, at least revealing, thanks to our retrograde overload. Now we're heading into reliable Virgo for the next four weeks on August 23rd. Before that, we say bye to Mercury Retrograde on the 19th and hello to text messages making sense again. It's been a journey. What else do the stars have in store for you this week?
We finally have a moment to breathe and get our ducks in a row. The practical and diligent nature of Virgo will help align us with our goals and get settled as we begin to slowly but surely wrap up the retrograde blitz of the last few months. With Mercury Retrograde out of our hair until November, we are able to move forward with any plans and actions that we've put on hold. However, don't go full speed ahead just yet. With Mercury still adjusting and a few more ongoing retrogrades, it's best to slow our roll.
Here is what you can expect from your weekly horoscope.
LEO
Well, Leo, it wasn't the best birthday of your life but it wasn't all bad. You've learned a lot about yourself, and you have a clearer idea about where you're headed next. Don't be afraid to go it alone for a little bit. You're all you need, and that's enough.
VIRGO
Now that it's almost your big birthday, Virgo, you're finding it easier to express yourself and your desires. You are ready to tackle anything right now because the vision you have for yourself is so strong and electric. Don't let your practical nature deter you from getting yours.
LIBRA
You're making headway with some projects, Libra, which is making you feel more in your element than you have in a long time. Your increased confidence is bringing back that Libra sparkle, which is sure to turn some heads. Get your flirt on and get back in the game.
SCORPIO
Don't be afraid to make time for some play, Scorpio. You've been grinding hard lately, and though your focus on your career is admirable, you always feel like yourself when you make time for the things that really light you up. Let your hair down and have some fun.
SAGITTARIUS
Just when you thought you could ease up a little, Sag, the Universe is throwing another test or two at you. That's okay—you can handle it. These challenges are really reminders of just how capable and resilient you are, and will help you drive forward with that long-held dream you need to make into reality.
CAPRICORN
You're in a lighter and more playful mood, Capricorn. Yes, you. Your friends might be wondering if you've got big news to share, and the truth is…you're finally at a good place in your life where you can enjoy yourself. Don't question this moment, just ride it out. It's okay to be fun!
AQUARIUS
You might be experiencing an array of emotions, Aquarius. One minute you're feeling strong and sexy, and the next minute you're feeling angry and frustrated with the world. Feel your feelings, but also question the triggers behind them. Your probing will bring you needed clarity, and with clarity comes action.
PISCES
Challenges are coming up for you, Pisces, and your sensitive nature might make you feel like you're at your wit's end. First, take a deep breath. Second, don't underestimate yourself. You're not only being asked to stick up for yourself, but you're also being called to rise. Believe in your voice, and level up.
ARIES
You're back in your zone, Aries. You're making progress with current projects, and you've got your eye on expansion. While there's never a question of whether you can do something, right now the cosmos are asking you whether you should. Rome wasn't built in a day. Trust the timing of the Universe, and pace yourself.
TAURUS
Like attracts like, Taurus. So if you want to attract positive and expansive people and experiences, then you must embody that in order to receive it. However, if you're giving out critical and negative vibes, then you'll attract that, too. Decide who you want to be. After all, you're the co-creator of your life.
GEMINI
You're feeling the pressure, Gemini. It might even feel like you're getting it from all sides—your professional life and your personal life. The easiest option would be to flip out and let 'er rip. The more evolved and tempered option would be to wait, ask yourself if there's a lesson for you to learn, and then calmly respond.
CANCER
If you're dreaming of something big, bold, and creative, Cancer, now is your time to proceed. Refrain from listening to the inner critic in your head, especially if it's saying your dreams are too big or won't happen. Your current elevated vibe can make the impossible, possible. Trust it, and let it flow.
This week is a bag full of tricks, bbs. We've got some ebbs and flows to deal with, but if we keep ourselves steady in a higher vibration and focus on what's important to us, we have a better chance of making the most out of this time.