Your HelloGiggles weekly horoscope, February 9th to 15th: Mercury Retrograde is right around the corner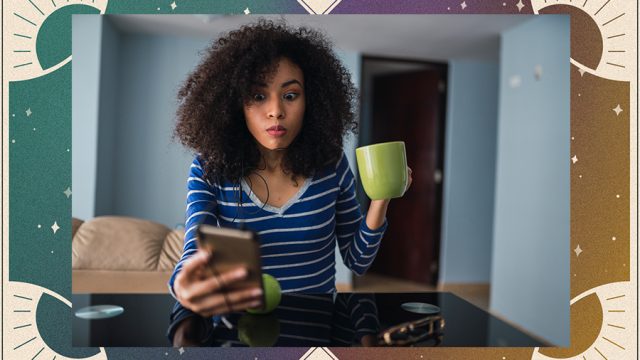 Oh, no. It's about that time of year. This is the last week before Mercury turns retrograde in Pisces, and because of this, we have a few interesting energies going on this week. To begin, we have a fiery Venus in Aries, which is calling us to be more independent and ambitious. Then, we have Mars finishing its journey in Sagittarius, which has been pushing us to make impulsive decisions.  
Of course, don't forget that with Mercury Retrograde right around the corner, it's best to put off making any major decisions. Instead, take the time to focus on your inner self for the next four weeks.
Ready to check out your weekly horoscope for your zodiac sign? Remember to check your rising sign as well.
ARIES
For quite some time, you've been focused on establishing strong foundations for yourself—and this week is still presenting a strong focus on success, reputation, material gains, and hard work. But your energy is a little more grounded than you may like. Just be mindful of the direction you're heading. While you may be focused on your goals and desires, you also want to be flexible so you can flow better in your environment and with your intentions. Allow for surprises and changes to occur.
TAURUS
Look out, Taurus. Love and relationships could cause disappointments and disharmonies to happen this week. But instead of focusing on the negative, try to get into the habit of looking within yourself to see if you're also the problem. Are you frustrated with your partner or are you frustrated with yourself? However, if no one is causing you to feel frustrated, then this is also a great week to focus on building a stronger relationship with yourself.
GEMINI
You're feeling studious, Gemini. This week you have several opportunities to be a student of life, learn new skills, pass an exam or a training process, or simply spend some time reading and learning new things. Your goal is to gain new knowledge and apply it to various areas of your life. Try to engage in self-help reading or take a new class. The world is your oyster.
CANCER
A lot of your energy is going to be dedicated to relationships this week, Cancer. However, you're also going to process old pain, too. The truth is, relationships are where you receive the most rewards and experience the most growth. So if you have been neglecting your needs for the benefit of getting along with others, you'll find that it will be difficult to maintain this attitude from here on out. This is the time to ask for what you want.
LEO
This week, you'll be asking yourself some important questions, Leo. You'll be wondering how to achieve better relationships in your personal and work life, how to achieve a better work-life balance, and how to become the best version of yourself when it comes to relationships. You're yearning to improve yourself. And if you've been dissatisfied with your routine or health, use this time to review your habits to come up with new ways of doing things.  
VIRGO
You're all about communication this week. You want to be out and about, have a rich social life, and form relationships with other people. But if you're naturally more introverted, it's time to get out of your comfort zone and connect with others. You'll find that other people have a lot to bring to the table, so don't miss out on these social opportunities.
LIBRA
You're focusing on your inner life more than your social life this week, which is rather unusual for you. You have a desire to be more honest, not only to yourself but to others as well. And you also may be less inclined to people-please. Use this time to start a new hobby, journal, and say your piece. It's time to speak up.
SCORPIO
This week is all about self-reflection and improvement. The best way to make the most out of this week is to focus on baby steps, small victories, and small gains. The more you can keep track of your small achievements and progresses, the more you'll be able to enjoy your progress and growth.
SAGITTARIUS
You're all about real estate, housing, and family this week, Sagittarius. Not only are you trying to establish a new foundation for yourself, but you could also experience some delays or frustrations because of this. Because Mercury is about to retrograde in your house of communication and short trips, it's best to delay moving to a different location after the retrograde is done.
CAPRICORN
You're focused on communications this week, as harsh truths could have been said by others and left a pain in your heart. Now is a good time to spend some time alone to reflect and rest your mind and spirit. This is the end of a period where you want to rest and heal—don't cut it short.
AQUARIUS
While you may feel tempted to take action this week, it's better for you to pause and do nothing. Observe, rest, relax, and avoid committing to anything at this time. Be patient, more will be revealed in due time.
PISCES
Love is all around you, Pisces. This week you could feel beautiful and loved by others, whether or not this is connected to someone special. You're feeling dreamy, imaginative, and you're in your element. Essentially, the majority of your energy will be going through a healing transition that feels needed.
Want to learn astrology with me? Take my beginner's class, which starts on February 23rd. Enroll here.