Your HelloGiggles weekly horoscope, February 16th to February 22nd: There's a reason why your feelings are at an all-time high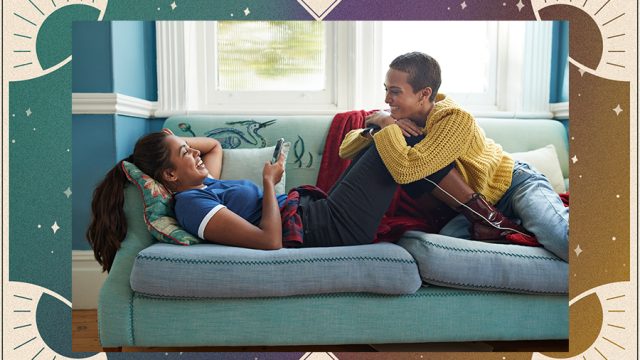 Of course, you already know this, but Mercury is retrograde in Pisces. And because of this, we will experience confusion and  dreaminess—so keep a lookout for attached documents missing from your professional emails and exes reaching out from their tombs. Oh yeah, and a lot of miscommunication.
Thankfully, we do have other energies that are a little more grounded, including Mars making its grand entrance in Capricorn, which acts as a nice anchor for all of that Pisces energy that's going around.
But let's check out your weekly horoscope for your zodiac sign, shall we? Also, don't forget to check your rising sun, too!
 ARIES
Never say never, Aries. You seem to be particularly good at handling your emotions this week. And although you might feel more sensitive than usual, you also seem better at responding than reacting. This week is about opening your heart, letting other people in, showing kindness and forgiveness, and, overall, working on being more emotionally present and mature. If you're considering volunteering, donating, or doing something else that involves giving without wanting to receive anything in return, this is the time to get started on these activities.
 TAURUS
The truth shall set you free, Taurus. This is a very spiritual week for you. Not only will you find yourself dreaming more than usual and reflecting on your values or beliefs, but you may also ponder whether or not some truths shall be said by others. Of course, not every truth deserves to be said. Instead, reflect on your core values, principles, and beliefs to begin living according to them. 
 GEMINI
This week is about generosity and charity for you. Whether you're the one in need of help or the one in a position to give, you're all about borrowing or giving. If you're in need of a loan or a miracle, this is a good time to ask for help or go to a financial institution to ask for what you need. However, if you're in a position to help others, do what you can to be of help, without expecting anything in return.
 CANCER
Look out, Cancer. You're being faced with a whole lot of relationship energy this week. You might be pondering the question of: Have I fought enough for this relationship or have I given up too quickly? Unfortunately, I don't have the answer for you, but your partnerships are the highlight of your week. Remember: if a relationship requires that you give up on your beliefs and convictions, then it might not be worth fighting for.
 LEO
Because your heart is on relationships and romance, you could be feeling particularly nostalgic and pulled to reflect on the past. This mean it could be a week of reconciling with someone. After all, Mercury is retrograde in your relationship sector. Either way, you'll be feeling melancholia, nostalgia, and you may even want to summon feelings and memories from the past. 
 VIRGO
You are entirely focused on relationships and romance this week, and you will find yourself being pulled to think and overthink past events and situations. Mercury is retrograde and it's pushing you to reflect on what was said and done by others. However, whatever you decide to do when it comes to relationships or situations, things will remain a little stormy before things get better. While you're free to invoke the past or make decisions, you'll have to navigate a little storm regardless of what you decide.
 LIBRA
There will be a lot of motherly vibes for you this week, Libra. Whether you're being a mother to yourself or to your loved ones, you're being called to explore how it feels to be anchored, grounded, safe within yourself, and be a safe place for other people this week. Safety might mean more savings or income, or it might mean creating emotional safety for you or others. Regardless of what safety means for you right now, you can count on yourself to be there for yourself and others, while feeling like you have a solid foundation.
 SCORPIO
This week is one of communication and emotional connection for you. While you might find yourself having a lot of feelings to sort out, it's nothing out of the ordinary for a Scorpio. The key this week is to make sure you're communicating abundantly about what you're feeling to others. But if you can't share with someone else, write your feelings in a notebook. Business-wise, it's a very good time to focus on sales and negotiation. Remember: Mercury is retrograde and so, as much as it's business as usual, do read things twice before signing anything important!
 SAGITTARIUS
You could be experiencing some self-doubt this week. You may reconsider the decisions you've made, especially pertaining to financial or personal values. Because of this, you may experience guilt or regret, but keep in mind that you have the energy to make decisions to correct the issues at hand. Your drive and capacity for accomplishing things are fairly high this week, so if you're feeling a little blue about the past, you have what it takes to change the future.
 CAPRICORN
This week's energy is very positive for you. During this time, you could feel particularly connected to yourself and your emotions. You may even feel motivated to take care of yourself and go after your goals. Mars arriving in your zodiac sign is really helping you feel boosted with confidence. However, the rest of the energy you'll be feeling is focused on self-development and self-care, which is giving you a week to focus on yourself.
 AQUARIUS
Now could be a dreamy and/or confusing time for you. This is when you could experience feeling tired, drained, or quite simply, dissatisfied. The upside of this energy is that this is a time of self-undoing, which is why you're advised to slow down and focus on your psyche. Meditate, go to therapy, or simply reflect on what are the hidden forces that drive you to do this or that. If you can slow down enough to reflect, you could find the source of your unhappiness, and even discover where your joy resides.
 PISCES
Playfulness, creativity, imagination, and friendships–these are the keywords for you this week. And from what you can probably tell, this is going to be a rather agreeable time for you. It goes without saying that this is your season, so you're rightfully feeling yourself. Plus, with Mercury retrograde in your sign, it could bring about a feelings of fogginess, increased imagination and creativity. Now is a good time to brainstorm and create.
Want to learn more about astrology with me? Take my beginner's class, which starts on February 23rd, Enroll here!