Your HelloGiggles horoscope, February 10th to February 16th: Time to get sensual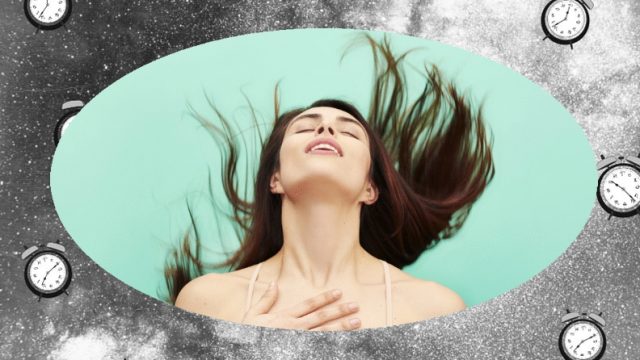 It's already the middle of February! The shortest month of the year always seems to fly by, but this year we're feeling it move faster than ever. That's because we're being asked to put our big visions (the ones we might've come up with during the New Moon in Aquarius) into action as soon as possible. No more procrastination. If we want to evolve, it's time to push ourselves. Your Netflix binge can wait. Your dreams are more important.
This week we will also experience Mercury entering Pisces on the 10th, so be prepared to communicate with everyone in your world in a more intuitive and emotional way. Compassion comes more easily than ever now. This dreamy time coincides with Valentine's Day, the same day when Mars will enter Taurus. Mars meeting the Bull means we're not only more stable and patient regarding our longterm goals, but we're also in for an earthy, sensual time when it comes to lovemaking and all forms of arousal. Happy V-Day, indeed.
Here's what else the stars have in store for you in your weekly horoscope:
AQUARIUS
If you need help with something, Aquarius, don't hesitate to call on your beautiful community. You often shy away from exposing your vulnerability, but remember: people want to help you as much as you always help them.
PISCES
You have a way with words this week, Pisces, thanks to Mercury entering your sign. So whether you're trying to connect with someone professionally or personally, speak your truth. People will relate with your dreaminess now more than ever.
ARIES
You might find yourself needing to have an important conversation this week, Aries. Instead of speaking whatever's on your mind as bluntly as you usually do, try a different approach. Try soft, sweet, and flexible. You catch more flies with honey.
TAURUS
Time is on your side, Taurus, when it comes to a certain situation. Remember this as you find yourself racing against the clock. Your superpower is your patience and steadfastness; use it whenever you feel like you're struggling. It's going to work out. You've got this.
GEMINI
You don't do well with vulnerability, Gemini, but you might find yourself needing to express more emotions than what you're normally used to. Embrace it. By doing so, you'll experience not only more connection, but a different perspective on a nagging issue.
CANCER
Whenever you feel anxiety, Cancer, you tend to retreat. However, this week, it might be wise to let your loved ones in on whatever is troubling you. You need support, too. So open yourself up to love and some TLC.
LEO
You have to pick your moments in life, Leo. You might want to rush a certain situation into being something it's not ready to be just yet. Patience isn't one of your virtues, but if you can allow for more softness and ease, you could be pleasantly surprised with the results.
VIRGO
Letting go is difficult for everyone, Virgo, but you find it especially hard. You don't like being wrong. But how could you perceive a situation differently? Maybe there is no "wrong" or "right," but something that just is. Acceptance will go a long way for you.
LIBRA
You'll be in the mood to socialize with your favorite people this week, Libra. While it's easy for you to connect with others, it's challenging for you to wear your heart on your sleeve. Vulnerability is a powerful connector. Don't be afraid to speak from your heart.
SCORPIO
Have a gut instinct about something, Scorpio? Follow that. You're exceptionally intuitive and you're being guided towards something beneficial. Don't think about how long it might take to get there—focus on what needs to be done now.
SAGITTARIUS
You're feeling excited about new horizons and opportunities, Sagittarius. But it's time to get a little more grounded. You often get lost in the clouds, but staying closer to Earth (meaning getting practical) will help you see things more clearly.
CAPRICORN
You have decisions to make, Capricorn, but instead of relying on your logic, it's time to trust your intuition. Honoring your emotional truth will give clarity to a cloudy situation and help you come closer to your overall vision for your life.
When it comes to sticking to your vision, bbs, listen to your heart. Keep dreaming big dreams and speak your truth. Our honesty helps to unite us all.
Brianne Hogan's Friendship Signs: Your Perfect Match(es) Are in the Stars, a fun book on astrology and friendship, is now available for pre-order on Amazon and Barnes & Noble. Look for its official release in May 2019!