Your HelloGiggles horoscope, December 9th to December 15th: Creativity and passion are calling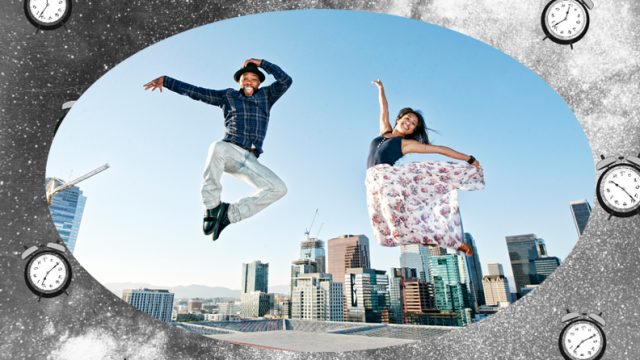 It's normal to get nostalgic and teary-eyed around the holidays. We're wrapping up one heck of an intense year, reconnecting with old friends and family, and getting lost in the feels of Hallmark Christmas movies. But this week we also have Chiron, a heavy little comet that's often known as the "wounded healer," going direct on the 9th in Pisces. Chiron, which represents our deepest wounds and how we try to heal them, has been in retrograde since July 4th, forcing us to do some inner cleansing. Now that it's direct in the equally emotional Pisces, we might find ourselves feeling more empathetic and weepy than usual. We might also find healing through expression and creative arts.
Speaking of expression, Mercury heads into Sagittarius on the 12th, so connecting with people will be easier than it has been lately. We'll be more optimistic and straightforward with our communication, which will make for enlightening and charming conversations. Then, on the 15th, with Uranus semi-square to Neptune, don't be surprised if you're feeling a little frustrated with the status quo and want to jump into an innovative project. You might want to use the intellectualism of the archer to get the facts before starting anything new, though.
Here's what else the stars have in store for you in your weekly horoscope:
SAGITTARIUS
With Mercury in your sign this week, Sag, everything's coming up Millhouse for you. You're able to communicate your needs and desires with great ease and your trademark charm, so now is the time to ask for what you want—you'll probably get it.
CAPRICORN
You're balancing the dark with the light this week, Capricorn. You're feeling like you want to dive deep into your spiritual quest, but you also want to use this time to have fun with friends and loved ones. Do both. Both will help you with your long-term goals.
AQUARIUS
You're due for some major growth, Aquarius, and this is the month to plant those seeds. You're the futurist and tech wizard of the zodiac, so if you're inspired to create a project on IGTV, YouTube, or a podcast, then follow that impulse.
PISCES
If you're feeling like you need to speak up, Pisces, now is your chance to do so. You often sell yourself short and let others take the lead, but you have a lot to offer to the world. Use your voice to do what you want.
ARIES
Even though it's the holiday season, Aries, you aren't slowing down. While your exuberance is admirable, don't forget to take a breath and enjoy what's going on around you. Work can wait. This time of year only happens once.
TAURUS
You're getting your ducks in a row this week, Taurus. From your career to romance, there's a lot going on in your world right now. While it might feel slow-going, remember that Beyoncé wasn't built in a day.
GEMINI
Teamwork is your theme of the month, Gemini, and it's not letting up this week. However, you won't be doing a lot of "work" right now; instead, you'll be receiving support and accolades for your recent efforts. Soak it in. It's okay to receive help and be recognized.
CANCER
You're in the middle of a huge transition, Cancer. While this probably feels uncomfortable to you, it's important to understand that you're going through a major growth spurt right now. Take a breath, but don't give up.
LEO
You're in your zone right now, Leo. You're feeling good about where you are creatively, professionally, and personally, which is amazing. It's important for you to remember this moment. In the ebbs and flows of life, it'll help you get through the ebbs.
VIRGO
While you've suffered some setbacks lately, Virgo, this is your week to gain clarity and closure. Understand that there's a reason for every season. Take this time to analyze why it happened and go deep to find your lesson.
LIBRA
If you're feeling overwhelmed right now, Libra, don't be afraid to ask for support. People do care—they're just not mind-readers. Vulnerability isn't a weakness, but a sign of strength. Express what you need and wait for your squad to step up.
SCORPIO
You're feeling pretty lucky this week, Scorpio. That's because it seems like everything you touch turns to gold. Own it. Don't doubt your abilities or talents. You've earned the riches and successes that have entered your world recently. Know you're deserving.
Let's use the creative and positive energy of this week to not only heal ourselves, bbs, but also each other. We are more powerful when we are one.