4 Genius Tips From 2022 Brides You'll Want to Steal for Your 2023 Wedding
From wedding parties to sustainability, these new trends are set to shake up traditional weddings.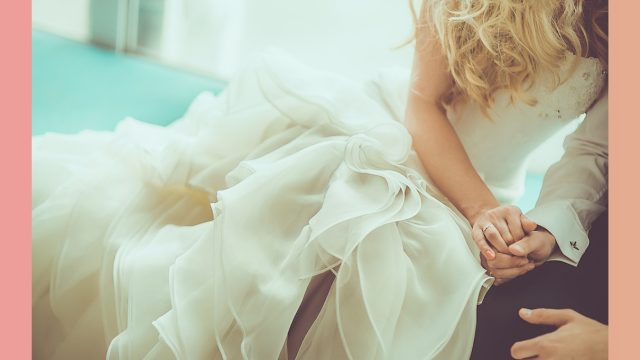 If you're tying the knot in the new year and are looking for some genius tips for the big day, help is at hand. With so much to organize, from a bachelorette party to celebrate your impending nuptials to the song you'll pick for your first dance, it's safe to say there's a lot to arrange.
And while it can all seem slightly overwhelming at times, with some deep breaths, careful organizing, and some sage advice from a leading wedding expert, we'll ease your wedding-day worries in no time at all.
Zoe Burke, a leading wedding expert and editor of Hitched says, "from simple details like more inclusive wedding parties and trending wedding colors, to much bigger considerations like sustainability and eco-credentials, the wedding trends for 2023 are set to shake up weddings as we know them."
Intrigued? Read on for Burke's four genius tips from 2022 brides that you'll want to steal for your 2023 wedding.
RELATED: 20 Best Date Night Movies to Watch With Your Partner
1. Wedding Parties 
The re-invented "bridal party," featuring a mix of genders has been a big trend since the pandemic — and that shake-up shows no sign of stopping next year.  The updated term "wedding party" has been adopted to be more inclusive than the old-fashioned "bridal party" and many couples have moved away from traditional gender focused roles for their nearest and dearest.
Burke suggests that "bridesmates," "wedding squad," and "I do crew" are just some of the terms couples have adopted as new names for their wedding party. This is a great opportunity for couples planning their 2023 weddings to really think about who they want to include in their wedding parties, and to stop tradition from holding them back when it comes to what's typically expected of the "bridal party."
2. First Dances
While there are several new trends on the horizon, few of them are more relatable than the update to the first dance. In a recent survey carried out by Hitched, 50 percent of couples revealed that they're nervous about the first dance — and more than one-fifth admitted that they were "dreading it!"
The data Hitched collected shows that a whopping one in ten couples are set to skip the tradition altogether in 2023, and instead are finding more fun and creative ways to mark their first activity as a married couple.
Burke says that she's "seen a couple hire retro dance machines to dance against each other in a 'first dance-off' and another switch their first dance out for a karate fight instead! There are so many other things couples can do to mark their marriage rather than a traditional dance in front of everyone."
So why not get creative when it comes to reimagining your first dance? Burke wants to encourage would-be brides to really think about what's right for them. "Don't be scared to follow your passions and interests and incorporate these into certain traditions that don't quite suit you," she advises.
3.
Sustainability
There's no doubt about it: sustainability is on the rise in almost all aspects of life. From keep cups to carbon footprint, we all want to live more sustainably, so it's no surprise that people are taking the environment into account when it comes to planning their wedding.  
"This is another big one, and will continue to be part of the conversation around weddings for the foreseeable future," says Burke. She notes that their latest National Wedding Survey found that sustainability was a consideration in wedding planning for over one-fifth of couples. This will undoubtedly continue throughout 2023 and beyond.
Renting a wedding dress is just one way of making your big day more sustainable – and it's also generally more purse-friendly too.
"The eco-elements extend beyond wedding outfits, with interest in eco-friendly wedding favors soaring by 1,500 percent in the last year, as nearly three-quarters of couples admitted they wanted to still give a traditional wedding favor to their guests, but didn't want to contribute to landfill by giving something that would end up in the bin," says Burke.
From sourcing sustainable solutions from vendors to solar powered lights and beyond, Burke wants to encourage couples to explore as many of these options as possible before committing to something that might be more aesthetically pleasing, but less planet-conscious.
4.
First Look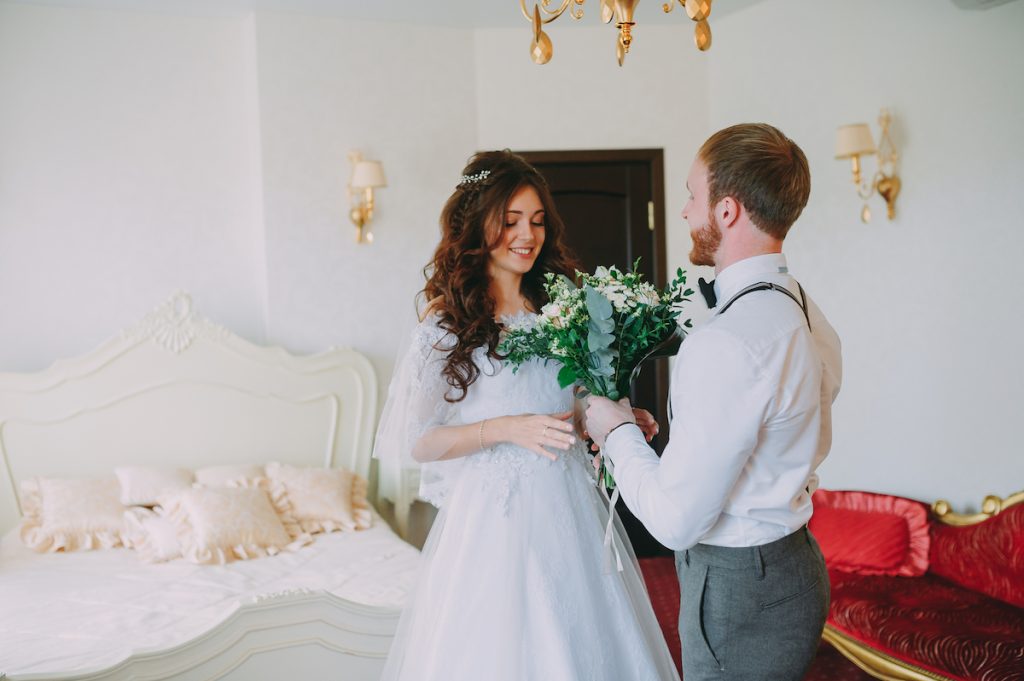 From the first look to the first dance, many couples are really choosing to make their wedding days more about them than ever before — and in some cases, *only* about them!
Burke says that at Hitched they found that more than ten percent of couples decided to forgo the old-fashioned idea of not seeing one another before the "I do," and instead chose to do a "first look," a moment for the happy couple to have some time alone before they hit the aisle.
"I love this new tradition as this time alone allows the couple some time to really relish one another before the chaos of the wedding day ensues, and gives them a moment they don't have to share with anyone else," says Burke. She suggests speaking to your wedding photographer and venue to help co-ordinate a first-look, "they'll know where to position you away from any guests, and allow you to capture this beautiful, intimate moment, before you go out into the crowd."
Lucy Pearson is a freelance writer, book blogger and host of The Bondi Literary Salon based in Bondi.
Read more