The 10 Best Dance Songs That Need To Be On Your 2023 Wedding Playlist, DJ's Say
Planning a wedding in 2023? Stop, collaborate and listen — to these 10 tunes you'll want to play on your big day.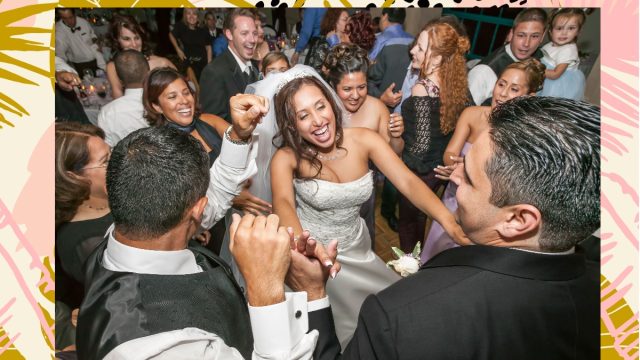 He popped the question, now it's time to get planning. With nearly 40% of engagements happening in the two-and-a-half months between Thanksgiving and Valentine's Day, according to WeddingWire, there's lots of you trying to plot out the perfect Big Day.
You'll want to leave no detail unturned. But let's be honest: a wedding is just a really big party. And what's more important at a party than the tunes? Making the day memorable for guests means helping your DJ select a playlist that'll keep them up and on their feet, all night long.
RELATED: 4 Gorgeous Engagement Rings Under $1,500
"The goal is to keep the dance floor full while at the same time making everyone in the room feel like the DJ is playing just for them," professional DJ Tony Mancuso tells HelloGiggles. "My first dance set is always filled with a something for everyone. This makes everyone feel involved, and once they are dancing, they don't want to stop. Then as the night builds, you can throw in some songs that can really amp up the energy and take the party to the next level," advises Mancuso.
We went to the professionals at the Florida and New York-based Platinum Entertainment, to find out the top 10 songs your DJ should be spinning in 2023.
1. Beyonce – Cuff It
While "Break My Soul" may have been the 1st single off this latest Queen Bey album, "Cuff It" is a smash hit and guaranteed to be a future classic on dance floors for years to come. "It's modern but with a throwback feel to it. Like Diana Ross' "Upside Down," its Disco Pop at its best," says Mancuso.
2. David Guetta ft Bebe Rexha – I'm Good
David Guetta does it again! "This track ignites a dance floor from the very first piano notes you hear," says Mancuso. "A modern track with a sample from the cult hit "Blue" by Eiffel 65, this immediately brings people back to a familiar place when nightclubs dominated your weekends and you danced til sun up. This song is direct and to the point….PARTY until you drop and make no apologies for it!"
This track is going to take over 2023, so you might as well embrace it.
3. Cascada – Everytime We Touch
Released in 2006, this throwback Rave Club Classic brings any millennial back to the days when life was simple — high school dances and days spent at the mall! "This song starts slow but erupts into a pulse pounding frenzy of nostalgia and adrenaline. Never fails to pack a dance floor," affirms Mancuso.
4. Nicki Minaj – Starships
Not much needs to be said about this song… because it never really went away. "I think 2023 will bring this song back even bigger. 2012 was essentially 10 years ago and this track was the anthem of many 30 somethings' nights out. Memories don't fade and neither will the dance floor when you drop this sure-fire track," states the wedding DJ.
5. Icona Pop v Kool & The Gang – I Love Celebrations (Don Hector Mix)
Lets face it — mashups still crush a dance floor, especially really great ones… and this is a really great one! "Don Hector took a wedding classic in "Celebration" and mixed it with a Pop Dance Anthem in "I Love It," and the combination is amazing!," says Mancuso.
"When you're trying to unite a dance floor at a wedding and you need a tune that works for all generations…this is it! Aunt Sally and Uncle Steve love "Celebration," but your college friends love Icona Pop… so it's a home run!," exclaims Mancuso.
6. Bad Bunny – Tití Me Preguntó
There is a reason Latin Music is the #1 music in the world and Bad Bunny is the biggest in the game right now. "At least 15 times a night, DJ's get a Bad Bunny request at a club, and weddings have been no different. This song is a pure Latin Pop banger with Bad Bunny's infamous fast-paced harmonic rapping style displayed over an intoxicating reggaetone beat," says Mancuso.
7. Lizzo – About Damn Time
This makes the list because "it's a bomb track and it makes people feel good," says Mancuso. "As I mentioned before, with Beyonce's "Cuff It" the beat has a Disco Pop throwback feel to it and everyone loves Lizzo! I would highly recommend placing those two songs back to back at times," he suggests.
"The other reason I love this track is because its so flexible, it can be sped up to a higher bpm (like when pairing it with "Cuff It") and there are a ton of great remixes out there so the track can be used in a whole different way. I highly recommend the Purple Disco Machine Remix," he adds.
8. Taylor Swift – Anti-Hero (Kungs Remix)
You can't escape this song right now. Chances are you're a "Swiftie" and any good Tay-Tay fan knows this is one of the best tracks off her new album. "While the album version is an amazing song for singing in the shower or in the car on your commute, it's not very danceable, but thanks to House Music Producer Kungs,  that problem is solved," says Mancuso. "This catchy dance remix will have you and your guests belting it out while keeping the dance floor packed."
9. An EMO mashup
Mancuso says EMO is back! So tell your DJ to make you a mix of those late '90s and early 2000s angst-filled, guitar-driven, sad songs for a dose of nostalgia. "In the last 2 years alone, I can think of at least a dozen couples that wanted EMO specific mini-sets at their wedding. Not just a song or two but 15 to 30 minutes of EMO," says Mancuso.
Songs to consider:
Blink 182 – "All The Small Things"
Fall Out Boy – "Sugar We're Goin Down"
Panic at the Disco – "I Write Sins Not Tragedies"
The Killers – "Mr Brightside"
10.
 

DJ Press Play – Closing Time

The last dance is always memorable, so make it count. "I always ask my couples how they want to kick off the dance floor, and just as important, how they want to end the night," states Mancuso. "Some couples have songs that are special to them to close out their wedding, while others trust me to play a fun song…. and this song is perfect when you want to end the night on a high note, but don't have a specific song in mind," he explains.

"That old song you love to hate or hate to love, gets a new twist after DJ Press Play turned Semisonic's One Hit Wonder, into a certified Piano-House banger. Everyone, whether they admit it of not, knows the words but as the track builds the smiles widen and you can't help but dance til the lights come on," he adds.

 
Jené Luciani Sena is an accredited journalist and internationally-renowned bestselling author, regularly seen on national TV outlets such as Access Daily, Today and Dr Oz. Touted as one of Woman's World Magazine's "Ultimate Experts," she's a TEDTalk speaker and a busy Mom of 4.
Read more