5 people reveal the wedding planning mistakes they now regret making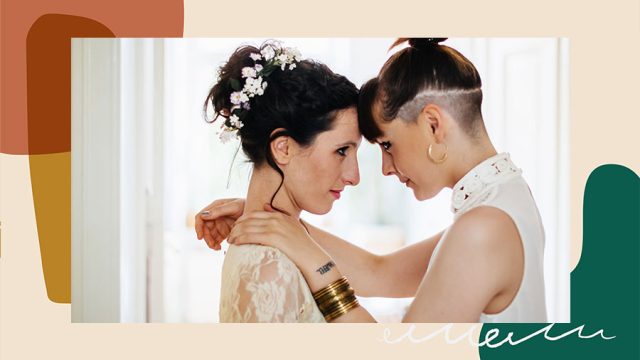 While a couple's wedding day can certainly be magical, ask any married couple and you'll soon find that the weeks and months leading up to it are usually anything but. In fact, according to a 2018 study from Zola, 96% of engaged or newlywed couples found wedding planning stressful AF, which probably means the remaining 4% are in denial or aliens.
The top three main stressors? Budget, perfection, and disagreements. But let's face it: Thanks to Pinterest vision boards and Instagram hashtags, the high expectations for a wedding are unreal. When you factor in the opinions and pressures from friends and family, not to mention the average U.S. wedding costs $29,200, it's easy to understand why newly engaged couples are having so many sleepless nights.
But what if you could learn from the married couples that came before you so that you and your partner could plan the wedding of your dreams while keeping your budget and cortisol levels intact? Below, we talked to a panel of married couples on what they wish they did differently with their wedding planning as well as tips from wedding planners so you can get hitched without a hitch.
1Be specific with your guest list.
For Colin and Martin, figuring out whether they were going to have a large or small wedding was key in how they would move forward with the rest of their planning. "Having been to some other family weddings, these large family weddings really do seemed way more trouble than it's worth," they tell HelloGiggles. "Also, as the first gay couple to get married for both our families, this was whole new territory for everyone involved. We caught ourselves asking a few times, 'Would Uncle Jim and Aunt Joy really want to come?' Then we moved over to who we really wanted there…and it wasn't really a long list!"
A few years after she said "I do," Freya Carpenter wishes she trimmed her wedding guest list. "It cost almost $100 per person, and I feel like we invited way too many people," she says. "Especially since I counted nine people who were no shows! And no, I don't talk to them anymore."
Roberta Sabbatini, a U.S. and Italy-based wedding planner, says from her experience, "The main regret is on the number of guests invited. [The couple] soon realizes they were 'forced' to invite 'that relative.' In some other cases, the closest friends showed their true colors. There have been cases in which best men left unpaid bills when they were supposed to take care of them. I've witnessed cases in which friends wrote unpleasant comments on the guest book," she says. "When a group of people, of diverse backgrounds, come together and spend time together in a restricted environment, they can bring out the best but sometimes the worst in themselves and each other."
The advice: Be specific with your guest list, and don't be afraid to make cuts. Focus on those you actually want to have around on your big day. Who do you regularly connect with? Who is supportive of you and your relationship? Your day, including your guest list, should be a reflection of love, trust, and harmony—not obligation.
2Remember: It's just a dress.
When Nataliya Ogle got married seven years ago, she wanted a classic silhouette that would remain timeless, and fell in love with a beautiful gown by Jenny Packham. "I remember crying when I saw that $6,000 price tag because it was one of the largest purchases I've ever made," she says. "But my then-fiancé said he would pay for half so I could get the dress I truly love for the day."
Ogle says that because she bought a dress that wasn't too white or "wedding-dress" looking that she could wear it to other occasions. "It was my way of justifying the hefty price tag. Reality is, there aren't many occasions in life to wear a long, flowing gown! I haven't worn it once after my wedding except for a quick fashion photoshoot, so no matter how you justify it in your head, the reality will most likely have you stashing the dress after the wedding and not seeing it again for years, or maybe even decades."
Looking back, Ogle says she would "probably choose something simple and under $500 now."
When it comes to her dress and its alterations, Carpenter says she has some regrets too. "I didn't need much done to it, but I decided to add straps, and since I got them done in New York, it was wildly expensive. If I could go back, I should have asked around friends and family to see if anyone could help me out." Ogle and Carpenter's regrets are normal, says wedding planner Amy McCord Jones.
"The true expense of a wedding dress can be deceiving, as there are sneaky expenses that add up and cause regrets later, McCord Jones says. "Many brides have a budget in mind when wedding dress shopping, and typically only go over budget by 10-15%. While this does not seem unreasonable, the alterations, accessories, belts, shoes, undergarments, and veil can easily double your 'dress budget' expense.
In the end, McCord Jones says, brides often lament how much money went into a dress that they only wore for five hours.
The advice: Focus your attention on the style that looks great for your body type, and select a simplified design with clean lines. "This approach will naturally lend itself to a less pricey dress, and even fewer alteration costs," McCord Jones says.
3 DIY decorations.
When it came to Bri McCarroll's nuptials, she and her wife-to-be were "apprehensive" of their ability to decorate their venue. "It was a garden wedding, but we were anxious to make it 'perfect' and didn't feel skilled in our ability to make it beautiful," she says. They hired a decorator, but in the end, McCarroll says, "She was difficult to work with." They cancelled her, losing their $1,000 deposit. Ultimately, McCarroll went the DIY route and looked up paper flowers on Martha Stewart.com, learned how to make a few varieties, and had a paper flower-making party with friends. "On our wedding day, we integrated the paper flowers with hosta leaves and other plants from the garden, using them as table centerpieces and little bouquets for the tent's curtains," she says.
McCarroll says she regrets spending money "on 'making a beautiful space' when we already had a beautiful space…the garden! That money could have been applied to a videographer, someone to record the day and the memories rather than paying for things I would be throwing away, quickly after the day."
From her experience, McCord Jones says, brides spend $3,000 to $5,000 on their floral budget and often have regrets. "The reason being, in the throes of a wedding day, brides rarely notice details nor can they recall seeing any floral arrangements other than their bouquet," she says.
The advice: Like McCarroll, couples should consider DIY'ing their wedding flowers, doing a combination of florist and DIY, or paring down floral needs. "DIY'ing your bouquets and centerpieces can be done with your friends and family two days leading up to the wedding and will save over 60% of what you would spend with a traditional florist," McCord Jones says.
4Do away with the DJ and any other traditions that don't feel right to you.
From the bachelor and bachelorette parties to the DJ and favors, there are a number of traditions that, while they may sound or look like fun on Instagram or Facebook, might not actually align with what you want your big day to be about, including your budget.
"I regret having a big bachelorette shin-dig, Carpenter says. "It cost way too much for me and my gals and I would replace it with a staycation [instead].
Colin and Martin didn't do any of that other traditional pre-wedding stuff (bachelor parties, stags, etc.) and they also decided against the idea of a wedding party. "None of those things made sense to us," they say. "Oh, and [we didn't have a] shitty DJ either."
And while there might be some DJs who can work a turntable effectively, McCord Jones says, with the average cost of a wedding DJ being $1,000, "It's an unnecessary expense for day-time weddings or for the non-dancing crowds." She says it's best for a couple to reflect if they, themselves, liked to dance and their guests enjoy dancing. "If not, hiring a DJ will be a wasted cost when an iPod playlist will suffice," she says.
The advice: When it comes to any wedding tradition, take the time to reflect on whether it's something that you would enjoy or deem a necessary component of your big day regardless of what's been done before or what any friends or family might want.
In the end, as McCarrolll says, "The day is not about the money, it's about making it authentic and real."