This is how you can be a wedding guest on a budget this wedding season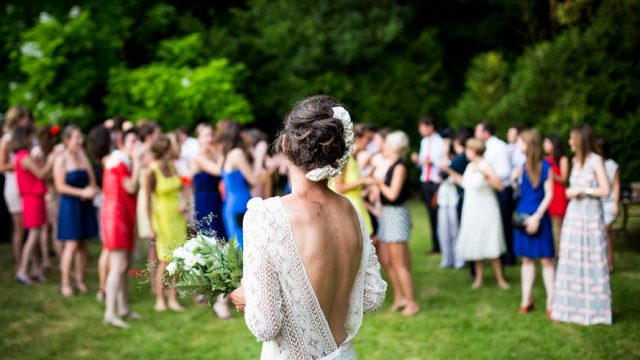 As thrilling as it is to watch our friends get married, don't pretend you aren't sent into a mini-panic attack by the amount of money you're expected to spend as a wedding guest. From the gifts on the registry, to new clothing if your closet is too casual, to the travel expenses for a destination wedding, to daycare if you can't bring your kids — that stuff really piles up. In fact, American Express reports that, on average, it piles up to $703 per wedding, and $893 per wedding for Millennial wedding guests.
Not to mention, research shows that Americans spend SIX TIMES MORE MONEY on wedding ceremonies than those in other countries. And we're still in the summer season — aka WEDDING SEASON.
So, what is a wedding guest on a budget supposed to do? Natasha Bishop is the Director of Strategic Alliance for Apprisen, a financial advising firm, and she is here to help:
Set a budget for yourself early on
Most likely, you RSVP'd to your friend's wedding well in advance of the actual wedding date. Take advantage of this grace period to help yourself avoid unexpected expenses. Natasha continues:
"Expenses are usually spread out over a couple of months (flight, hotel, dress, gifts, etc.), making the total cost difficult to monitor without careful planning. Set a budget early, and then keep track of all wedding expenses to make sure you're not spending unnecessary dollars. Estimate how much you're willing to spend on travel, accommodations, gifts and clothing, and try to stick to it."
But unfortunately, you may end up having to pay for things you aren't anticipating, so incorporate that into your budget. Natasha says, "Give yourself a little bit of breathing room by setting a range" — it will help you avoid spending money you don't have, and you may end up with money leftover for your savings account.
https://www.instagram.com/p/BJQuw1Ugp_u
Think about what you really need to spend money on
Prioritize, prioritize, prioritize. Natasha says:
"Is it absolutely necessary that you stay in the hotel officially blocked off for guests, or can you stay in a cheaper AirBnB instead? Do you need a new dress for the wedding at the end of summer, or can you get a second use out of a dress from an earlier wedding? Consider what factors are most important to you, then look for money-saving alternates for items further down on the priority list."
EDITOR'S NOTE: More than once (so, twice), I have discovered a gift from a friend's wedding registry at a thrift shop — unopened, unused, and in perfect condition. Just saying.
Take advantage of savings apps
In the age of smartphones, there are a lot of programs you can download to help you create an organized budget and savings plan. If you know that weddings are going to be a regular occurrence for you this year, you can create a savings goal specifically for weddings. Natasha continues:
"There are so many great savings apps these days, such as Qapital. You can lay out your financial goals and then set rules to help you save for them (such as the Round Up rule, which rounds up all of your transactions on your debit or credit card and puts the change into savings towards your identified goal). Create a wedding season savings goal for next season & save effortlessly throughout the year."
Whatever you just spent on a wedding should be your next personal savings goal
If you are going to spend money on weddings, then you should aspire to save that same amount of money for your next financial goal. Essentially, create a budget to make up for all of the extra expenses you had to incur. Natasha advises:
"Just because you've attended your last wedding for the year doesn't mean you should stop saving. Add up how much you've spent as a wedding guest this year and set that as your new savings goal. It's just as important to replenish your savings after a costly, wedding-filled summer, especially as the holidays approach. Plus, you'll be thankful for the extra cash when the save-the-dates start rolling in again."
Weddings are expensive as hell, but they are also beautiful, important milestones. Thankfully, there are ways to support our friends without going broke.