The Weasley family reunited, and we're putting on our monogrammed sweaters in celebration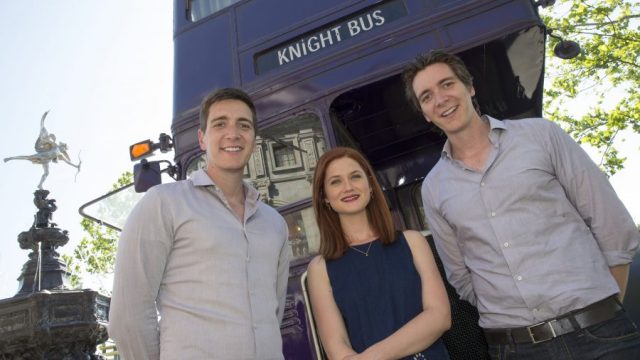 Potterheads, rejoice! Your favorite redheaded wizards just reunited for a podcast, and, of course, it was full of jokes and laughs. Three members of the Weasley family from Harry Potter joined a Zoom call yesterday, May 7th. James and Oliver Phelps (who played Fred and George Weasley, respectively) host a podcast titled "Double Trouble," and they invited Bonnie Wright (aka their on-screen little sister, Ginny Weasley) as their guest this week. It was so fun, we'll even forgive that Ron's Rupert Grint didn't make a cameo. (Sorry, Percy, but we didn't miss you as much.)
For Season 2, Episode 3 of "Double Trouble," everyone's favorite little sister joined the podcast to dish on all things Harry Potter. The three on-screen siblings reminisced about their days filming the franchise, describing the first time the IRL twins met Wright, when she was only 10 years old. They recalled that they all met during Wright's "final audition" and the Phelps's "second or third audition." The rest is history.
We love hearing the actors reminisce about their days growing up on the set of the Wizarding World. However, there isn't now as much red hair among the three onscreen siblings as you'd imagine. It appears that Oliver (George Weasley) has dyed his hair brown, maintaining the short haircut and clean-shaven face that the Weasley twins sported throughout the series. James, on the other hand, has kept that fiery red hair growing longer—and has a beard to match. Wright still looks exactly the same as she did in the final film, Harry Potter and the Deathly Hallows, which premiered in 2011.
Could "Double Trouble" be a more fitting name for Fred and George's podcast? We're betting that the mischievous twins would have added a podcast to their roster of post-Hogwarts gigs, along with running their joke shop, Weasley's Wizard Wheezes.
Although we can't listen to the magical twins banter about spells and pranks in the Wizarding World, their banter IRL is just as entertaining.
Watch the full interview with Wright below.
Well, this just gave us another reason to re-watch the entire Harry Potter series from start to finish this weekend. Thanks, Fred, George, and Ginny. See you on-screen.