North Carolina stands up to anti-LGBTQ legislation with #WeAreNotThis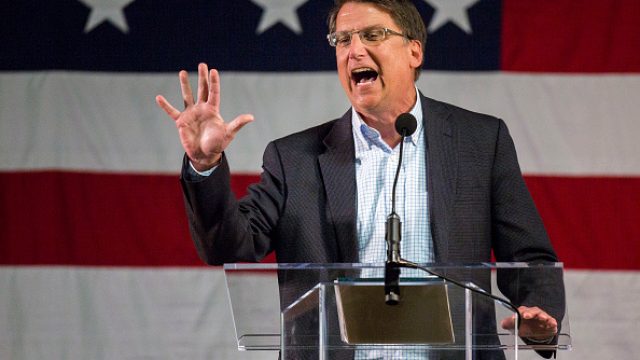 Late last night, North Carolina Republican Governor Pat McCrory signed a law meant to target transgender folks in the state requiring people only use the bathrooms that align with their biological sex. Now, the people of North Carolina are protesting the law with the hashtag #WeAreNotThis.
As CNN reports, House Bill 2, aka the Public Facilities Privacy and Security Act, also blocks municipality anti-discrimination ordinances. That specifically references an ordinance recently passed in Charlotte, set to go into effect on April 1, that protects LGBTQ people from being discriminated against by businesses.
"Today was a devastating day for LGBT North Carolinians and particularly our transgender community members who have been subjected to months of distorted rhetoric culminating in today's display of bias and ignorance by North Carolina lawmakers," said Chris Brook, Legal Director of the American Civil Liberties Union of North Carolina, in a statement. "We are disappointed that Governor McCrory did not do right by North Carolina's families, communities, and businesses by vetoing this horribly discriminatory bill, but this will not be the last word."
Amidst a wave of criticism, McCrory — who is running for reelection next November — has tweeted about the bill, remaining in staunch defense of his actions. He claims the legislation is "bipartisan" and "ensures privacy," as the original ordinance "defied common sense."
Naturally, this explanation was rife with transphobia — transgender women are not men — and was understandably not even close to enough for the people of North Carolina who have been hurt by this ruling.
North Carolinians are using Twitter to stand up to the legislation using the hashtag #WeAreNotThis, expressing their disdain at prejudice surrounding the decision and the necessity for change. Non-NC residents have also used the hashtag to express their solidarity with the LGBTQ and ally communities of the state.
Businesses have also been tweeting their anger at the bill— and some highlighting that their doors are a safe space for citizens of North Carolina.
As Mic notes, this is only a small part of the transphobia in the North Carolina Republican party:
Anyone who wants to join the efforts to change this new law, can find more information at the ACLU of North Carolina.