What you should wear to celebrate the summer solstice
The summer solstice is here, and that means one thing: IT'S SUMMER! The longest day of the year, which falls on June 20th, marks the beginning of the season and a return to the waning year. From now until the winter solstice in six months, nights will get longer and days will get shorter. Plus, as the season shifts, so does our approach to fashion and everything sartorial. Not only because it's hot, but also because, as we enter this new cycle, we're able to easily redefine what style means to us, as well as how we approach what we wear.
If there's any time to tune your fashion antennas, it's at the beginning of a new season. Read on for our guide to summer solstice style.
1Dress in yellow (or orange, or red, or gold).
The summer solstice celebrates the sun, and a return to warmer days. Spending time outside is a great way to connect to the energy of the sun. And while you do so, find inspiration in the celestial body's bright hue. Different colors have different properties: red energizes us, yellow revitalizes us, and orange connects us with our creativity.
Warm-toned colors that imitate the sun are perfect for the solstice, as is wearing plenty and plenty of gold. So put on your favorite yellow dress and hit the park. After all, what's going to leave you more connected to the sun than dressing like the sun?
Macy's MICHAEL Michael Kors "Finley Off-The-Shoulder Midi Dress"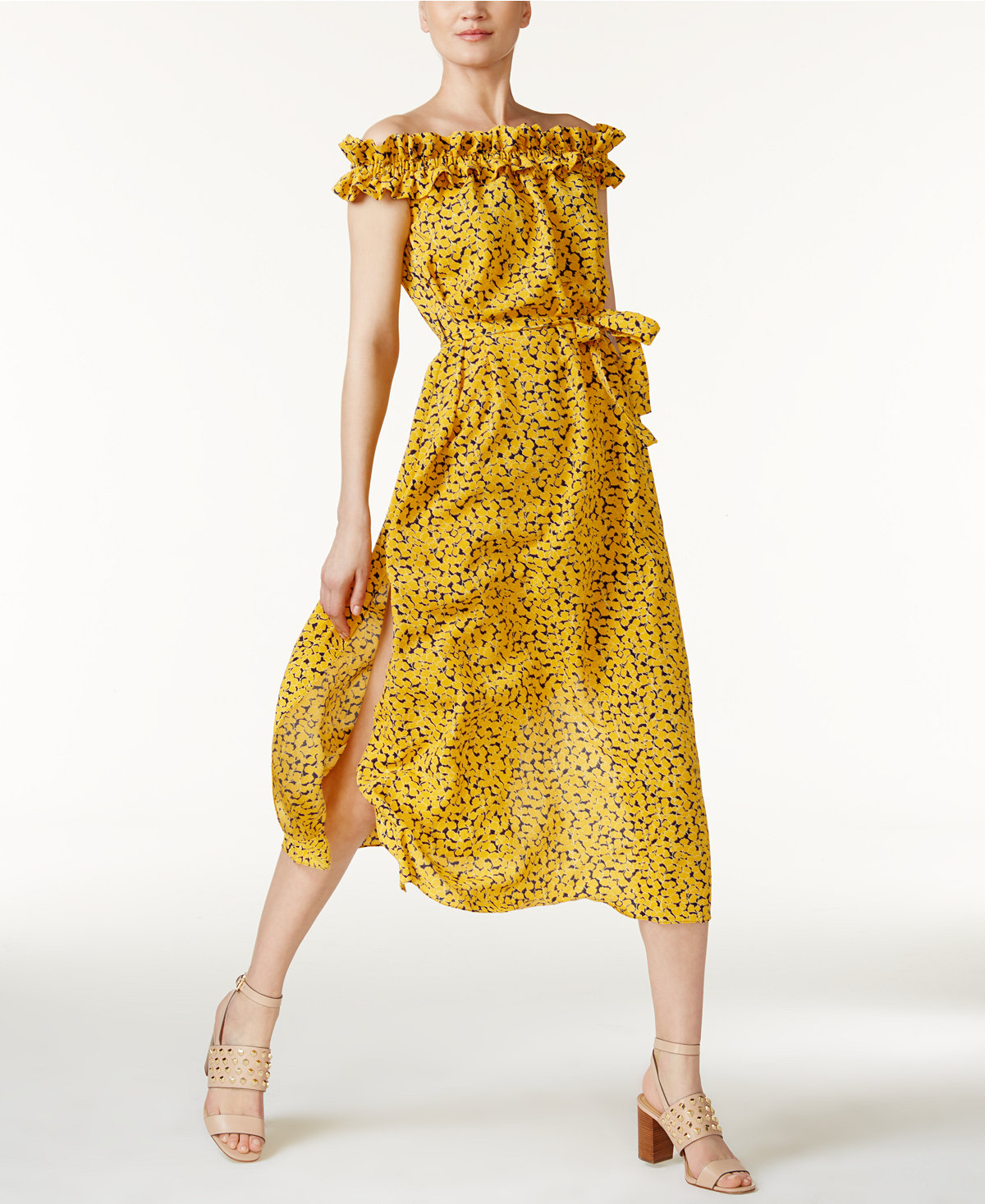 Buy here for $84.99. 
2Wear your crystals loud and proud.
Another way to connect to the energy of the sun? Wearing crystals that correspond to it. Crystals that are gold, yellow, and red hold similar properties to the sun, influencing our creativity, warmth, intuition, and ability to bloom like the flowers we are. While having crystals is totally fine, wearing your crystals takes that connection to a new level. Crystals like citrine, amber, carnelian, tiger's eye, and sunstone are all associated with the energy of the sun.
If you're feeling fiery, you can wear stones associated with the element of fire — like fire opal, garnet, and rhodochrosite. If you're crafty and only have loose stones, try making a wire wrap with jewelry wire and a chain. Whether you're wearing a fire opal ring, carnelian necklace, or tiger's eye earrings, you'll have a little piece of the sun with you wherever you go.
Crystal Cactus "Awaken Carnelian Teardrop Necklace"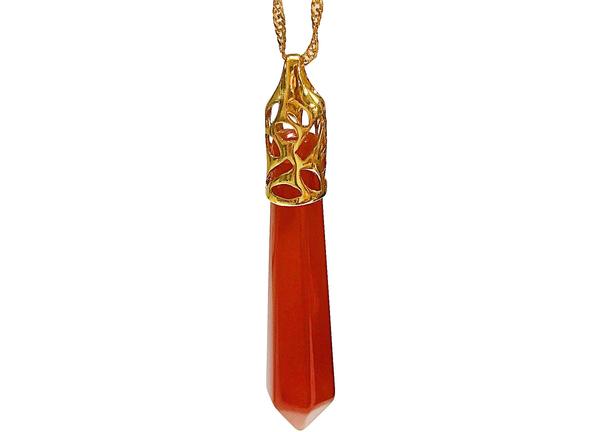 Buy here for $28. 
3Embrace the gold in your beauty supply.
If you feel like channeling the sun in a less direct way, then match your makeup to your mood. A fun way to play up the summer solstice vibe is with gold eyeliner. Whether you're going for a bold, graphic version, or a delicate cat-eye, you're sure to feel like a sun goddess with your gold leaf lids.
If you want something more subtle, swipe on some yellow eyeshadow, or simply wear your favorite red lip to channel your inner fire. You can even wear gold freckles, or make your freckles into tiny suns. Get creative! The important thing is to have fun and feel connected to the season in the process.
https://www.instagram.com/p/BVD_Xm1lHdT
4Wear the sunflower to be the sunflower.
The summer solstice is a time when the veil between this world and the next is the thinnest. Faeries, aka the beings who live on an energetic plane parallel to ours, are able to easily cross over into our world. Very A Midsummer Night's Dream, right? The faeries, also known as "the little people," reside in the in-between — like at seashores, where forest meets field, and at midnight — and changing seasons are their territory, too.
If you want to channel your inner faery, then we suggest wearing flowers, which is something the little people love. Flowers like lavender and sunflowers are associated with Midsummer, and wearing them as a print or perfume respectively is sure to align you with the season.
Romwe "Sunflower Print Random Frill Hem Blouse"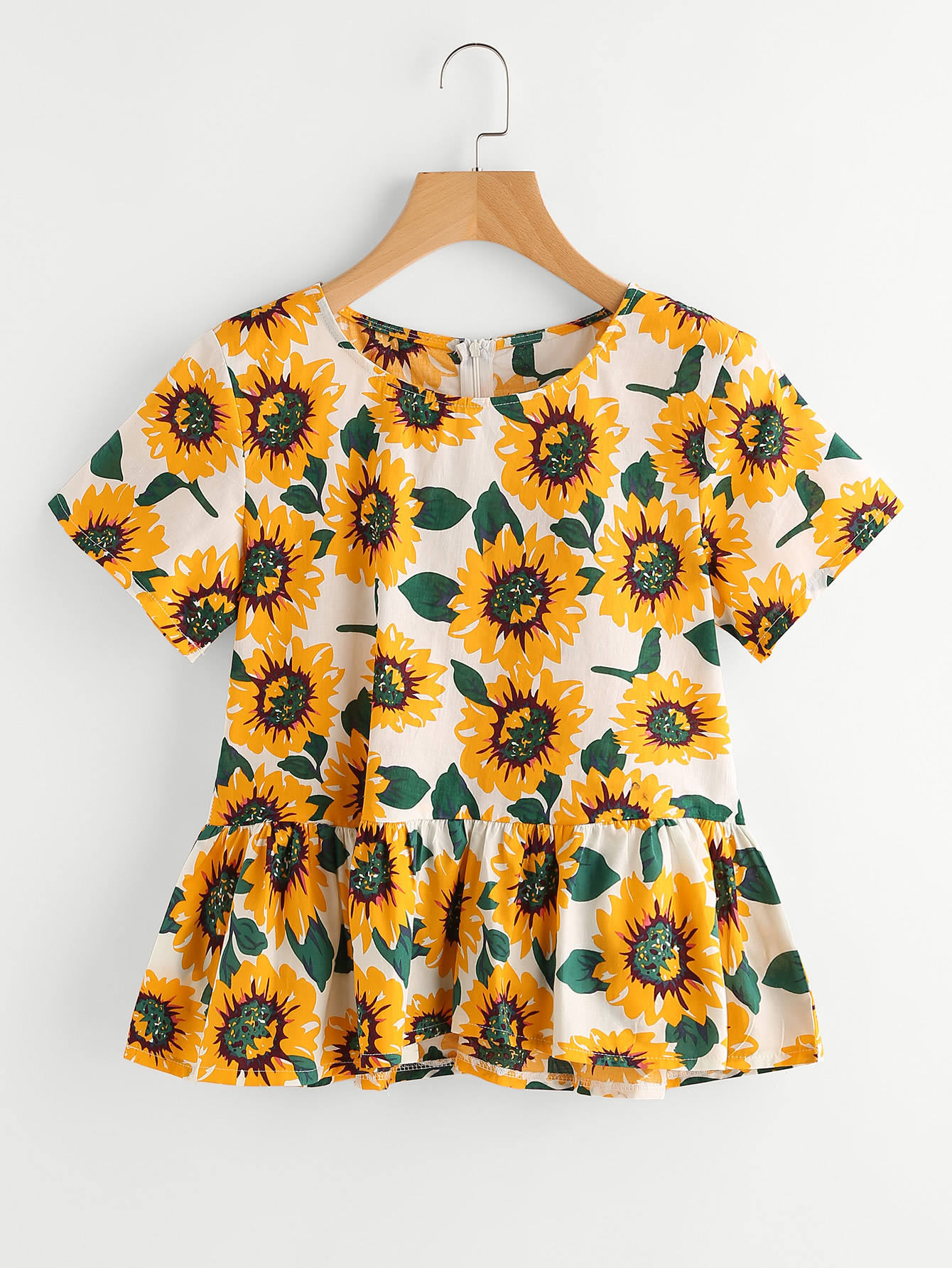 Buy here for $12.99. 
5Smell the season.
Scent is one of the most evocative senses, with the ability to transport us to a different time and place. This solstice, perhaps wear perfume inspired by the season. Whether it's as literal as a perfume called Sun, or as subtle as wearing sandalwood essential oil, there's no wrong way to wear summer scents. You can even DIY it — walk to your local garden and pick flowers to rub on you for some extra love. Just make sure you ask permission from them before you pick them, and maybe leave the faeries a gift of milk or honey.
Sephora Giorgio Armani Beauty "Sun di Gioia" Perfume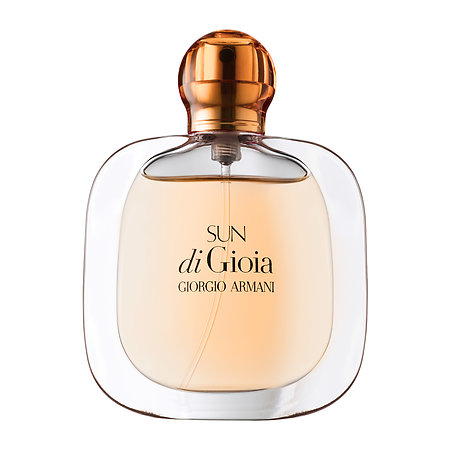 Buy here for $50. 
6Carry your flowers in a basket.
One of our favorite ways to celebrate Midsummer? Buying flowers! We love that Trader Joe's has such a beautiful and cheap selection, but any grocery store should have something reasonable. If you're tempted to grab some blooms of your own, remember that warm-toned flowers are perfect for the day, although any variety will do. And if you're looking to make a statement with your flora, then grab a woven basket that doubles as a purse. Put your flowers in, head to the local park, and spend some time under the sun.
Bloomingdale's Bloomingville "Seagrass Basket with Handles"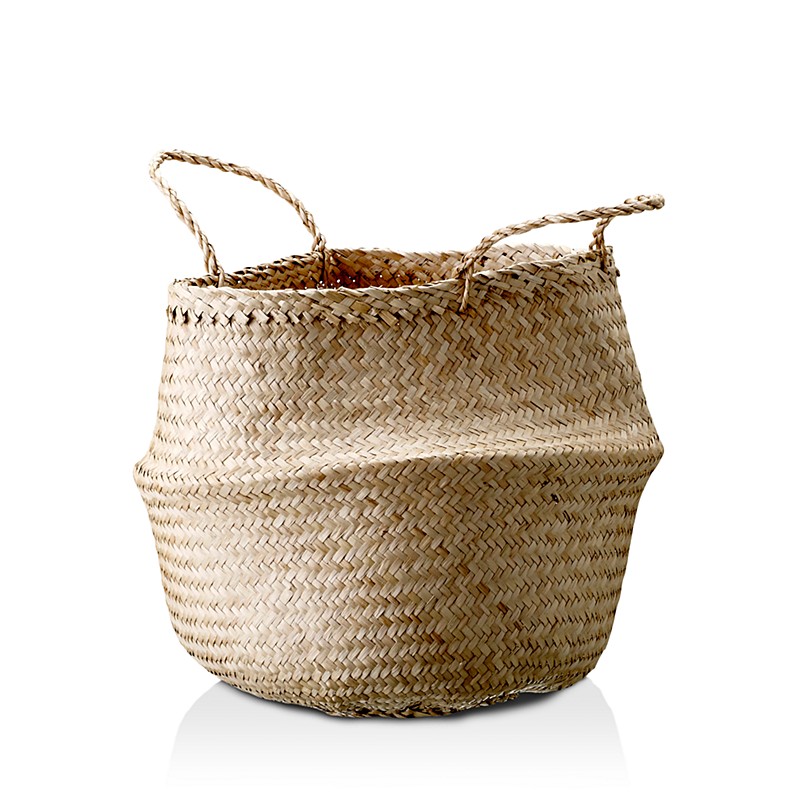 Buy here for $36. 
No matter how you choose to celebrate, or what you choose to wear while doing so, we hope the summer solstice lights up your soul and allows you to bloom.