We swatched the glitter sunscreens that the internet is freaking out about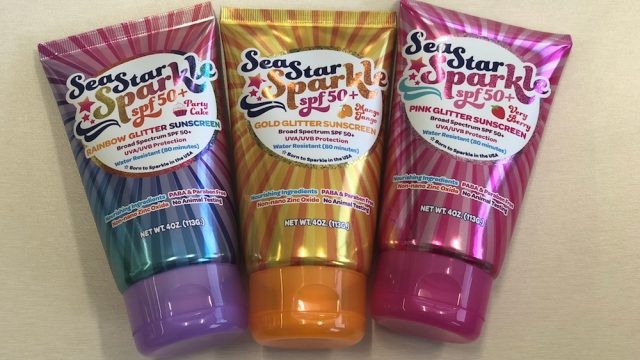 Move over, unicorns. Right now, the beauty world is all about glitter: more specifically, glitter sunscreens. Yes, you read that correctly. And with Coachella right around the corner, it's the beauty product to try. Miami-based brand Sunshine & Glitter offers unique glitter sunscreens that have the internet freaking out — in a good way.
Aside from these glitter sunscreens promising to be water resistant for 80 minutes, and being paraben-free, cruelty-free, and made with non-irritating BPA-free plastic glitter, people online (and HG's Beauty team) had a lot of questions.
While these products definitely piqued our interest — because, hello, it's glitter and it's Instagram-worthy — we noticed that there weren't any swatches of the glitter sunscreens, which made us wonder what the product looked like once it was applied. Don't worry, HG's Beauty team has plenty of swatches for you to feast your eyes on (and these glitters are truly unreal).
We were also curious to know if the glitters were biodegradable and safe to use. So we called in an expert: Dr. Joshua Zeichner, Director of Cosmetic & Clinical Research in Dermatology at Mount Sinai Hospital in New York City.
He tells HelloGiggles:
"It's unclear what, if any, effect the glitter actually has on the sun and the skin. It may reflect UV light, but there's no data to show whether it reflects the light away from the skin or whether it traps it. If you are using it for its cosmetic benefits of having glittery skin, to be absolutely safe, I recommend applying a traditional sunscreen as your first layer and then this on top of it."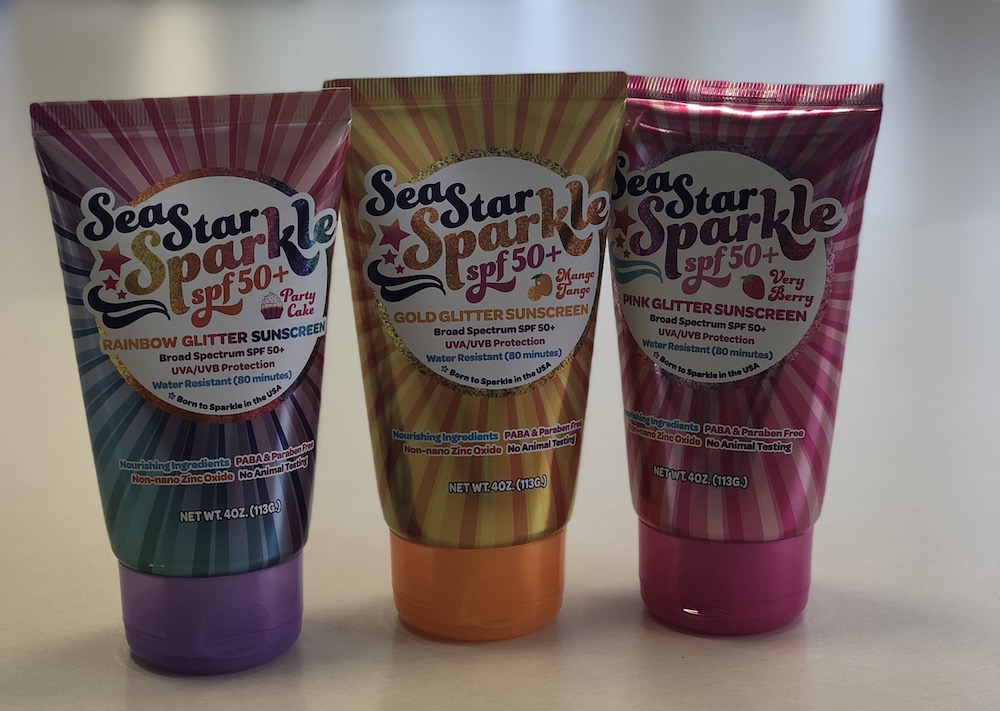 HelloGiggles also spoke to Meredith Madsen, the President of Sunshine & Glitter, and she reassures us that the glitter sunscreens are "FDA approved and independently tested for efficacy."  The Sunshine & Glitter website recommends that you apply its sunscreen 15 minutes prior to sun exposure and that you re-apply the sunscreen at least every two hours.
Madsen adds:
"Sun protection is so important and we love to make it fun."
As of right now, the new (and, er, problematically-named) Gypsy collection uses biodegradable glitter, while the rest of the brand's products are made with cosmetic-grade, non-irritant glitter. However, Madsen tells HelloGiggles that the brand is working toward making the entire line with biodegradable glitter.
Here's what the three different products look like swatched on HG's Beauty Team: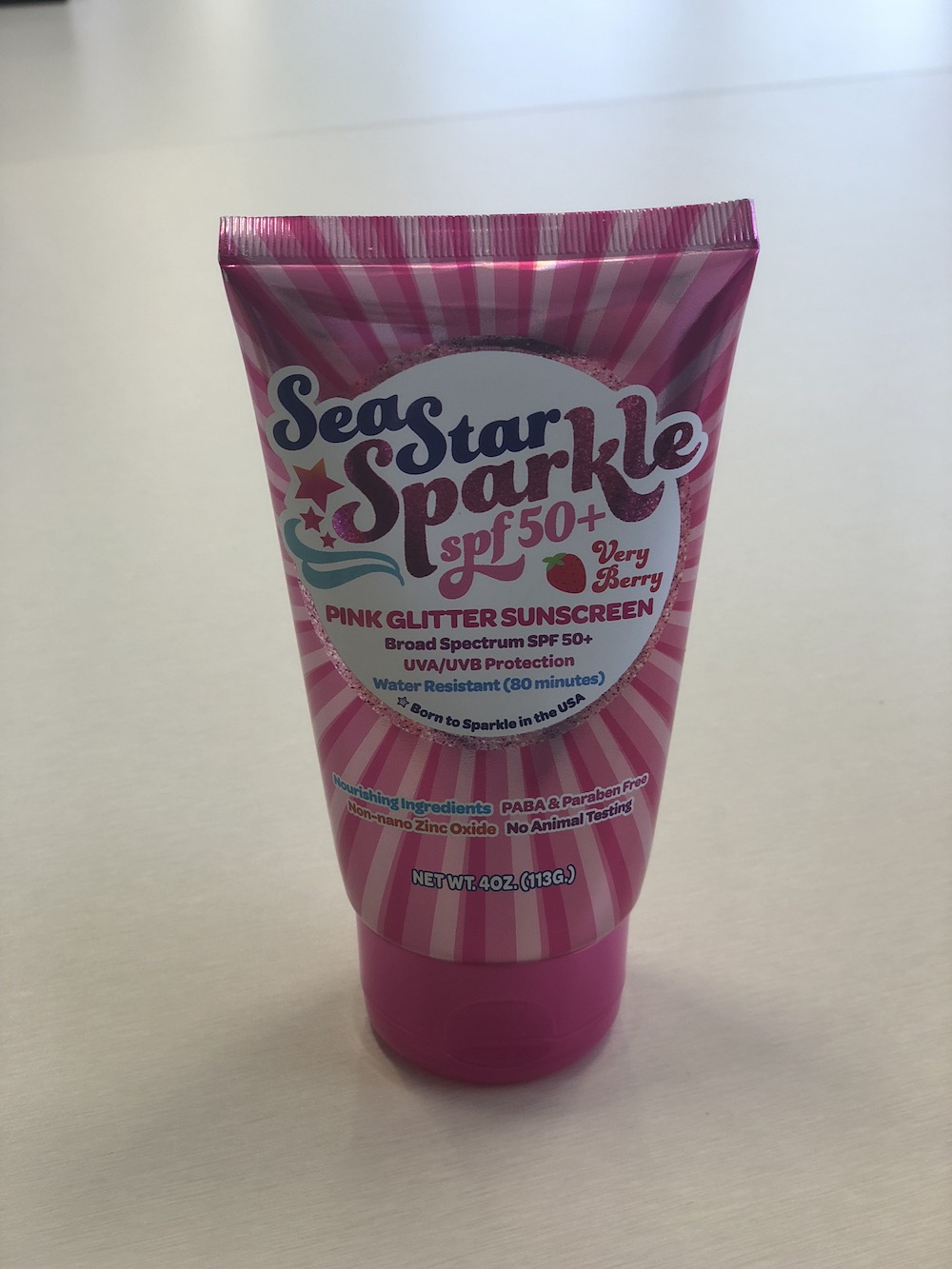 Swatches: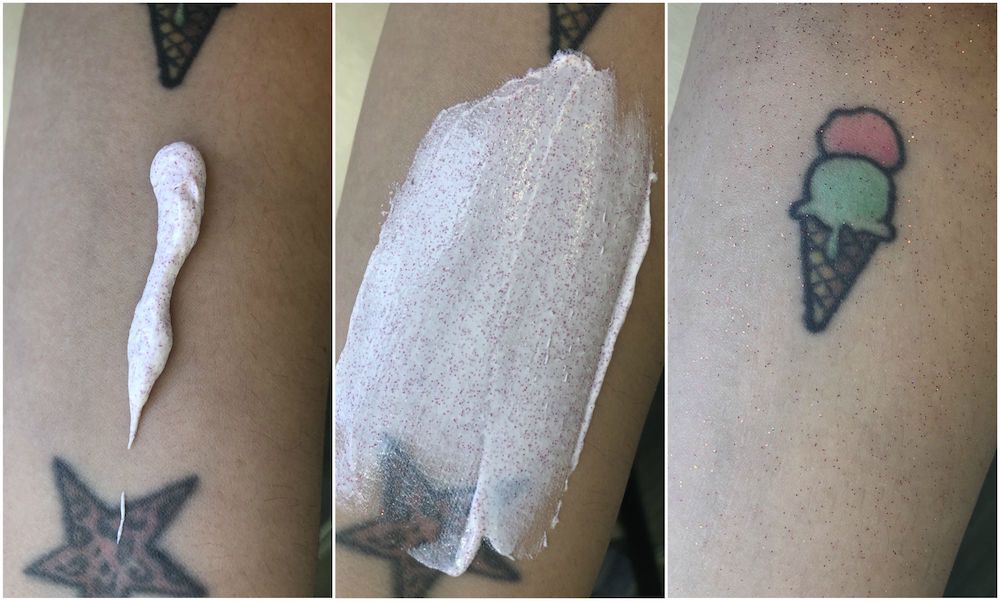 We were surprised by the berry scent of this sunscreen. While we're used to sunscreens smelling like, well, sunscreen or coconut, this one actually smelled fruity. The scent wasn't overpowering either; it has the right amount of fragrance.
Just as we'd hoped, these sunscreens are sparkly AF. The Very Berry sunscreen left the most noticeable shimmer. It applies with a white sunscreen cast, but it quickly vanishes once you rub it into your skin. You will be shining bright like a diamond, that's for sure.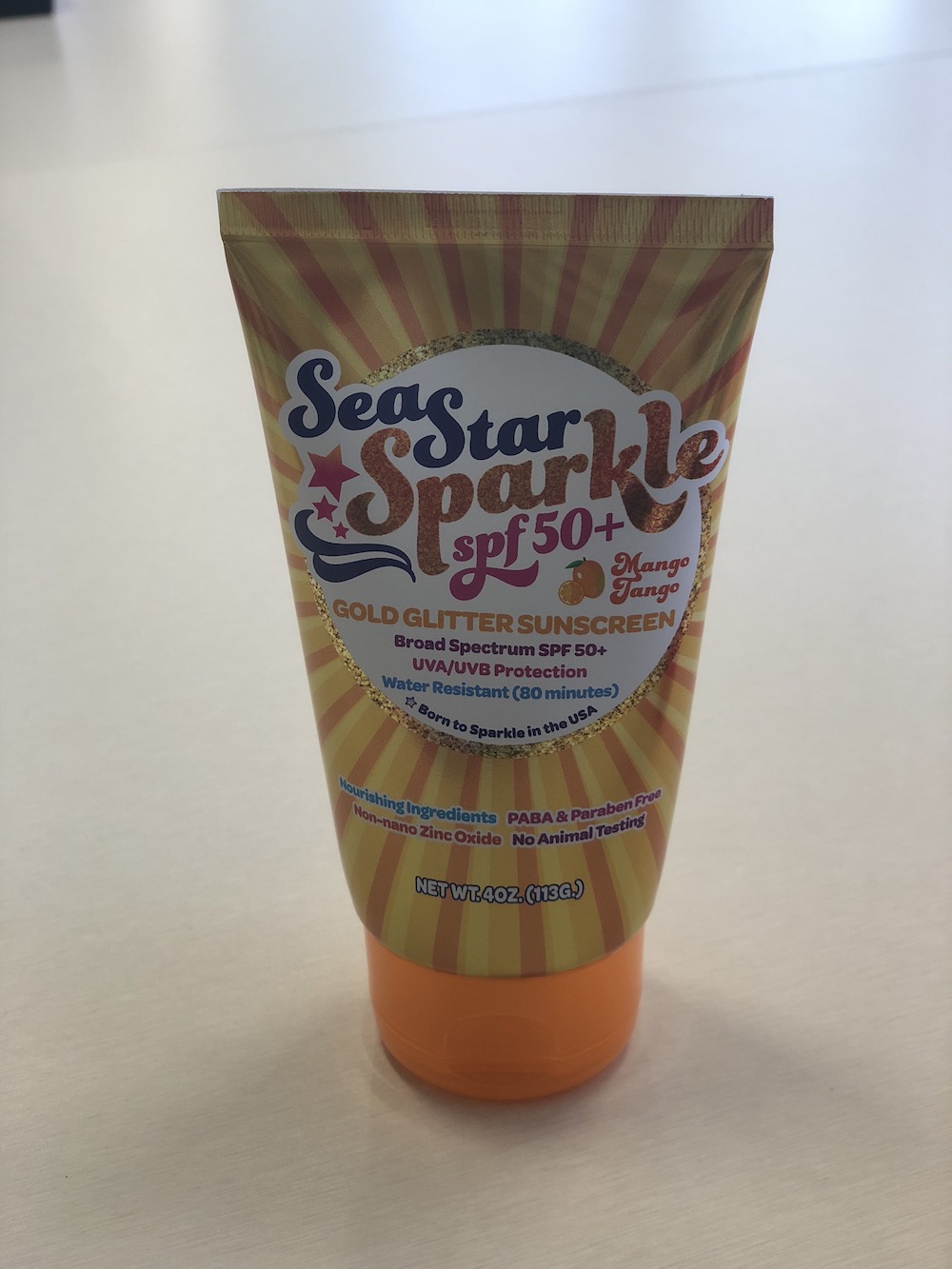 Swatches:
This smelled citrusy, and it gave our skin that J.Lo glow. While this one was a bit harder to rub in (a little goes a long way and we got too excited and it splattered all over our arms), once it completely melts into your skin, you'll have a coveted glow. However, we noticed that the sunscreen doesn't really dry well. It kind of feels a bit sticky, almost like an old-school sunblock. So be sure to wear something that you don't mind getting glitter all over.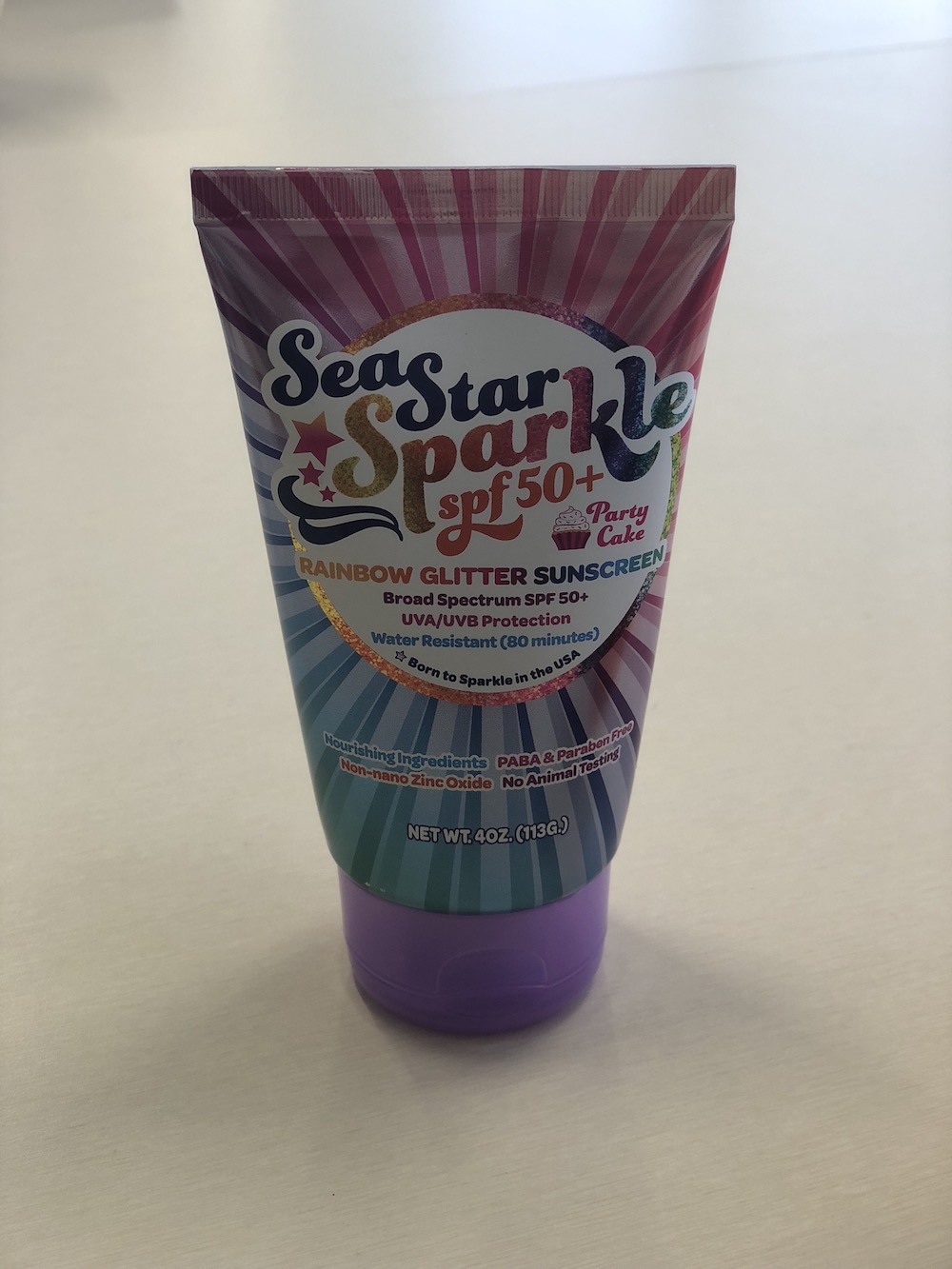 Swatches: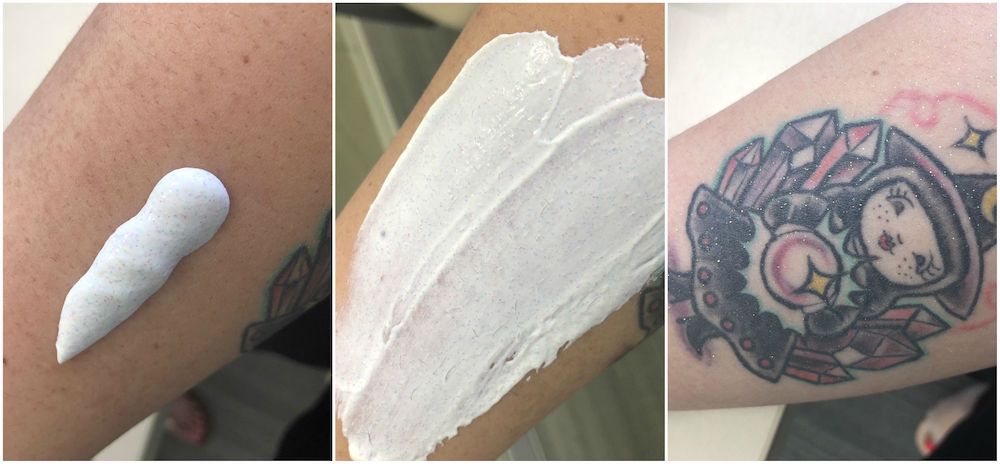 The Party Cake sunscreen actually smelled like cake and/or vanilla frosting. Like the other glitter sunblocks, this one smelled delicious and rubbed into the skin nicely. It left a purple-ish/pink and blue color that reminded us of rainbow cotton candy.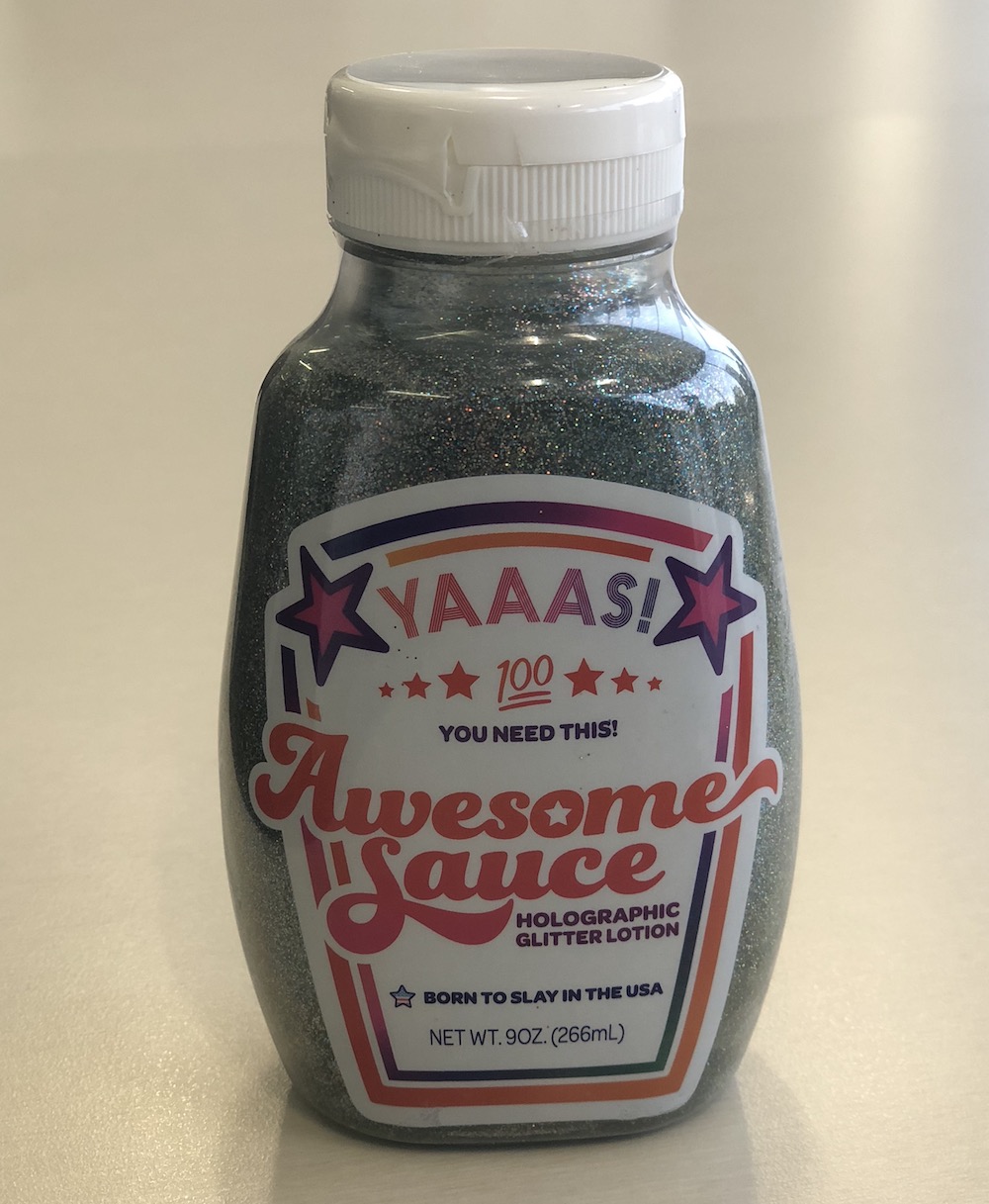 Swatches: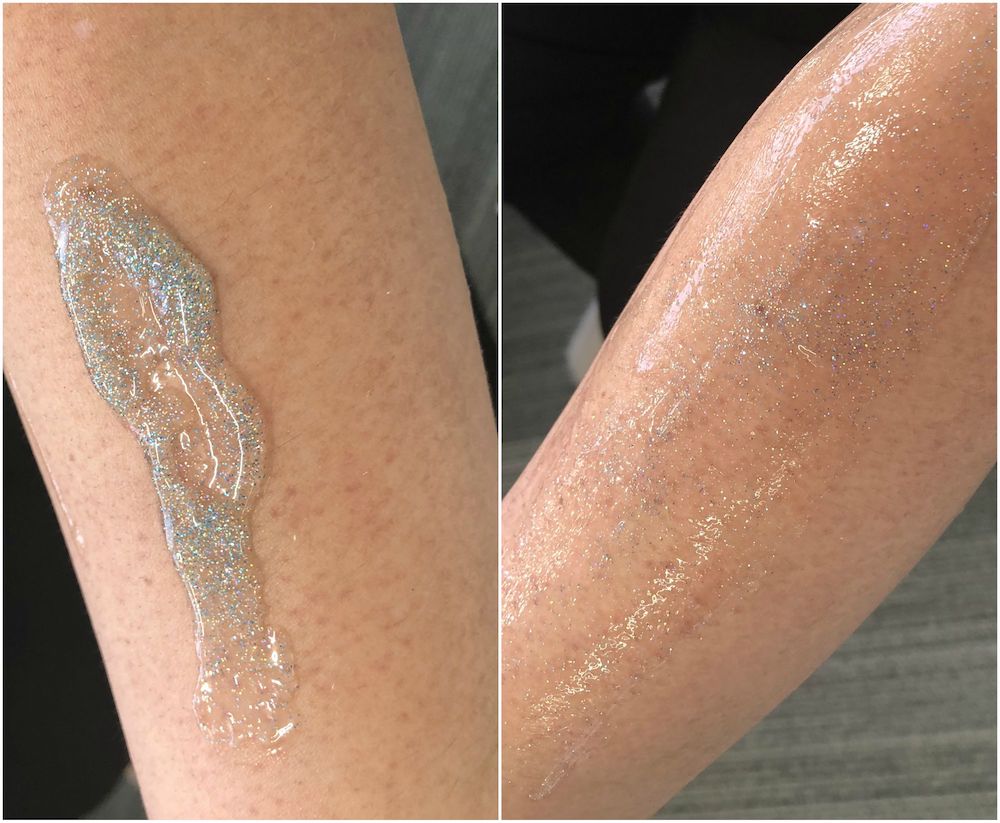 This product felt like regular aloe gel, except, of course, it has an incredible glitter payoff. The great thing about this glitter lotion is that it's made with natural antioxidants and essential nutrients. Slather this when your skin needs some TLC after being in the sun for too long.