We talked to Reina Rebelde's founder about being Latina, makeup as self-love, and what it means to be a rebel queen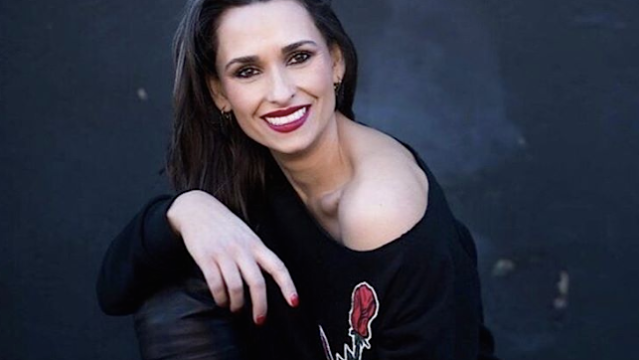 Being a Latina woman in today's cultural climate is not easy. But thanks to makeup brand Reina Rebelde, it is definitely beautiful. Started by Regina Merson, Reina Rebelde, which means "rebel queen," is an ode to Latinas of all backgrounds who share a love of makeup as an act of self-care and self-definition. Inspired by her mother and the telenovela "Rosa Salvaje," Regina's makeup brand is for women who live in a world of dualities. For many of us, makeup is part of who we are. It doesn't matter if we're going to the grocery store or out on the town, a strong lip or a bold brow are our war paint.
Regina summed it up perfectly,
"Makeup is our time to be with ourselves and get in touch with our feminine aspect, and what gives us the courage to face this complicated existence, because it is so complicated. Being a minority, being a woman, the political climate…it takes a lot of courage for us to not give up and keep showing up with our best foot forward all the time. But this is the history of Latinas as long as we've know."
We talked to Regina about Reina Rebelde, skincare, and why makeup is so important as an act of ritual and self-devotion.
HelloGiggles: Can you tell us about how you started Reina Rebelde and why?
Reina Rebelde: I immigrated to this country when I was 10 and I always had this profound love for beauty and rituals and watching my mom do her makeup. I moved here and ended up becoming a lawyer, which I did for over six years. There was a core piece of me that really felt like my purpose was to do something I was passionate about within the Latina experience. A lot of it came from personal experience as a woman who was born in Mexico and moved to the United States, and who speaks English and Spanish. These are dualities that I had to grapple with coming of age here, and they impacted my personality and my perspective about what it means to be a woman in today's world, and particularly a Latina.
I was a huge makeup junkie my whole life, particularly when I became a lawyer. I would hobble together this collection of makeup based on different aspects of different brands and colors that really spoke to me. But there was not really one that understood what I was about. Certainly there are a lot of people out there targeting the Latina consumer, but I felt like a lot of those were really missing the mark. I left my legal career three and a half years ago to pursue Reina Rebelde full time. I had the idea about five years ago. And that's how the idea came to life, literally a crazy idea I had about a thing I love.
HG: What are some ways that your line reflects the experiences of Latina women, specifically?
RR: I really try to make sure that every touchpoint from beginning to end, the shopping experience to our social media, all the way to receiving the product in the mail, reflects this essence of duality. I think one of the things that makes Latinas so fierce, beautiful, and interesting, is that there's so much pressure in this country to conform. A lot of people are Mexican and have European parents, or one of their parents is American or they come from this mixed bag of identities. I wanted everything to reflect this duality and really embrace this notion that you don't have to choose, especially as a Latina woman.
One of the things that's so amazing is that we're really adept and really skilled at owning all these different aspects of our identity. We're the ones that should be in control of what part of our identity we put out into the world at any given moment. Everything from the name Reina Rebelde to the outside carton with these beautiful black butterflies is reflective of this. You open it and the inside of the carton are these really beautiful Mexican roses. So it's color, the play of dark and light and then the sense of this woman who's a depiction of our spirituality, and how we are these fiercely feeling, emotional people who bring this healing into everything we do.
"I really want the brand to make a statement that the dualities are where the beauty is, and it's really messy and it's really complicated, but it's really where our fierceness comes from."
HG: Who is a Reina Rebelde?
RR: Reina is a term of endearment of women in Latin and Spanish culture, and I thought that was really important — the way we elevate each other and call each other queens and elevate women in our society. But I also thought it was so beautifully reflective of how much self-respect we have of ourselves and our beauty rituals, and how that's demonstrated through that.
And the rebelde is the other side of the same coin. I can be really into my beauty and never leave the house without this full face of makeup and this smoky eye — however,  I am this really fierce woman who has all these things going on as well. Sometimes I choose to show this edgier side to myself. In every single aspect of my life I have to wear a hat, but I'm also Latina, and I'm also speaking English fluently now, and also going home and speaking only Spanish to my grandmother. I'm foraging all these culture nuances and big dualities. That's a reina rebelde.
HG: What do you think are the next Latina beauty trends we'll be seeing, and what would you like to see?
RR: The Latina woman is a collector of a look, but she's not a follower, and that's why I think I had to put so much focus on the end consumer. When these products come to life on these different Latina women, it's such a different story and feel. Every woman uses this makeup as an art form. I think a lot of other demographics use makeup as a tool, and a tool that someone told them they needed to have. Latinas own the makeup they're wearing, and it's very obvious that they're wearing the makeup because they want people to know it.
From a trend perspective, it's hard to say because the trends in different cities feel very different. I think that's a tribute to the Latina woman and how multifaceted we are. I think we're people who really absorb what's around us in a really profound way. If you're living in New York you pick up on the mood of the city and that influences what you're doing at that moment. But when you go to LA, you're adopting something very different from your surroundings. We collect a little from here, and a little from there, and aggregate it and make it our own look. I think that's such a fierce interesting aspect of how we express ourselves. We're so observant in that way.
HG: What are your favorite skincare products?
I never leave the house without 50+ SPF. Rain, sun, shine, torrential downpour, it does not matter, I always wear 50+ SPF on my face. I think with our darker skin tone, it's really resilient and beautiful, but once it gets spots and things like that it's harder to treat. I use a really powerful antioxidant under my sunscreen, right now I'm using a Skinceutical Vitamin C one. A few years ago I started using retinol, but my skin really couldn't handle it. I try to use a serum that has a retinol component in it that is a little gentler, and I try to use one of those every second or third night. I also really love coconut oil. It's antibacterial, anti-inflammatory, and your skin absorbs it. I slather it on my face before I go to bed.
HG: Do you have a favorite product or color from the line?
RR: We have a red lipstick called "Brava" and I worked on it for a really long time. After being a makeup junkie, I think I collected something like 40 red lipsticks. Some people would say, "with your skin tone you really need a brick red with more of orange undertones," and I really hated those reds. I wanted a really vibrant, looks like I just ate a whole bucket of strawberries and watermelon, red. I wanted something that looks really good on a darker skin tone as well. I wanted it to work on all types of Latina skin tones from the darker ones to the lighter ones.
So the name of the red shade we have, Brava, comes from empowerment that I felt when I wear a good shade of red lipstick. But the reality is that I never found the right shade of red lipstick, so I made it. When we finally got the color right I put it on and felt transformed, like I could take on the world. The color speaks for itself.
HG: What does makeup mean to you?
RR: For me, makeup really is about the ritual of doing something that is actually inherently a creative exercise in self-care and self-respect, and creative expression of "this where I am today, this is how I feel, and this is the face I want to present to the world." That, for me, changes once a day, maybe twice a day, sometimes every other day. So this ritual of taking the time to love on yourself, and give yourself the permission to have this creative expression, and be able to express yourself through this ritual is so important.
HG: What's next for Reina Rebelde?
RR: We're working on some new products we're looking to get out, collaborating with some women in the Latina community to bring them to life. We're finding strategic and impactful ways to get into the community. We're doing some trade shows that are open to consumers, hoping to get more of a physical presence around the country. We have some interesting projects in the works, but its baby steps. We're interested in digging deeper with our consumer base than we are in going broader. The messaging of the brand is meant to appeal to all Latina women. The line is from what I know as a Mexican woman because I would never try to create something I don't know. So, one of the big things we're doing this year is finding women who are Puerto Rican or Dominican or these other things I'm not, to bring their authentic viewpoint and voice to the brand.
Check out the entire Reina Rebelde collection here!