We love Lush's new Error 404 bath bomb that also helps with an important cause
The soap and lotion haven Lush has a new limited-edition bath bomb coming out for Black Friday. The best part? 100% of the proceeds from the new Lush Error 404 bath bomb will go towards the digital activist group Access Now, which is dedicated to fighting government enforced internet shut-downs.
The golden glittery vanilla-scented bath bombs have "Error 404" embossed on their egg-shaped frame and quickly fizzle into blue bath water before revealing a printed text message in the center. This particular ethical campaign is only running for 5 days, so the Error 404 bath bombs will only be available on the Lush website from November 25th (Black Friday) through November 30th!
We were lucky enough to attend an exclusive event at the Herald Square Lush in New York this past week, where the new bath bomb was first launched and partners from both Access Now and Lush talked about the campaign.
We got a few minutes to catch up with Carleen Pickard, a Lush representative from Vancouver who works on the ethical campaigns. She shared her thoughts on their newest product.
https://www.instagram.com/p/BNPOrrThFSK
HelloGiggles: What inspired the Error 404 campaign?
Carleen Pickard: We were really excited to find out about the work they're doing over at Access Now in regards to internet shutdowns. Internet shutdowns are happening more and more. In part, because we're paying more attention to it and have the ability to know when they're happening.
There have been 51 that happened this year that were documented, which is a huge violation of our freedom of expression and freedom of speech. We were excited to run a campaign to spread the word, and they were obviously excited to get the word out for their digital activism.
https://www.instagram.com/p/BNPUGethTpe
HG: Did you have this campaign planned awhile before the election results were revealed? Because the timing feels particularly significant given new concerns about freedom of speech and internet usage under a Donald Trump administration.
CP: We already had it planned for sure. But I would say it definitely took on a new urgency after the election results were revealed. I think that the trauma a lot of people feel and a lot of the journalism pieces around this issue are relevant. Also, given the fact that we don't have established protocol [in the U.S.] around our freedoms on the internet and we are still struggling with issues of oversharing and privacy on the internet, it feels like the wild wild west.
We're doing this globally for this period of time. Also, the important thing for us is focusing on contested democracies — the elections we've been talking about are in Africa, in Ghana and Uganda, around Ethiopia and seeing all of these shutdowns happen. I think some of the concerns from this election are helping people correlate what's happening abroad [with internet freedom] to what could potentially happen here.
https://www.instagram.com/p/BNPeXJaBxi0
HG: How did you guys pick the scent and look for a bath bomb that's based on the internet?
CP: Ha, well, maybe less so the scent, but the look of it was to give you this ever-changing landscape, different layers are revealed. I don't know if you know this, but there's a printed message inside [the bath bomb]. https://www.youtube.com/watch?v=tAUgOMeV5J0
HG: When you launch ethical campaigns with different organizations, do you form a long-term partnership or are they usually one-time campaigns?
CP: I know that in North America, as we develop the ethical campaigns, we are trying to span a wide range of issues like human rights, environmental justice … it's very broad so you're trying to stay up on everything. There have been several times after a campaign that I'll find out Lush employees have stayed involved. I think in way we are trying to introduce people to different causes and let them take the lead from there. Particularly with Access Now, there have been tech companies that are like "what is this strange partnership?!" But really, why not?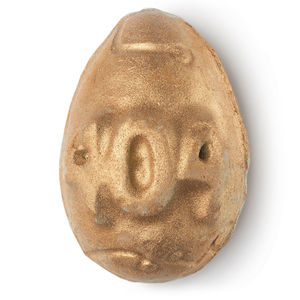 HG: Do you think that having people associate these different campaigns with lotion and bath bombs and self-care gives a nice introduction for people otherwise politically inactive?
CP: Absolutely. What I see our role as is being a bridge and certainly not experts. I think you're right, I think people find an easier introduction when they're like, "Oh yeah this bath bomb, but also now I'm thinking about digital rights."
You can check out and purchase the Error 404 bath bombs on the Lush website until November 30th, and read up more on digital activism on the Access Now website.