We just learned a secret about Nina Dobrev's new lob, and we're definitely gonna try this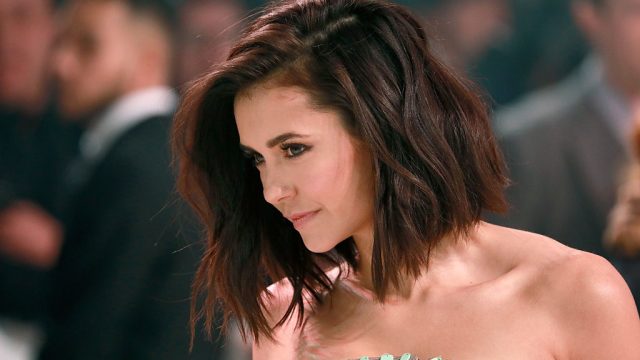 "New year, new hair" is one phrase that is definitely alive and well in 2017, and fave Nina Dobrev is definitely all about it. Recently, Nina Dobrev chopped her hair into a lob (which we totally dig by the way), and apparently her hair is ~full of secret's~ because there's a trick to Nina Dobrev's new lob that we never would've realized on our own! We love hair secrets, and this one's so simple we can't believe we haven't tried it.
So what's the secret to Nina Dobrev's new lob? You'll have to watch to find out.
Are those extensions we see? Yes indeed! Apparently even celebs need a little bit of help when it comes to getting this level of volume.
Nina's hair stylist, Riawna Capri, revealed all the details to this killer cut on her Instagram.
Capri explained,
"📝This is for all you hairstylist out there! ✂️ #NinaDobrev's New Do, #TheDObrev, (get it!?😜) consists of zero layers, just choppy blunt 'pieces' in order to maintain a full dense weight line (verses a shattered, wispy, airy line. Make sense?). It's purposely a bit asymmetrical; and each 'piece' is slightly disconnected to create that effortless texture. ✂️✂️✂️ Hopefully that helps! "
We're definitely taking notes!
So Nina uses extensions sometimes. Nothing wrong with that! You do you, girl.
We're just relieved to know that Nina is just like us and sometimes needs a bit of a boost.
Update (3:15 p.m.): Whoops! We have learned that Nina Dobrev actually didn't use hair extensions, but was actually just holding her own hair in the vid, LOL. Really, this proves that Nina is just as superhuman and flawless as we'd always imagined, because she's ~all natural~ and still killing it. This is precisely why she's our go-to for all things hair inspo! We heart ya, lady. Thanks for the inside scoop!