We chatted with Steve Burns from "Blue's Clues" about his new song, and his Nickelodeon memories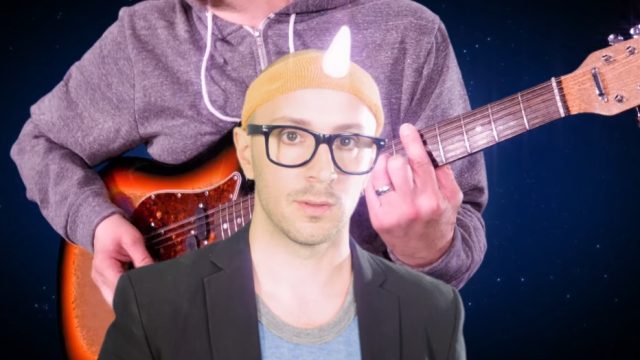 Surely we're not the only ones who watched Blue's Clues despite not being the intended audience. While the program was meant for young children, there was just something so infectiously warm and wonderful about the show. These days, Blue's Clues host Steve Burns is making music, and just released a new song and video that'll make you realize that entertaining is simply in his nature.
Burns helped a generation of children think outside the box, and his loving companion — an animated dog named Blue — was the perfect match to his unbeatable personality.
Not only is he completely grateful for the opportunity to bond with the youth of yesterday, but his fun and optimistic attitude proves that he was, in fact, the best choice for the iconic role.
After scoring the Nickelodeon gig, Steve met up with yet another Steve — Steven Drozd from The Flaming Lips — to create an album called Foreverywhere. Originally recorded years ago, it's finally making its way to the public in a big way. false
If you haven't checked out their first music video, it's a must-watch. Called "The Unicorn And The Rainbow," it's a trippy yet beautiful anthem that's appealing to adults, as well as Burns's most successful market — kids.
We got the opportunity to chat with him, and as expected, he's just as delightful off-screen as he is on.
https://www.youtube.com/watch?v=am7WiYJcbWA?feature=oembed
In fact, before discussing his music of today, let's go back and reflect on how we all met Steve Burns. It all started with one little screen test with Nickelodeon.
"I knew when I got the callback that I was in the middle of something really special. It wasn't like anything I'd ever done before," Burns said, "It was all green screen and I was talking to an imaginary dog. This was different from doing Shakespeare in college."
But, while challenging, Burns eventually fell into the role. (In fact, his interactions with that imaginary dog were pretty darn believable.)
"I had no idea it would be this big," Burns continued. "None of us could have predicted that it would become a real phenomenon. It was an amazing acting job. When I came to New York [I] had been channeling Pacino. Now I was channeling Grover. And it was great."
While he was definitely a household name for homes with young children, Burns admitted that he was still pretty much able to keep a normal life when the show was on air.
"I was never that famous. People sometimes recognized me. Parents did used to hand me their babies and sort of walk away to find their cameras, so that was weird," he joked. "The show was much bigger than me, and had such a distinctive look and vibe. So kids used to recognize me and you could see that it was really complex for them because I wasn't wearing the shirt and I didn't have the magical puppy."
(Good point — in rewatching the music video above, we might not have noticed it was Burns upon first glance. He's usually a bit more… green and striped, right?)
Of course, the garb made Steve — well — Steve, and once he was in costume, he morphed into someone who not only had a fun house, but seemingly made every single day better than the one before.
When Burns decided that it was time to leave, he had to make sure that his fans adjusted to his replacement. In 2002, he decided that it was time to move onto other avenues, and left his magic Nickelodeon house to "his younger brother Joe," played by Donovan Patton.
"We had a very natural transition," Burns said. "I just walked him around the house and showed which objects were magical talking objects and friends and which ones were just normal inanimate non-talking ones. Once he befriended the condiment family, I knew he'd be fine. Really, that house kind of runs itself."
(While funny, the show definitely took a bit of a hit. Patton is extremely talented, but Blue's Clues without Burns was pretty much like Mr. Salt without Mrs. Pepper.)
Burns continued to do voice-over work, which he took part in even while "living" in the Blue's Clues house, and focused his time on music. His collaborations with Drozd started up solely because he was a superfan. After hearing the album The Soft Bulletin by The Flaming Lips, he worked up the courage to contact the band directly.
" I knew a guy who knew a guy who knew Dave Fridmann who is the producer/wizard behind so much of the Lips work, including The Soft Bulletin," Burns said. "I just wanted to meet him. And ask him things. About being a sonic wizard. And when I did meet him he was really intrigued by my... unusual backstory." What happened next was pretty much every fan's dream come true. "he said, send me some tracks," Burns said. "And it was very stressful to send him some tracks but I worked up my nerve and I did."
A few years back, Drozd recalled the same meeting and was quoted as saying "Steve Burns changed my life. We're still really good friends to this day." 
So, lesson learned — don't talk yourself out of doing things you kinda-sorta fear, since you never know what wonderful results might come from it.
Eventually, the two met up and made beautiful music together. Foreverywhere took a lot of time, dedication, and love, but it's obviously something that both Burns and Drozd are quite proud of.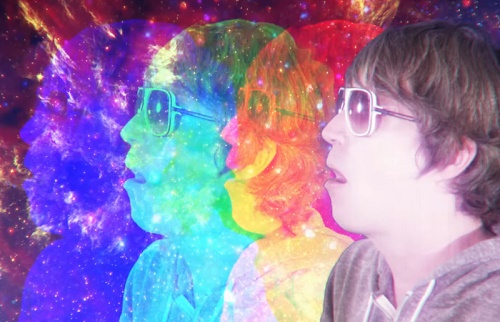 "The album took...let's just say a long and marvelous time to make," Burns admitted. "Steven Drozd and I basically did it in our spare time, over years and years. I'd fly down to Oklahoma where he lives with his family and we'd record for a few days at a time. It was so much fun, he was raising his kids, I was working a lot, so it was this kind of cool side project that took years to complete but stayed fun the whole time."
Drozd's kids actually helped inspire the album a bit. In fact, in the video for "The Unicorn and Princess Rainbow," Drozd's son, Daniel, plays his younger self, and his daughter, Charlotte, is Princess Rainbow.
Burns also directed the video, which is yet another talent he possesses.
If you're curious about other albums Burns finds to be monumental, you're in luck. While The Soft Bulletin still tops the list, Burns also gives credit to Hunky Dory by David Bowie, The Unforgettable Fire by u2, the Rocky soundtrack by Bill Conti, and Darklands by Jesus and Mary Chain for being inspirational.
Surely you want to catch the other StevenSteven songs that Burns and Drozd have created. The full LP is scheduled to come out in February 2017, and we absolutely can't wait for it. Many thanks to Burns for taking the time to chat with us — after all, we're still humming the "Mailtime" anthem on, at least, a weekly basis. It's pretty safe to say that he's changed lives.