We can't stop watching this footage of the Georgia Dome imploding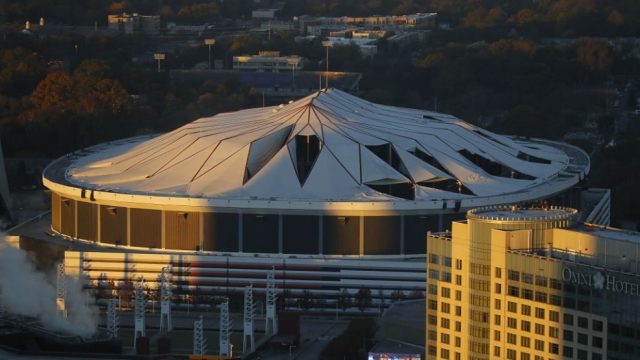 If you live in or have visited Atlanta, you may be familiar with the Georgia Dome. Sadly, the structure — which opened back in 1992 and served as the home of the Atlanta Falcons — is no more. The Georgia Dome imploded after nearly 25 years of service, and video footage of the big event is kind of incredible.
Back in 1992, the Dome was known as being one of the biggest covered stadiums in the world. But unfortunately, what was once a hot commodity soon turned into unnecessary space, as the Mercedes-Benz Stadium — which will now host the Falcons — was built right next to it. According to SBNation, the new structure cost $1.6 billion.
The implosion only took seconds, which is a little crazy when you think about the nearly three decades of sporting memories that the Georgia Dome held. Not only were two Super Bowls held in the structure back in the '90s, but it was where former gymnast Kerri Strug won gold during the Olympics for her powerful second vault, which she achieved while injured — a moment that many of us remember pretty well.
The good news? The head coach of the Atlanta Falcons until 2003, Dan Reeves, was pretty positive about the change — and since he's been in the Dome more than most of us, it gives us good vibes about the whole thing.
"I think the Georgia Dome was so special, a huge part of us turning it around in '98. The fans were just awesome at home," he said to The Atlanta Journal-Constitution.
Since we don't get to watch buildings implode every day, it's kind of cool to see.
https://www.youtube.com/watch?v=LzDzit-bMCU?feature=oembed
Around 5,000 pounds of explosives were used to take down the structure, according to Chicago Tribune.
Of course, since this was such a big event, a lot of people caught the implosion from different angles. Even one angle that was sadly blocked by a bus.
If you're still feeling sad about it, just know that the Dome gave its own little farewell prior to the big event.
At least we still have the memories.