We are dying to get our hands on Morphe Brushes's ultra-glam gold brush collection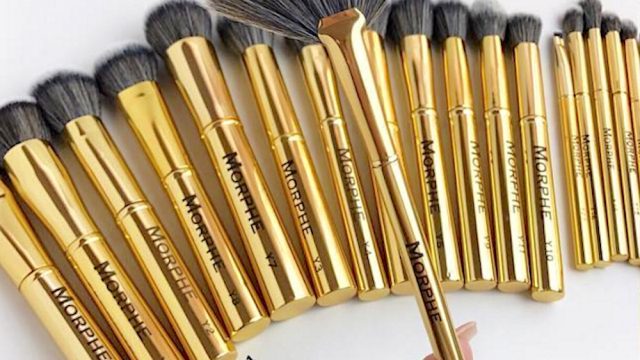 Morphe Brushes is one of those beauty brands that has incredibly high-end makeup brushes for an affordable price. STEAL! Not to mention, their collections looks ~so~ pretty. That's why we're dying to get our hands on Morphe's new ultra-glam gold brush collection! They've got a new line of absolutely stunning brushes that look every bit as luxurious as they are expertly crafted. Morphe's new collection is coming out just in time for the holidays, so you can get yourself a fabulous little treat, or snag some for the beauty junkie in your life! The way we see it,  the amount of benefits that high-quality makeup brushes can provide for your skin and makeup application are immeasurable. So, yeah, we're buying these brushes as fast as we can get our hands on them!
The new Gilded Collection includes a whoppin' 23 brushes and will be available on Black Friday, of course!
Don't they just look like something out of a dream? Imagine them in a beautiful jar next to your makeup collection. Swoon!
The collection is definitely going to be limited-edition, so you don't hold off from getting your own, as they're certain to run out fast!
Isn't gold just the most festive color? We want it in our makeup and we want it on our brushes!
We already know and love Morphe's silver brush collection, so we can't think of a better addition than a complementary gold set!
So shinyyyyyy!
And while we loved their rose gold collection, we gotta say we're excited about having another option in the gold family!
Don't you love the juxtaposition of the rose gold with the matte black handle?
https://www.instagram.com/p/BMz7Q8ZgZFF
What do you think, are you more partial to the rose gold or the new shiny gold that's to come? The Gilded Collection brush set will be available online and in stores on Friday, Nov. 25th at 8am PST. So make sure you're up and ready get your little paws on a set!