Why we're crushing hard on Drew Barrymore
Who doesn't love Drew Barrymore? In our minds, the only reasonable answer is, "People with no soul." One of our favorite child-stars-turned-amazing-women, Barrymore has not only lit up our television and movie screens for the past 35 years — she has endured personal heartache and struggle that have only added to the strong, beautiful woman inside and out whom we know and love today.
And aside from the challenges she faced as a child, she has also spoken out candidly about relatable adult issues like friendship, body image, postpartum depression, and so much more. From the first time we saw her as Gertie in E.T. the Extra-Terrestrial to the notorious rebelliousness of her adolescence and the subsequent wisdom she has since imparted on all of us over her years in Hollywood, Barrymore continues to teach us that the only person we should answer to is ourselves – and that finding our own brand of happiness is the only required ingredient for a successful, valid existence.
Here are all the reasons Drew Barrymore will always be our #WCW.
She is an extremely versatile actress
Over the course of her career, Barrymore has proven she can handle every genre from children's (E.T. the Extra-Terrestrial) to horror (Scream, Firestarter), sci-fi (Donnie Darko), action (Charlie's Angels), and everything in between. My personal favorite genre of hers is romance, though, like Ever After, Never Been Kissed, and especially those in which she teams up with Adam Sandler. The Sandler films where Barrymore costars are, without a doubt, his best. She always adds the depth needed to really round out an Adam Sandler movie in a way Steve Buscemi and Rob Schneider don't quite do it.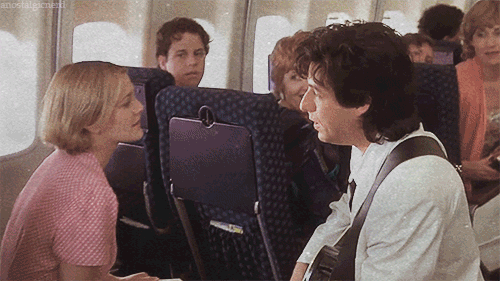 She's an author, too, NBD
Barrymore has had two memoirs published. She wrote the first, Little Girl Lost, when she was in rehab in late 1988 – when she was just barely 13 years old. In it, she recounts the struggles she faced with family and addiction as a child. Her second book, Wildflower, was released just this past October and includes anecdotes about her life: a novel that is a little lighter than her first, according to Barrymore, and recaps events like moving into her own apartment at 14 that helped her along the path she took in her life that led her to the happiness she (rightfully) enjoys today.
Oh, and she owns a production company
Aside from being a well-respected actress, director (she directed the 2009 Ellen Page-fronted roller-derby drama Whip It), and author, Barrymore also owns her own production company called Flower Films, which she cofounded in 1995. Flower Films has gone on to produce many great movies, including ones Barrymore has starred in herself like Never Been Kissed, Donnie Darko, and Music and Lyrics.
Fun fact about Flower Films: Barrymore cofounded it with her friend and business partner Nancy Juvonen, who is married to Jimmy Fallon. The fun part is that Juvonen and Fallon met on the set of Fever Pitch – where Barrymore introduced them. So yes, "Cupid" is also on her list of achievements.
Next up for power duo Barrymore and Juvonen is executive producing the TLC series Rattled, which follows couples during their first year of parenthood and premieres Feb. 2. Both women have two young daughters, so it seems like a natural fit for them to produce a show about new motherhood!
She has the greatest things to say about aging, motherhood, and beauty
According to Marie Claire UK, Barrymore has stated, "From my perspective, there's no reason to be afraid of ageing, because if you age, you're lucky! The alternative is death." It's hard to really step back and think about it that way when, in our society – and especially somewhere like Hollywood, where Barrymore has spent most of her life – beauty is directly associated with youth. But she has proven time and time again that age is beautiful, both through her own career choices and in her personal life. Case in point: On Instagram, Barrymore shared this stunning, seemingly bare-faced, free-spirited photo of herself on the beach on her fortieth birthday last year, captioning it simply "#forty."
She has also told Women's Health that, "You're not supposed to look perfect while you're making babies — making babies is the perfection." For those of us who are mothers or plan to become them, the more of our fellow women who come out and make these kinds of statements, the better!
She seems like the raddest mom ever
Speaking of making babies, Barrymore has two little girls with art-consultant husband Will Kopelman: Olive, 3, and Frankie, 21 months. She doesn't share photos of her daughters too often, but she does graciously allow us a glimpse into her motherhood adventures once in a while – and as far as we can tell, she's nailing the whole mom thing. On Mother's Day, she posted this too-sweet-for-words photo of herself and Frankie on Instagram, captioning it, "Me, Frankie and the flowers. #happymothersday."
And her eldest daughter Olive wanted a tiger cake for her third birthday this past September, so of course Barrymore delivered. She posted the following photo, along with a caption that showed her appreciation for this awesome cake and also for how much her daughters have enriched her life. Tears!
We can't wait to see what's next for Drew Barrymore, and are so happy we have her to look to not only for entertainment, but for mega inspiration on how rad it is to be a strong woman who has endured difficult challenges in life and come through better for them. We love you, Julia Guglia!
(Image via New Line Cinema)