7 ways to clean gunky earrings to make your bling sparkle like new
If you wear earrings every day, then chances are good that you've thought, "Ick. These need to be cleaned" at one time in your life. Chances are also good that almost immediately after thinking that, you completely forgot to go through with it. No judgement (we've all been there).
Because of their location, earrings are prone to get visibly dirtier than almost any other piece of jewelry. From tiny, dainty studs, to trendy hoops, earrings attract hair spray, residue from shampoo and conditioner, grease and dirt from your fingers, sweat, and accumulated cream from moisturizers and other face products. All of this extra stuff leads to discoloration, dullness, tarnish, and even potential infection. No one has time for that!
Luckily, cleaning your earrings is actually super easy, and there are a ton of ways to go about doing it. We've compiled some of the top tips below so you can say goodbye to gunky, grime-filled earrings once and for all. (Though one quick note: You won't want to use many of these tips on real gemstones or pearl earrings. Those are super delicate and require a little extra care and effort—your best bet is to head to a jeweler for help). Your bling will be back to sparkling in next to no time.
How to clean the gunk off your earrings: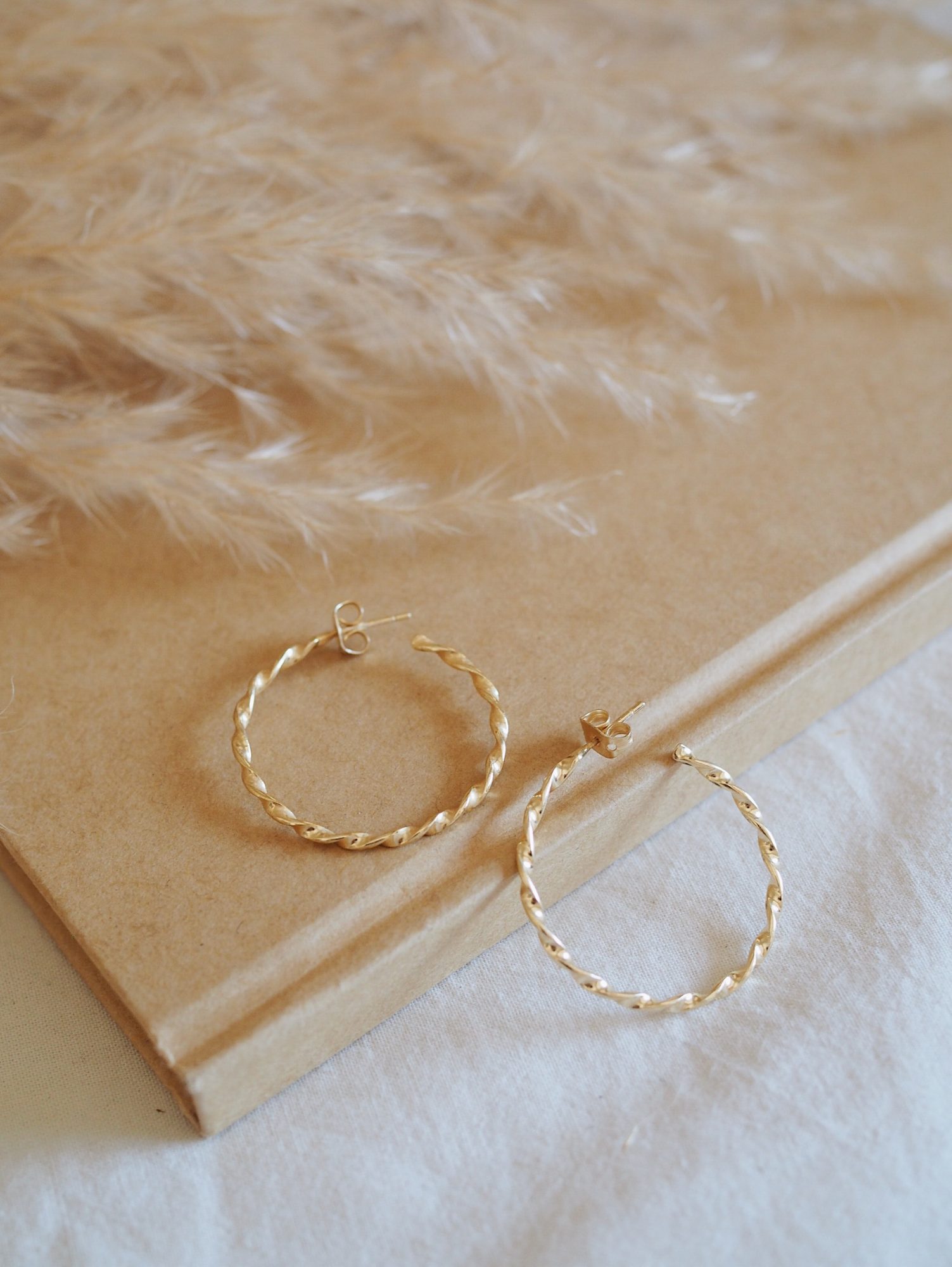 1Grab the hydrogen peroxide.
Hydrogen peroxide is a great option for jewelry cleaning. It acts as a disinfectant and washes away grime. If your earrings need a quick sprucing up, put some peroxide on a cotton pad, then carefully use the pad to clean all over the earring. Or, as Cheryl Roberts, of custom jewelry brand Lexie Jordan Jewelry says, "Grab either a bottle of cleaning solution or fill a small cup with hydrogen peroxide. Let your earrings site in there for a few minutes and then drop them into a cup of hot water. After a minute or so you can remove them from the hot water and use a Q-tip to clean the areas with grime left over."
Nazlia Yunus, founder and CEO of Chvker Jewelry, says depending on the metal, you can also use baking soda to get some of the tarnishing off.
2 Give them a wipe with a microfiber cloth. 
A soft, microfiber cloth like the one you use to wipe your sunglasses works well on jewelry. Unlike a towel with loops that can easily get caught in the items prongs and leave little fibers on your earrings, or a paper towel that could scratch the metal, microfiber cloths will gently buff out any finger prints or product residue without damaging the earring itself.
3 Clean sterling silver with a silver wipe .
Sterling Silver is sensitive to oxygen and water, explains Louisa Schenider, founder and CEO of  at-home piercing company, Rowan. Because of this, she advises you try to avoid spraying perfumes or hair products near them. But don't worry if your earrings oxidize. "Sterling Silver is a precious metal and is easily cleaned to its original shiny state," she says. Sterling silver cleaning wipes are created with a formula that's gentle enough not to damage your earrings, but effective enough to return them to their clean state and lustrous shine.
4 Dazzle diamonds with dish soap.
Diamonds are super strong, but you still need to be careful when cleaning them lest you risk discoloration. Gemologist Anu Raman, who works for luxury jewelry brands like Chopard,  advises mixing together 3-5 drops of dish soap and one cup of hot tap water.Let the water cool enough to touch. Take the items and using a soft toothbrush scrub away any residue that's left. Let air dry on a paper towel or clean cotton cloth.
Soak your diamonds in the solution for about three to four minutes, then rub gently with a soft, clean toothbrush. Let them soak for another one to two minutes, then rinse them off in a bowl of cold water and let dry.
You can also try out this innovative jewelry cleaning pen to spruce up you the diamond's shine.
5 Submerge in hot water.
Want something even simpler? Boil some water, put it in a mug, then place your earrings in there and let them soak for about 20 minutes. Gently scrub with a clean toothbrush. This method won't be quite as effective as a cleaning solution would, but it will definitely help.
6Use a toothpick for hard-to-reach spots.
Earrings can be a little tricky to clean, especially if they're tiny or have some sort of elaborate design. Grab a toothpick for those hard to reach areas!
7 Get a jewelry cleaner machine.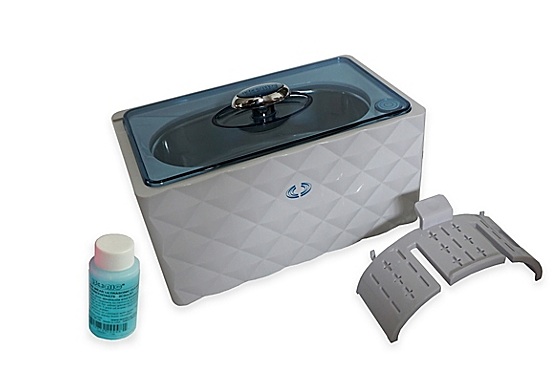 If all of the above tips sound like a little too much work, consider investing in a jewelry cleaner machine, like an iSonic or SparkleSpa. Keep in kind that with these heavy-duty cleaners, the ultrasonic waves could dislodge any loose diamonds. But they're a surefire way for a thorough cleaning, are multi-purpose, and don't require a lot of work on your part. Win-win all around!