6 Foolproof Ways to Beat the Winter Blues, Backed By Experts
Seasonal depression is very real, but these helpful tips make the colder months a little more bearable.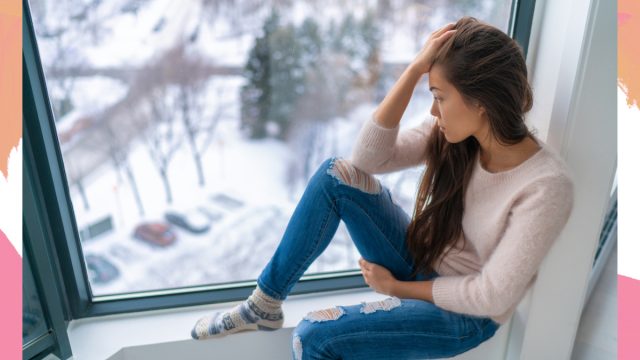 November came and went faster than we could gobble up all the mashed potatoes at Thanksgiving, and the sun is now nowhere to be seen come 4pm. Between the holidays and end-of-year projects at work, December is an absurdly busy time of year. Then, before we know it, January is going to hit us like a ton of cold, hard bricks.
Suddenly, the idea of bundling up and braving the cold sounds torturous, not exciting, and the prospect of a holiday movie marathon in bed becomes increasingly more inviting with every falling snowflake.
"Winter makes us SAD and I'm not abusing the all-caps here. I'm talking about a legit condition called Seasonal Affective Disorder," mental well-being expert and Afterglow app co-founder Anton Kotelnikov tells HelloGiggles. "The gloomy season and the limited daylight mess with our serotonin levels and can leave us feeling drained, anxious, and just plain blah."
RELATED: 40 Questions to Ask Your BFF to Find Out How Well You Know Each Other
The National Institute of Mental Health describes SAD as a serious change in mood and behavior that occurs when the seasons change. As a result, SAD can significantly "affect how a person feels, thinks, and handles daily activities."
While SAD can be triggered at any point during the year, winter-pattern SAD is the most common. According to the NIMH, symptoms "start in the late fall or early winter and go away during the spring and summer."
However, more often than not, people miss or turn a blind eye to the warning signs of brewing seasonal depression, Kotelnikov says. Everyone experiences winter-pattern SAD a little differently, but common symptoms include low energy, feelings of hopelessness, overeating, and self-isolation.
Not prioritizing your mental and emotional well being is the worst thing you can do during a SAD episode, Kotelnikov warns. With winter here in full force, now is the time to take action.
From meeting up with friends to volunteering, here are six ways you can beat the winter blues — and have fun doing it!
1. Get outside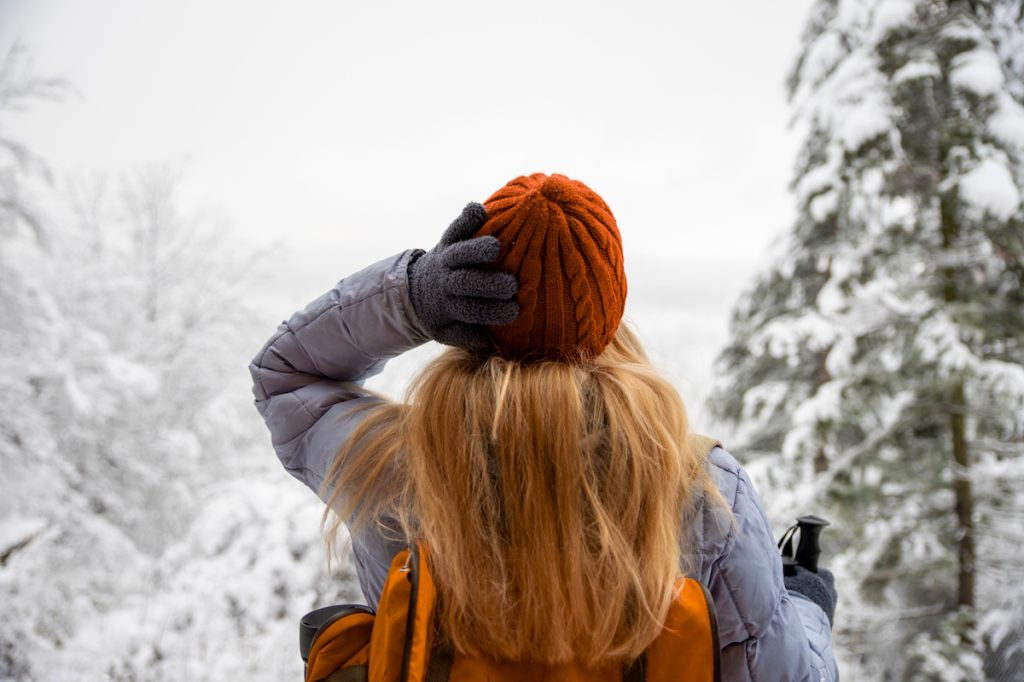 One of the biggest tiffs individuals have with winter is the lack of the daylight, which can make planning outdoor activities more difficult. However, licensed therapist and JustAnswer mental health expert Jennifer Kelman, LCSW, tells HelloGiggles that connecting with the great outdoors can be "a natural mood booster."
Even better, try incorporating a hike or some type of exercise that'll get your heart rate up and release endorphins. Also known as the feel-good hormone, endorphins can brighten your mood and reduce stress levels.
"If possible, try to take a nice hike in the woods and breathe deeply to let the aroma of fresh leaves and trees fill your soul," Kelman suggests.
2. Throw a mood-boosting feast
As tempting as it may be to stock up on peppermint- and gingerbread-flavored sweets, Kotelnikov argues that consuming lots of sugar can leave you feeling sleepy and have a negative impact on your mental health.
According to a 2017 report in the National Library of Medicine, diets high in sugar have been linked to symptoms of depression, which is already at an all-time high during the colder months.
Instead, throw a potluck centered around hearty meals with poultry or salmon and leafy veggies — all of which are high in tryptophan, an amino acid known to increase serotonin levels. If you have anxiety, a cup of chamomile tea can also serve as an alleviant.
3. Prioritize your social life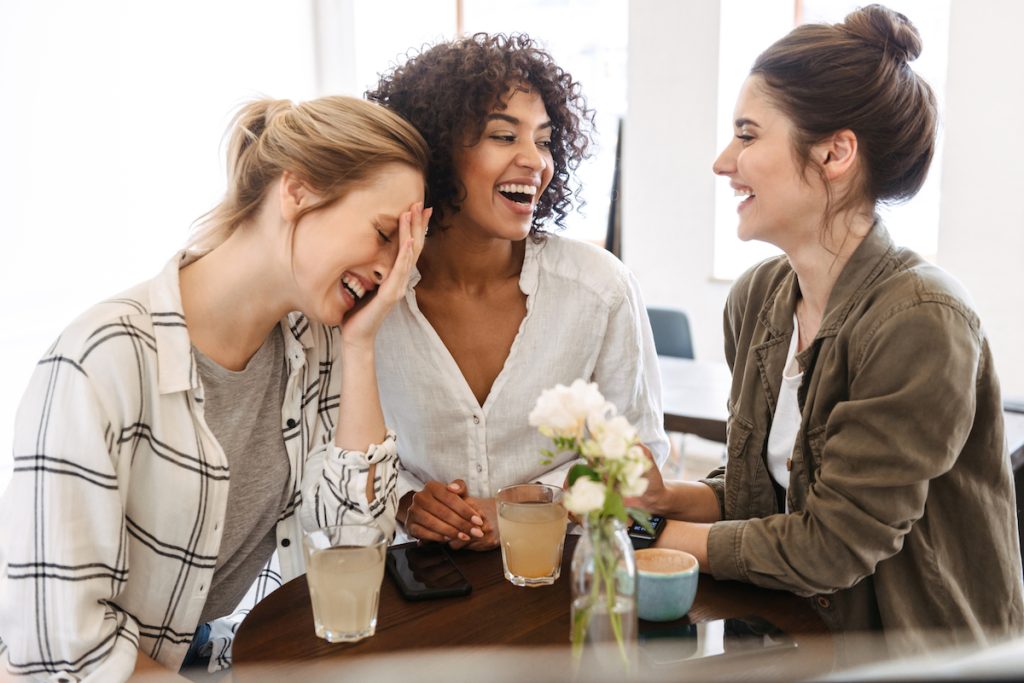 The winter season can be pretty isolating, sometimes leading to feelings of depression and anxiety. After the hustle and bustle of the holiday season subsides, continue to make an effort to pencil in time with friends and family.
You can offer to host dinner or suggest a new restaurant in town. Perhaps there's a new movie out or a fitness class you've been wanting to try?
"There is healing in connection, so the more you can connect with others, the less alone you will feel," Kelman says. Likewise, she also suggests reaching out to those you trust if you're experiencing feelings of depression and anxiety.
"Many people keep these feelings hidden, which can cause one to feel even more alone," she explains. Seeking support from loved ones can "be quite uplifting" and helpful, Kelman adds.
4. Extend a hand
With temperatures dropping and snow storms on the horizon, it's more important than ever to help those in need. Kill two birds with one stone by getting outside and lending your time to a charity organization.
Kelman recommends finding a cause that is meaningful to you, whether it's giving back to your community or working with an organization that's close to your heart. This may manifest into small, random acts of kindness or spending the day volunteering at an animal shelter or soup kitchen.
"When one can step outside of their own feelings and give to others in need, it is incredibly cathartic," Kelman explains. Kotelnikov agrees, noting that extending a hand can give you a sense of purpose during this particularly dark time.
5. Fill your space with hygge vibes
Fact: we spend more time indoors from December to February than we do in the spring or summer months. Thus, it's important that our space reflects immaculate, soothing vibes only.
To achieve this, Kotelnikov recommends infusing your home with hygge-inspired decor and accessories like furry pillows, cable-knit throws, candles, and basically anything that gives off "coziness, warmth, and comfort."
6. Consider talking with a therapist
While SAD is a very common occurrence, ignoring the symptoms completely can snowball into developing anxiety or depression. If you're feeling low for an extended period of time, both Kotelnikov and Kelman advise speaking with a licensed therapist who can help you navigate your thoughts and feelings.
Don't forget to check in on your friends and loved ones, too. The winter blues are no joke, and teaming up to fight them together is sometimes the best medicine.
Emily is a NYC-based freelance entertainment and lifestyle writer — though, she'll never pass up the opportunity to talk about women's health and sports (she thrives during the Olympics).
Read more