7 ways to get into the holiday spirit if you live somewhere that's hot all the damn time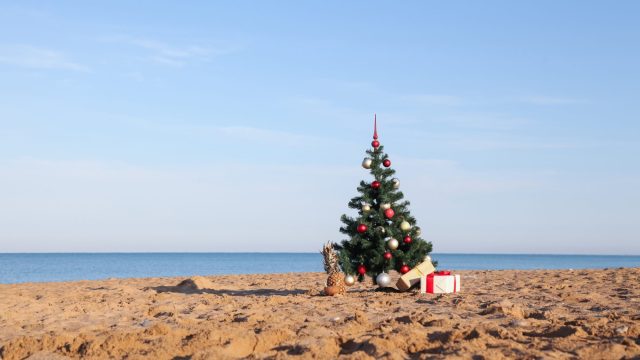 When you live in a place where dashing through the snow is an actual possibility, it's not hard to get into a festive mood. But if you live somewhere that's in the 80s in the middle of December, it's a totally different story.
I grew up in Washington state, so I've had my fair share of snowy Christmases. But when you're living in Southern California, which I do now, some years you find yourself doing holiday shopping in shorts and flip-flops. Don't get me wrong, I love having summer-like weather year-round. But it doesn't exactly scream "Christmas."
So, how do you get into the holiday spirit when you're not exactly living in a winter wonderland?
We talked to people who live in warmer climates about what they do to get into a festive mood. Rest assured, it's not that hard. Here are some easy ways to get into the holiday spirit if you live somewhere that's hot all the time.
Soak in the mood of the season by visiting local holiday hotspots
"I'll spend some time reflecting on life and how Christmas was growing up in New York. Sometimes I'll hang around the bustle of Christmas shoppers or go ice skating at an indoor rink. When you live in Florida, like I do, you'll find ways to get into the holiday spirit."
— Dawn, Florida
Frost your windows with spray-on snow
"I adore the holidays, so I'll put up a tree, decorate outdoors just as you would do in cooler climates, and listen to my Christmas music. For snow, I'll sometimes spray snow-like stuff on my screen door and windows and make typical holiday meals."
— Carol, Georgia
Turn down the air conditioning and turn up the holiday music  
"Getting into the holiday spirit while it's 80-something degrees out is difficult. But cranking the A/C down to 68, decorating a plastic tree (because a real one will die rapidly), and listening to holiday stations on Pandora is nice and easy."
— Brian, Florida
Create your own winter wonderland at home with seasonal sights and smells
"I'm originally from N.Y.C. and now live in Tampa, Florida. It's hot 95% of the time here, especially during the holidays. So some of the things I do to enjoy the season are to add a faux fireplace in my living room and add a candle-burning log. Then I'll decorate it with garland and small white lights to make it look more wintery. I'll even add mulling spices from Williams-Sonoma to a pot of water on top of the stove and let it simmer. It helps to make the room smell like a winter wonderland. I also like to add peppermint bark in bowls around the house so when guests come by, they can get a taste of the winter spirit."
—Dawn-Marie, Florida
Channel your inner Kevin McCallister 
"I live and work out of Southern California, which is, surprise surprise, hot year-round. I grew up in the Midwest and have found ways to add a 'winter wonderland' [feeling] to this season through finding a place that has a decorated tree. If you live in a warm state or city, there's usually an outdoor promenade shopping mall (like L.A.'s The Grove) that has a huge, decorated tree. You can take pictures with the tree and get into the spirit just by walking around and seeing all of the decorations. You can also watch holiday movies while eating movie-themed snacks. I always channel my inner Kevin McCallister during this time of the year. I watch Home Alone and Home Alone 2 with a lovely cheese pizza, just for me. You can even dress up! Wear seasonal colors, and break out a Santa hat, socks, or jewelry."
— Heather, California
Come up with a unique traditional dish that you and your family only make during this time of year
"Living in New Zealand, our whole Christmas season is in summer! But it's still important to practice normal Christmas traditions. For me, these include decorating for Christmas, with a tree, lights, and wreaths, at a minimum. Listening to Christmas music or snuggling together on the couch and watching Christmas movies is sure to help keep the Christmas spirit alive. You can also think up ways to make the most out of your unique 'hot' Christmas. For instance, you can make your family wear holiday-themed pajamas, have a Christmas breakfast that's cooked on the barbecue, and have a Christmas dinner outside. You can even create a special family dish that tastes great in the hot weather but that you only make during Christmas. That way, thinking about it instantly gets you in the mood."
— Katie, New Zealand
Spend quality time with your friends and family
"We live in Miami and were born and raised in Puerto Rico. We love the holidays, so to get into the spirit, we'll do a number of things like play holiday music in our home, watch holiday movies, put up a tree, and visit parts of our city that have holiday decorations or activities. We'll make holiday drinks, such as egg nog (in Puerto Rico we make one called coquito). Honestly, as someone who grew up (and lives) in a warm climate, I can say that it's really all about spending time with friends and family. That's what we most look forward to."
— Miguel, Florida
If you grew up in a place where snow welcomed you into the holiday season, it can be tough to get into that mood if you're now living somewhere that's hot. But as you can see, people do make it work just fine. The key here is to create your own holiday traditions with friends and family wherever you live, whether it gets cold outside or not.