11 ways you can celebrate an accomplishment without spending lots of money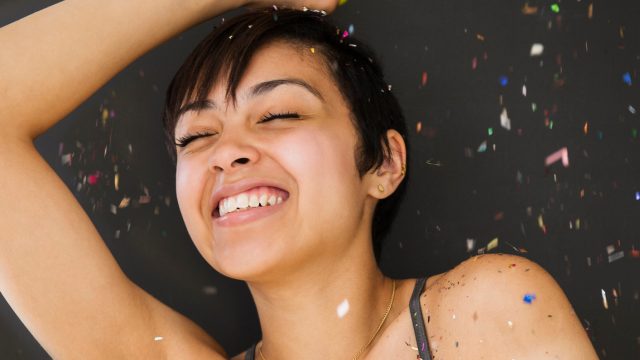 The idea of "treating ourselves" is always on our mind. Infusing day-to-day life with something a little celebratory and special is always a good choice, especially when you've just accomplished something you're proud of. We like to think that you should be your own biggest fan (it's okay if it's really your dog!), and that means basking in your own success because you deserve it!
But when you're a boss babe who's constantly getting things done, it can be expensive to constantly treat yourself. Thankfully, there are ways to celebrate that won't break the bank, and those are the celebrations we believe should be partaken in regularly. Read on to see 11 inexpensive ways to #treatyoself.
1Have an at-home spa day.
Fill up the bath, load up on CVS face masks (hey they're great and cheap!), grab your favorite nail polish, and put on that one guilty pleasure flick you just hate to love. Pamper yourself! Give yourself a foot massage, cuddle up with your dog or cat, and breathe a sigh of relief. You DID THAT! You can even incorporate aromatherapy into your spa day by using an essential oil diffuser, candles, or incense. Get creative!
2Go on an adventure.
Nothing screams "I DID IT" like running off far, far away to celebrate. Changing your day-to-day schedule up can make a world of difference for your wellbeing, even if it's as simple as driving somewhere new. Take the subway to a new stop and walk around, get in your car and check out that area of downtown you've been meaning to explore, and don't forget to enjoy the unknown! Adventure is out there, and waiting, so go catch it!
3Buy yourself some flowers.
Thanks to supermarkets like Trader Joe's, you can buy yourself a bouquet of beautiful blooms without spending major bucks (most of the time for less than $7!). Grab yourself some new flowers, talk to them, put them in a beautiful vase, and don't forget to take some selfies with your new friends to celebrate!
4Binge-watch your favorite show.
Our favorite way to treat yourself is to do it shamelessly. Is your favorite ritual watching 10 episodes of It's Always Sunny in Philadelphia while eating a tub of ice cream? We say go for it! Watch that season of your favorite show and don't apologize for it. If television is your favorite way to celebrate, then by all means indulge! You have the right to choose how you treat yourself.
5Try a new makeup trend or hairstyle.
Sometimes it's fun to change things up! Try parting your hair differently or bringing out that glitter eyeshadow that's been sitting in your drawer for months. Playing dress up is still fun, even as an adult. Transform yourself into something weird or wild or bold or tame; no matter what you do, just don't forget to take selfies! But please, stay away from the hair scissors unless you know what you're doing!
6Call someone you love and tell them about your accomplishment.
Happiness is only real when shared, right? Call one of your favorite humans and tell them what you did. YES, seriously. You deserve to be proud of yourself and you are totally allowed to tell someone you care about what you're proud of! Squeal on the phone together, jump around in real life together, cry over text together; the how is less important! Allowing yourself to feel loved and supported isn't selfish, it's necessary and important and worthy. Never forget that!
7Bake your favorite dessert.
What's better than dessert? Dessert YOU make, right? Even if you aren't savvy in the kitchen, it's still cathartic to try! Buy your favorite cake mix (looking at you Funfetti) and get baking! You can even wear an apron and do your hair all fancy and pretend you're Julia Child if you so desire. Have fun with it and don't forget to enjoy your masterpiece when it comes out of the oven.
8Go to the library and check out that one book you've been meaning to read.
We're not sure why this happens, but it seems as we get older, we forget about the magic of the public library. Reading any and every book under the sun, for FREE? Yes please, don't mind if we do! Head to your local branch and grab that book you've been meaning to dig into. Bonus points if you do this THEN have a spa day or run a bath.
Ahhh, nothing feels as nice as a new book.
9Turn off your phone for at least 30 minutes and focus solely on yourself.
It's easy to forget that we deserve our own love and attention just as much as our BFF, partner, or family members. Take 30 minutes (or more!) to yourself — sans phone, of course. Cuddle up with a journal or good book, and take some time to reassess how you feel. Sometimes our feelings are tricky; when we feel like we should be proud of something, we can feel like we're not deserving of it. Be honest with yourself and don't forget to show yourself some compassion. You are allowed to be proud!
10Have a dance party.
Pump UP the jams, throw DOWN the inhibition and dance, dance, dance! Dance fully clothed, dance unclothed, dance half-clothed; it doesn't matter! Get your body moving and your soul grooving with the oldest celebration there is. Whether you're listening to Spice Girls or Beyoncé, it's all fair game. Dancing is good for you (hello cardio) and it's impossible to not have fun when you're moving for yourself. Shake it out, babe!
11Take a ritual bath.
Baths are the best. You can soak for hours, pretend you're a mermaid, sip wine, or just relax. And if you make your bath a little more intentional, it can literally become magical. Add some lavender or rose essential oils to the tub, throw in a few rose petals, light a few candles, and de-stress. Taking an epsom salt bath is another way to physically and mentally relax, helping you get ready for your next accomplishment!