Wayfair's April Fools' prank is so good, it's almost cruel that it's not real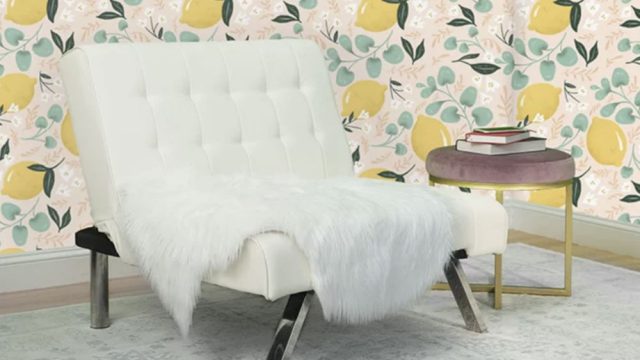 April Fools' Day is happening this weekend, which means you need to get ready to lose your trust in literally everyone you've ever known, and even some of your favorite brands. Home furniture and accessories store Wayfair is the latest company joining in on the practical joke fun, and honestly? Wayfair's April Fools' prank is so good, it's almost cruel.
Just in time for April Fools' Day (major *wink wink* face here), Wayfair is unveiling the world's first digitally controlled, interactive, pattern-changing wallpaper. According to the company, "This entirely new concept allows homeowners to completely transform the look and scent of a room in a matter of seconds." Dubbed "Scentsible Wallpaper," it would literally transform your place into a smart home, and basically be the coolest thing ever. Seriously, why is this not real?!
Can you imagine using wallpaper that changes patterns whenever you're bored? You could change the vibe of an entire room in seconds. That's amazing! And the scent feature? Who would even need to spend money on candles with something like that?
Ugh, Wayfair's April Fools' prank is torturing us.
The prank goes deep, too. In a press release, the company says, "Developed in-house using Wayfair's patented imaging technology, the new Scentsible Wallpaper has unique pattern-changing capabilities and scent-emitting features that can be controlled with the touch of a button through Wayfair's state-of-the-art app."
Guys, they put a lot of thought into this April Fools' Day joke, so it only seems fair that they actually create it. The Scentsible Wallpaper would supposedly go for $12.49 per square foot. You can watch a video about it and even check out some of the pattern options on Wayfair's website. Except…you can't buy anything. Because it's not real.
Don't mind us, we're just now stuck in a daydream where we can change the pattern and scent of our wallpaper with a cell phone app. Real life just doesn't seem as cool anymore.