This tutorial for watermelon skewers includes a legitimately terrifying ingredient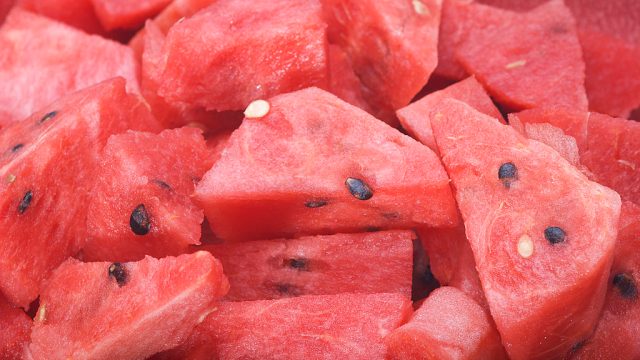 It looks like the folks behind this year's strange food stories aren't going down without a fight. We have no choice but to believe there's a secret cult of people who like to piss off the world with nonsensical food suggestions because what else would compel someone to sprinkle taco seasoning on watermelon?
The world has officially gone bonkers because watermelon with taco seasoning makes sense to chef James Briscione, who was seen committing this egregious act against taste buds everywhere while filming a segment for Food Network. The clip is a McCormick's-assisted promotion for the network's show Man Crafted, which highlights "dynamic men across the country who are making their mark on the food world."
Yes, really.
Anyway, the tutorial starts off innocently enough with Briscione enthusiastically informing viewers, "This is the way to cut a watermelon." Sounds fantastic! Backyard barbecue season is quickly approaching, and we wouldn't want our lackluster fruit-slicing to reflect badly on our hosting skills.
Next, Briscione commences to slicing the melon in half, then cutting the halves into grids, which leaves him with several slices. Continuing his food preparation education, he trims the rind off each piece and then inserts skewers in the watermelon. Next, he sprinkles some salt over the slices, and things are moving along with absolutely no bumps in the road.
Until, taco seasoning comes out of nowhere and slaps us across the face. false
UGH. JUST. WHY?! We're all for trying new recipes, but this oddly seasoned watermelon gets a hard pass.