This watermelon ice cream sandwich is bound to be a summer dessert trend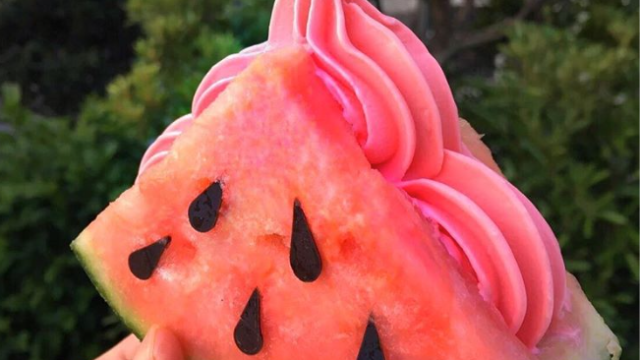 The greatest thing about summer (aside from swimming, sandals, road trips, BBQs, and basically everything) is summer food. There's just something special about the foods summer has to offer — like corn on the cob, fresh tomatoes, watermelon, and ice cream. But a watermelon ice cream sandwich?
Well, that's something we didn't even know existed, but we're very happy it does.
Summer's latest trend is a watermelon-ice cream hybrid sandwich created by Dominique Ansel Bakery in Tokyo. The bakery is celebrating its second anniversary by introducing the world to the best thing to ever happen to watermelon. And when the Japan outpost shared a photo of the heavenly dessert to Instagram, the internet collectively gasped.
"Our newest addition to @DABJapan: our What-a-Melon Soft Serve to celebrate or 2nd birthday in #Tokyo! 🍉 It's a slice of fresh juicy watermelon filled with homemade watermelon soft serve, little chocolate 'seeds,' and sea salt to sprinkle on top. Starts tomorrow at our #Omotesando shop. Happy Summer, #Tokyo! 🇯🇵 #DABJapan #DominiqueAnselJapan #watermelon #whatamelon #softserve #icecream"
Unfortunately, the watermelon ice cream sandwich is only available in Tokyo. But it looks easy enough to DIY at home. Simply buy some soft serve ice cream in whatever flavor you prefer, slice a watermelon, carve out some space for the ice cream, and sprinkle with chocolate pieces.
Yours may not look as pretty, but let's be real, DIY projects never do. The important thing is that it TASTES delicious. We're pretty sure you can't go wrong with watermelon, ice cream, and chocolate.