"Water bars" are one of the hottest summer party trends, and we'll let you decide what to think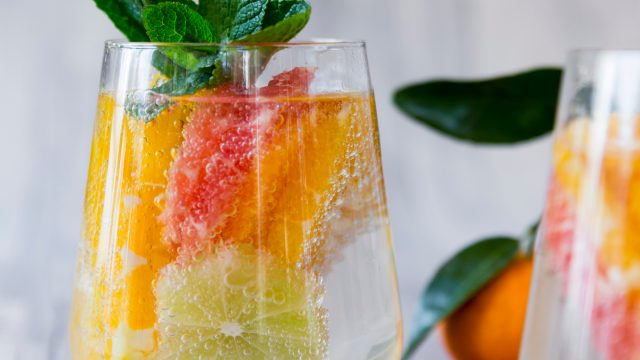 When we hear the words "water bar," our minds go to one of those swim-up pool bars you see at tropical resorts. You know what we're talking about — those modern miracles that allow us to order and sip on our favorite libations without ever leaving that cool, cool chlorinated water. Ah, heaven. But according to Pinterest's 2018 Summer Entertaining Report, "water bars" are a different kind of hydration station that your guests will either love or hate.
Pinterest users have been turning to the site to research water bars — a station where your summer party guests can choose from a variety of flavored waters rather than alcoholic beverages — way more than last year. Searches are up 171% since 2017.
There are a ton of options for integrating a water bar into your summer party plan. Your water bar could feature three different pitchers of ice water, each flavored with a different citrus fruit. Or, there could be a large bucket of ice chilling a mix of flat, tonic, or seltzer bottled water. You could even serve up large jars of plain ice water alongside several different bowls of fruit, allowing guests to add their own fruit mix to their H2O. The possibilities to mix and match are seemingly endless.
A water bar could be a great option at a hot summer afternoon garden party…or your friends could roll their eyes and ask where to find the real bar. Either way, the hydration station definitely offers a way to show off your style and party-planning skills. Because as Pinterest proves, these water bars are kind of beautiful.
"Cute," you say, "but my guests came here to party." Understandable. Water bars, as pretty as they may be, might not fit the feel of the summer party you're going for. So instead, use the idea and tailor it to something more your style.
We love this DIY mimosa bar, for example.
Or try out a super simple sparkling seltzer bar.
An even easier option is a chill and relaxed beer bar.
Alternatively, employ a water bar ~alongside~ your bar bar. That way, your guests will stay hydrated before, during, and after their cocktails.
Be sure to scout Pinterest to get inspired for your upcoming summer bash. Water bar or no, the site will give you plenty of ideas to make your party the best one this season.