Watching Crazy Rich Asians in a room full of other Asians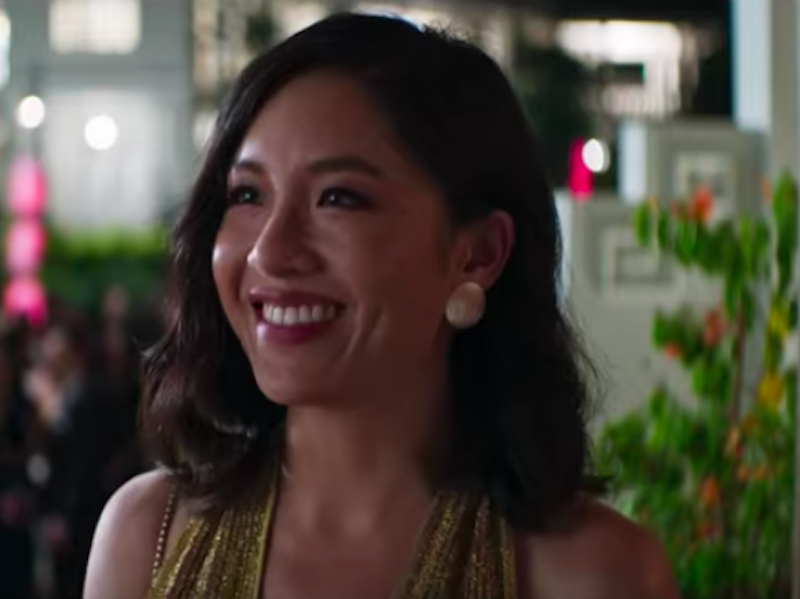 This essay contains light spoilers for Crazy Rich Asians, which opened in theaters today, August 15th.
There's a moment in Crazy Rich Asians when we hear an Asian accent. Peik Lin (played by Awkwafina) is walking Rachel (Constance Wu) through her family's giant mansion, where the gold-heavy decor is described as "Donald Trump's bathroom." Then the accent appears—the one that has haunted almost every Asian American kid since the days of Mr. Yunioshi and Long Duk Dong. The accent that tells the white people in the audience, "You are allowed to laugh at Asian people."
In Crazy Rich Asians, that accent comes from Ken Jeong, who plays Awkwafina's father and first appears dressed as an Asian Elvis. I tense up. "Oh no," I think to myself. Even in a film that's supposed to be a historic win for Asians in Hollywood, with an all-Asian cast, we can't escape that accent. We can't escape being the butt of the joke.
And then something wonderful happens.
I'm in a theatre with almost 200 people—95 percent of them are Asian—and the room erupts into laughter, me included. It was relief. Like the film was saying, "Asian accents aren't funny, and fuck you for thinking they are."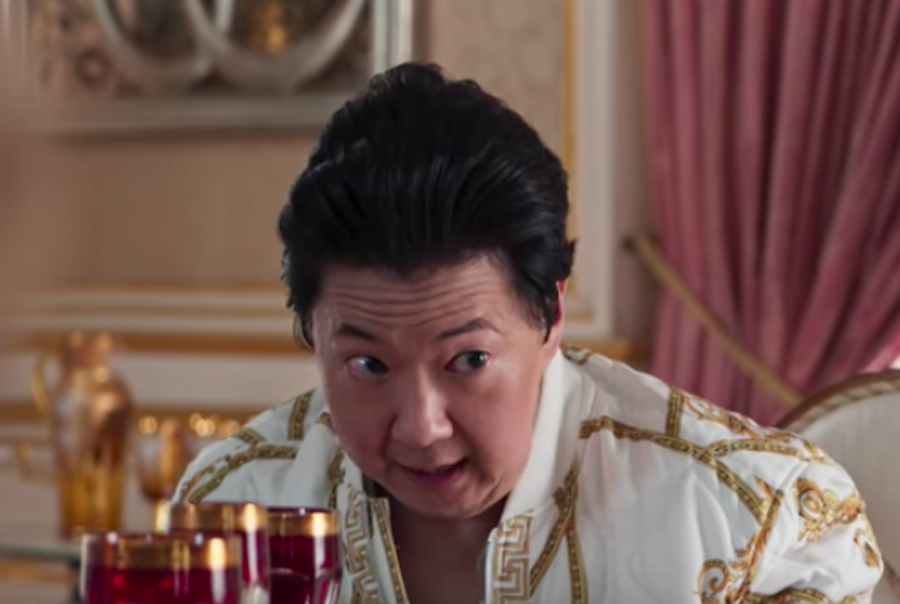 When I walked into Crazy Rich Asians, I tried to keep my expectations for the movie low. As my friend Christine (who is Korean-American) put it, "It has to be really, really shitty for me not to like it." I wasn't going to play into the Tiger Mom stereotype and expect excellence. I just really, really didn't want it to suck.
Christine and I sat down with our beers at a complimentary screening for Asian American journalists, and I looked around the room and thought to myself, This is going to be a tough crowd. As director Jon M. Chu told the Hollywood Reporter, "If our movie does well, four [Asian-centric] projects will go into production….if it doesn't, they're going to be in unknown states." The future of Asians in Hollywood was at stake, and if the journalists around me didn't like the film, what hope did the movie have with a more general audience?
Two hours later, I had watched the "poor" Chinese American Rachel navigate the opulent lifestyle of the rich and Singaporean and manage to leave with her principals intact. I saw her share a kiss with Nick (Henry Golding), and the audience exploded into applause at the end credits. I turned to Christine: "What did you think?" She had read the book by Kevin Kwan on which the movie was based. She responded with, "I wanted it to be more about the family than their love story," but overall, she liked it.
When I asked other people at the screening what they thought of Crazy Rich Asians, the reactions were as varied as the characters in the movie. The people on screen came in all shapes and sizes. They were funny and romantic, conniving and serious.
Asians are not a monolith, and the film—and reactions to the film—made that clear.
"It reached me on a personal, professional and spiritual level. After a while, I forgot I was Asian," enthused Toan, who is Chinese-American. "I was watching Astrid [played by Gemma Chan], and seeing her insecurities and her experience with adultery—that happened to someone in my family. And there's an LGBT character and it resonated with some of my experiences. And I understood the immigrant experience with Rachel."
While some audience members I talked to loved the film as much as Toan, others found it to be lacking. "I didn't see anyone who looked like me except for one Filipino lady," Clare, who is Filipino-American, told me. Indeed, the film has come under criticisms for focusing too much on East Asians, and not on the the Indian and Malaysian population of Singapore; the only "brown faces" in the movie are servants. "Like Astrid's maids, they were all Filipino," Clare said.
Still, Clare admits it was "refreshing" to see that many Asians in a movie. She plans to see it again.
Unfortunately, when you're part of a marginalized group and the opportunities to see yourself in pop culture are so few and far between (25 years since Joy Luck Club, 13 years since Memoirs of a Geisha), the very little you receive bears the burden of perfection. It must represent your particular story or else it's a disappointment—because there probably won't be another opportunity.
Already, there are criticisms of Crazy Rich Asians for not being all things to all Asian people, as if it's possible for one movie to accurately represent 48 different countries and their diasporas. That would be like expecting The Godfather to represent all white people.
For me, as someone who grew up as a crazy poor immigrant Asian—whose parents actually did encourage me to follow my dreams—the movie wasn't my perfect Asian American movie. But after seeing the film, and laughing along to lines like, "God forbid we lose the ancient Chinese tradition of guilting your children," I realized that the film didn't need to be perfect for me to love it. I could love it on its own terms: as a romantic comedy with a distinctly Asian American sensibility.
The leads were charming and beautiful, and they oozed chemistry. The supporting characters were memorable and the jokes were funny. And while I didn't relate to every moment that occurred on screen, I  certainly related to some things. When Eleanor (Michelle Yeoh) asked Nick, "Did you eat yet?" as a greeting, I was reminded of my own mom who shows her love not with words, but with food. When Eleanor tells Rachel, "You are an American," it reminded me of my first trip to Vietnam. I quickly learned that, over there, I wasn't considered Vietnamese—even though I was born there.
And Crazy Rich Asians may be the first Hollywood film to explain why Asian Americans call each other bananas: "Yellow on the outside, white on the inside."
As Constance Wu wrote on Twitter, "I know CRA won't represent every Asian American. So for those who don't feel seen, I hope there is as story you find soon that does represent you."
Crazy Rich Asians is an important first step to more: more stories, more representation, more complexity.
This week, I'll be seeing Crazy Rich Asians for a second time, not necessarily because I'm aching to see it again, but because if I see it multiple times—and those around me at that screening see it multiple times—then that movie will do well at the box office, and that will lead to more Asian-led films. Perhaps seeing Crazy Rich Asians again will lead me one step closer to my perfect Asian American movie.