Watch the trailer for the Carpool Karaoke spinoff show, and prepare to lose your mind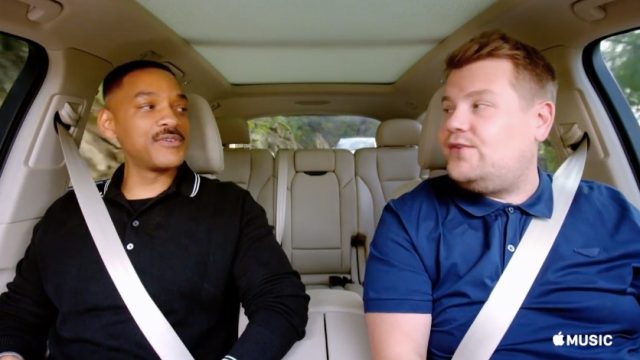 Okay, so we've all seen the brilliance that is James Corden channeling his inner pop star in the car, with an actual pop star as his chair-singing sidekick. Like, we're addicted to Carpool Karaoke! And apparently it's getting a star-studded spinoff on Apple Music. Hell yes!
The Carpool Karaoke series trailer features Will Smith, Ariana Grande, John Legend, John Cena and more, and it's so epic that "essential viewing" has a whole new meaning.
Even though Corden isn't taking the drivers seat the whole time (but enough to get our fix), it's awesome to witness the weird celebrity pairings they came up with, like John Cena and Shaquille O'Neal, or Chelsea Handler with Blake Shelton. Oh yeah, and the shenanigans venture out of the car in this show, too. Into places like, you know, a laundromat and a basketball court.
https://www.youtube.com/watch?v=_wUyUk5QRyc?feature=oembed
We didn't know we needed this, buuuuut we definitely did.
via giphyAnd it's about time. Seriously, Corden is a guy who can't put a foot wrong! Hopefully you watched him host the Grammys, because there was an amazing all-star Carpool Karaoke with J. Lo, Faith Hill, and several other familiar voices — even little Blue Ivy ran around in her pink tuxedo! OMG so precious.
Phew, all this talk of Carpool Karaoke is making us want to devour some.
So let's do it, starting with Adele because she won BIG at the Grammys last night.
https://www.youtube.com/watch?v=Nck6BZga7TQ?feature=oembed
Now for some Bruno? Yes please.
https://www.youtube.com/watch?v=AFxCO_DyzYM?feature=oembed
And some Lady GaGa to top it all off.
https://www.youtube.com/watch?v=X5Cfi7U4eL4?feature=oembed
We're SO freaking thrilled that Carpool Karaoke is going to continue being a staple in our lives, because there's nothing like a little sing-a-long to break up the day! HAPPY MONDAY.
H/T: Vulture