These Bachelorette-themed gift boxes are exactly what we need to survive Season 14, and you can win one
If last season's finale of The Bachelor left you saying, "Arie you kidding me!?," then these themed Bachelorette gift boxes are definitely for you. Inspired by new Bachelorette Becca Kufrin, these boxes have everything you need for an epic watch party, to gift a Bachelorette super fan, or just to send to your bestie because she's for sure final rose material.
Real talk: If you were to tell me five years ago that I'd be into the Bachelor franchise, I'd have said you were crayyyyzee! Through a little peer pressure via my roommate (and copious bottles of rosé) I can finally admit I'm full on hashtag-bachelor-nation. I mean, who doesn't love the suspense of finding true [perfectly curated, fake] love? Once you set aside any unrealistic expectations, and shift the category from documentary to pure entertainment, you're in for a wild, hilarious ride. Also, anyone pretending they're not looking for an excuse to have an adult beverage on Monday night is being dishonest.
So you can imagine my Chris Harrison-esque delight when I discovered these adorable Bachelorette-themed gift boxes in my IG feed. After deep-diving further, I realized the best part. You can win them for FREE! Gift box company The Suite Life is giving away these five Bachelorette-themed gift boxes on their Instagram page during Season 14, starting during the premiere on Monday, May 28th.
The Bachelorette Box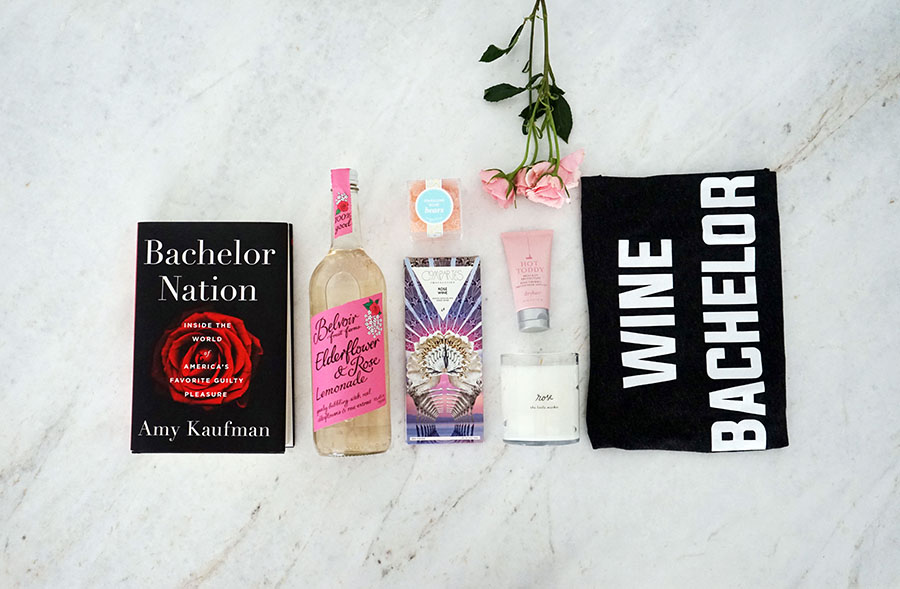 This gift box comes with N.Y. Times best-selling book Bachelor Nation: Inside the World of America's Favorite Guilty Pleasure by L.A. Times entertainment writer Amy Kaufman. You'll also find elderflower and rose lemonade (which likely needs a little vodka for when I watch, clearly), sparkling rosé Sugarfina gummy bears, a pink rosé chocolate bar, DryBar heat & UV protectant, a rose-scented soy candle, and a "Wine. Bachelor. Yoga Pants." tank.
The Villain Box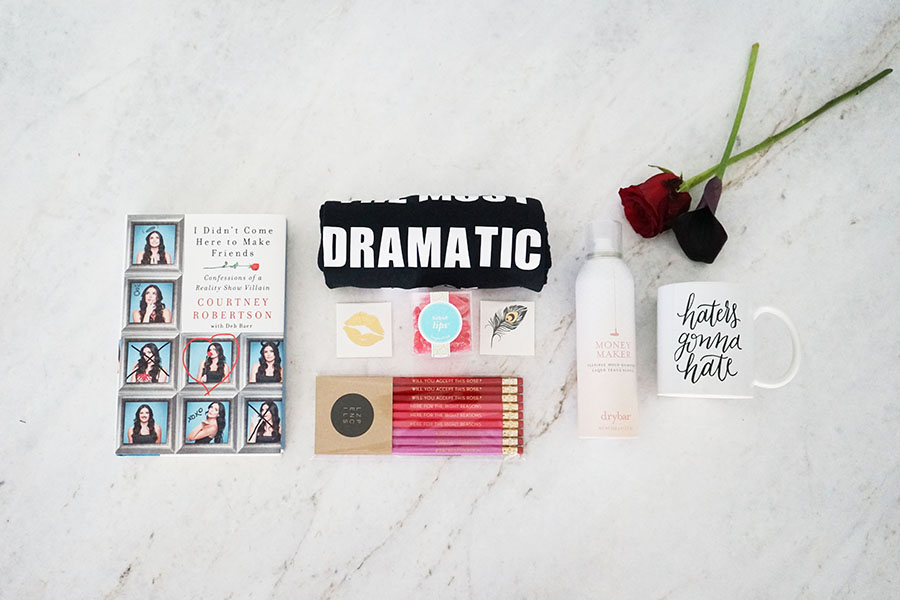 Let's be real, the villains are the best part of anything, ever, and The Bachelorette is no exception. There's always a dark horse in the mix that makes for really good TV.
This gift box includes Courtney Robertson's book, I Didn't Come Here to Make Friends: Confessions of a Reality Show Villain, DryBar hairspray, a "Haters Gonna Hate" ceramic mug, Sugarfina sugar lips gummy candies (kiss and tell much?), a T-shirt, and gold kiss temporary tattoos.
The Pack Your Bags Box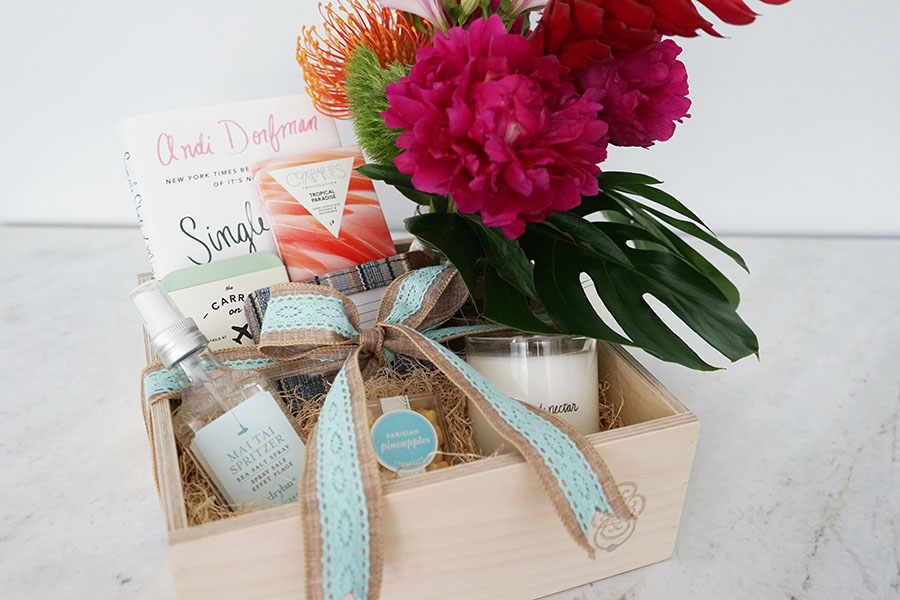 The cast usually travels later into the season to a tropical locale that makes for a nice backdrop for a breakup. With this gift box in hand, you'll be sippin' pretty on the beach before you're cast off to the next season of Bachelor in Paradise to try your luck again.
Inside is Andi Dorfman's book, Single State of Mind, a margarita carry-on cocktail kit, a scented candle, a handmade luggage tag, pineapple gummy candies, a Compartes chocolate bar, and DryBar sea salt spray to make sure your hair looks as bouncy and beachy as Becca's.
The Hometowns Box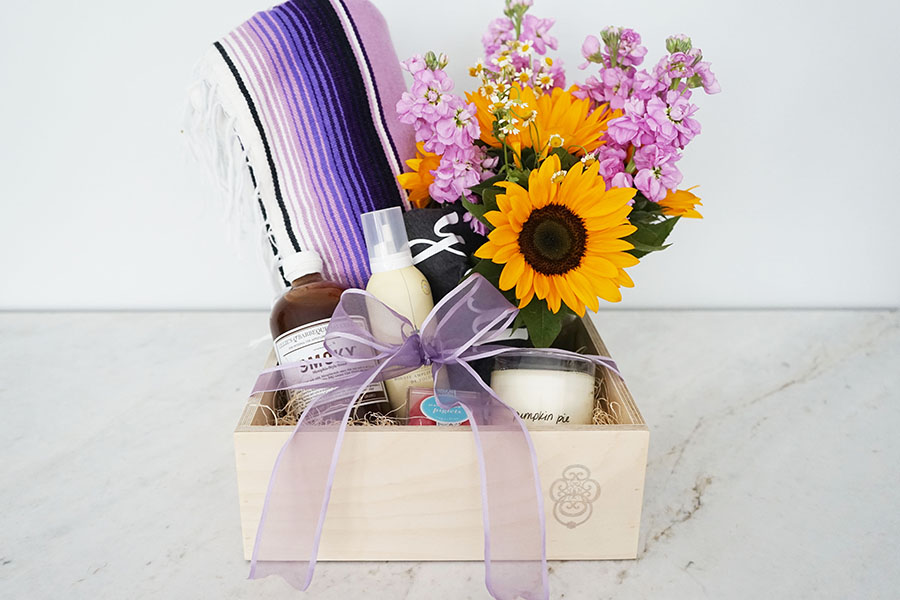 Oh, those coveted hometown dates where the final four suitors get to whisk our Bachelorette off to meet their parents and play house for a bit. While Becca hails from Minnesota, there's always a hometown full of farms, family, and fauna. This gift box comes with DryBar mousse, smoky BBQ sauce (for those home-cooked meals you'll make as a couple), a scented candle, Sugarfina gummies, a "Happy game day, y'all" tank, and a serape blanket handmaid by artisans in Mexico (for any and all tailgate, sunset, or soul-searching moments).
The Final Rose Box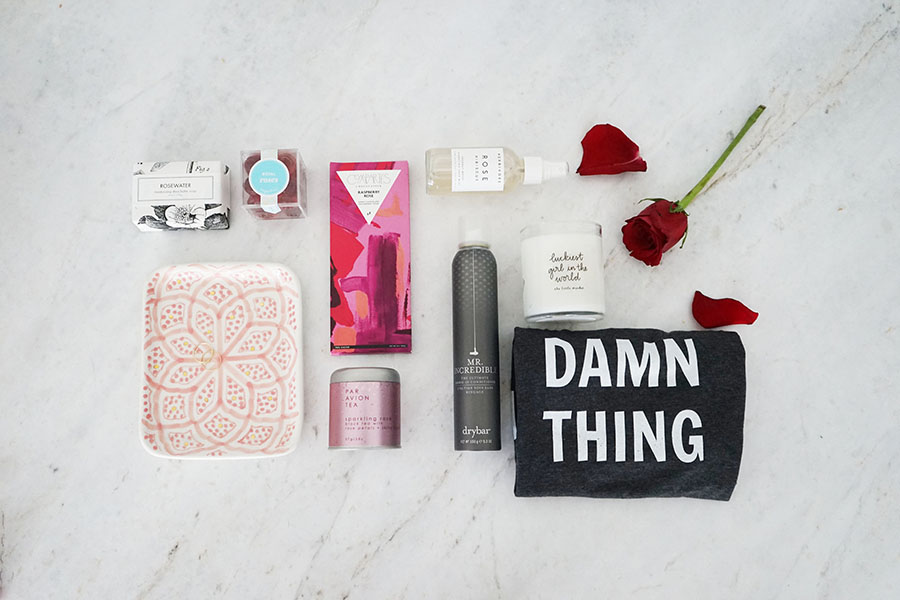 The final two will go head-to-head to try to win Becca's heart in the season finale, and this gift box is filled with everything a newly engaged person could need, including a shirt with Becca's famous catchphrase, "Let's do the damn thing." You'll also find a ceramic tray handmade by female artisans in Morocco (to hold that engagement ring), DryBar leave-in conditioner, a raspberry and rose chocolate bar, Sugarfina gummies, Formulary 55 Shea butter soap, "Sparkling Rose" black tea (complete with rose petals and shiny sugar crystals), Herbivore face mist, and a champagne soy candle, because, cheers!
The Suite Life is giving away these five gift boxes during the show on their Instagram page, so make sure you're following them for your chance to win when season 14 of The Bachelorette premieres on Monday, May 28th on ABC. Now if you'll excuse me, I need to check my back supply of rosé and make sure I'm ready for this wild ride.